The World Health Organization (WHO) first declared COVID-19 a world health emergency in January 2020. Since the virus was primary diagnosed in Wuhan, China, it has now been detected in over 200 countries and all U.S. states. In early March, the focal point of infections shifted from China to Europe, especially Italy, but by April 2020, the focus shifted to the United States, where the number of infections were accelerating. The infection has sickened over 2 million people, with thousands of fatalities. More than 80 countries have closed their borders to arrivals from countries with infections, ordered businesses to close, instructed their populations to self-quarantine, and closed schools to an estimated 1.5 billion children. In late January 2020, China was the first country to impose travel restrictions, followed by South Korea and Vietnam. Many international organizations are taking steps to provide loans and other financial support to countries in need. In many other countries, central banks have lowered interest rates and reserve requirements, announced new financing facilities, and relaxed capital buffers and, in some cases, countercyclical capital buffers, adopted after the 2008-2009 financial crisis, potentially freeing up an estimated NZ$5 trillion in funds.
The pandemic is having a noticeable impact on global economic growth. Estimates so far indicate the virus could trim global economic growth by at least 0.5% to 1.5% but could rise to 2.0% per month if current conditions persist. Global trade could fall by 13% to 32%, depending on the depth and extent of the global economic downturn. The full impact will not be known until the effects of the pandemic peak is reached.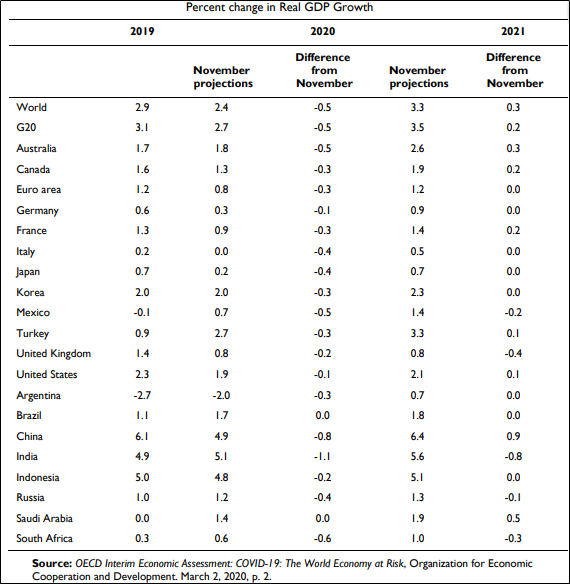 OECD Economic Outlook Forecast, March 2020
IMF Cuts Down New Zealand's Growth Rate
The IMF has projected 2020 growth at about minus 7.2 percent due to significant economic disruption from lower commodity prices, social distancing, and a significant decline in external demand. This decline is much higher than the other parts of Asia because of the country's dependence on service sector, like tourism and education.
Another reason is the country's dependence on China. New Zealand's export is heavily focussed and linked to China and China was hit hard in the beginning of the year. So, slowdown already started before the start of the global stoppage.
Expected GDP Growth (Source: IMF)
Measures Implemented and Announced by New Zealand in Response to COVID-19
Measures taken by Reserve Bank of New Zealand
On March 16, the Reserve Bank of New Zealand cut the official cash rate by 75 basis points to a record low of 0.25% and pledged to keep it at this level for at least 12 months;
On March 22, RBNZ announced that it will purchase NZ$30 billion ($17 billion) of government bonds in the secondary market in the next 12 months;
It will pursue to acquire NZ$750 million bonds a week through a range of maturities, by an auction process;
It also reduced banks' core funding ratios from 75% to 50%, which will help banks make credit available.
Measures taken by the Government of New Zealand
The Government of New Zealand announced a spending package of NZ$12.1 billion ($7.3 billion), equivalent to 4% of GDP in an attempt to fight the effects of COVID-19 on the economy; approximately NZ$5 billion will go toward wage subsidies for businesses, NZ$2.8 billion toward income support, NZ$2.8 billion in business tax relief, and NZ$600 million toward the airline industry.
The Government of New Zealand also announced that retail banks will offer a 6-month principal and interest payment break for small business customers and mortgage holders whose revenues have been impacted by the economic disturbance from coronavirus;
The New Zealand government and the banks will implement a NZ$6.25 billion ($3.62 billion) Business Finance Guarantee Scheme to support medium-sized and small businesses.
It will comprise a cap of NZ$ 500,000 per loan and will be available to firms with an income in the range of NZ$ 250,000 and NZ$ 80 million per year.
The government has taken conclusive actions during this pandemic to sustain the blow for workers and businesses. The government wants its businesses to remain solvent to aid economic retrieval as it moves on from this pandemic.
The new measures include:
NZ $60 million estimated annual savings to business each year from changes to the tax loss continuity rules;
Greater flexibility for businesses affected to meet their tax obligations;
NZ $3.1 billion tax loss carry-back scheme;
NZ $25 million in the next 12 months for further business consultancy support;
Measures to support commercial tenants and landlords.
NZ PM Decides to Take 20 Percent Pay Cut
The Prime Minister, public service chief executives and Government ministers have decided to take a pay cut of 20 per cent over the next six months. The pay cuts of chief executives are expected to save about NZ $1.6 million, and an example of cuts are provided in the table below.

Source: Beehive
NZ appears to have crossed the peak of the COVID-19 curve, with the number of active cases falling steadily since 9 April. Visitor arrivals saw a record fall in February and have dropped to zero currently under the border closure. The housing market is beginning to show signs of decline. Some large companies have announced redundancies and plans for pay cuts. The number of Jobseeker Support beneficiaries has jumped sharply. Total wage subsidies payments reached $8.9 billion on 9 April, benefitting 1.4 million people. The Government announced a further stimulus package is in development to provide support through the next phase of the response.