Summary

Healthcare sector companies are increasingly focusing on providing digitalized tools and products to create rich patient experience
New marketing approaches are adapted such as increasing product reach by zip code marketing, by median and through websites to increase customer base
NZX and ASX listed Fisher and Paykel operates is focused on providing respiratory related medical devices and products designed to provide utmost care to the patient
Fisher and Paykel experienced a share price increased by nearly 100% in the last one year, backed by demand for its innovative products.
The COVID-19 disease, caused by SARS-CoV-2 strain, had impacted the share markets heavily. However, few sectors have shown resilience and have fared well amid the pandemic. The healthcare shares, considered defensive, have been performing better than many sectors backed by new technologies and R&D in the area of treatment and supporting treatment, designed to prevent the COVID-19 pandemic. The companies are also focused on enriching patient experience through smart devices and marketing. Few strategies that the healthcare companies are following to provide better services -
To build an extraordinary patient experience: healthcare companies are focused on creating an outstanding experience for patients by developing patient friendly devices or services. Deemed as a crucial marketing tool, enriched patient experience fetch in more customer or B2B clients for a company's product.
Using information technology (IT) for marketing and other business requirements- Organizations such as hospitals, private practices and other organizations are marketing their products via targeted zip code marketing, social media posting, websites, and virtual physician visits and thus There is a variety of methods hospitals, private practices and other organizations can to create a more extensive client base.
Incorporation of digital tools- Throughout the COVID-19 crisis, healthcare players have commenced using new digital tools to help keep patients healthy. From virus-tracking to remote monitoring, healthcare players are seeking digitally enhanced tools for better patient care.
The medical equipment industry, a subsector of healthcare has reaped good business growth leveraging the opportunities presented in health care sector because of the COVID-19 disease. During the ongoing coronavirus infection, devices used for respiratory measuring are extremely in demand.
On that milieu, let us discuss Fisher & Paykel Healthcare whose share price increased by~100% within a year.
About Fisher & Paykel Healthcare Corporation Limited
A dual NZX and ASX listed healthcare company, Fisher & Paykel Healthcare Corporation Limited (NZX:FPH) is engaged in manufacturing and designing of medical devices for application in acute & respiratory care, surgery as well as in the treatment of obstructive sleep apnea. FPH is headquartered in New Zealand and functions with almost 4,000 employees in over 120 nations across the world.
Fisher & Paykel mainly operates in two segments:
Hospital product group includes humidification products used in respiratory (both adult as well as an infant), acute and surgical care.
Homecare product group consist of products used in respiratory support and for the treatment of obstructive sleep apnea in the home.
The company experienced a 100% share price increase yearly, backed by strong demand for its hospital group products. On 26 June 2020, FPH quoted at NZ$32.0 going up by 3.53% from its previous close. The market cap of FPH stood at NZ$18.38 billion.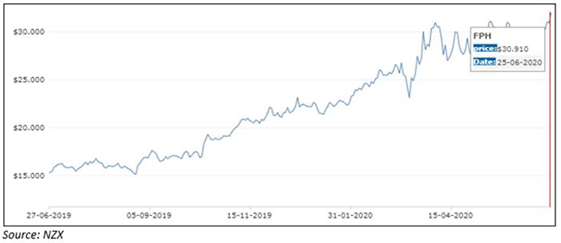 Designated an essential service
On 23 March 2020, The Company announced that it has been designated an essential service by the government of New Zealand during the COVID-19 pandemic and continues operating its Auckland facilities.
FY20 revenue and earnings guidance update
On 17 March 2020, Fisher & Paykel updated its revenue and earnings guidance for FY20 (ended 31 March 2020). FPH anticipates its complete year operating revenue to be almost NZ$1.24 billion and NPAT to be within the range of NZ$275-$280 million, on the basis of an assumption of a NZ:US exchange rate of approximately 61 cents and a NZ:EU exchange rate of approximately 55 cents for the rest of the financial year.
Earlier, the company had given an guidance update in February for operating revenue to be ~NZ$1.2 billion and NPAT to be ~NZ$260-NZ$270 million, assuming NZ:US exchange rate of 64 cents.
Also Read: Fisher & Paykel Healthcare Achieved Revenue Milestone of NZ$1 Billion in FY19
Launch of Evora™ Compact Nasal Mask
On 3 February 2020, Fisher & Paykel, disclosed the launch of F&P Evora™, which is a new compact nasal mask to treat obstructive sleep apnea. Initially, this nasal mask would be available for patients in New Zealand and Australia February onwards, and later in Canada and Europe.
It is a compact nasal mask that sits comfortably under the nose and features CapFit™ headgear and a floating' seal, providing patients freedom to move during sleep while maintaining the mask comfortably in place.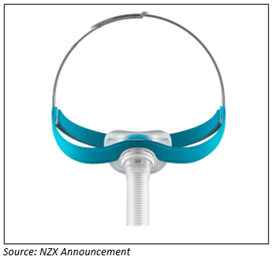 Strong H1 Results for F&P, NPAT up by 24%
On 27 November 2019, Fisher & Paykel Healthcare Corporation Limited announced its financial results for the half-year ended 30 September 2019.
The Company has delivered a solid profit in the first half of 2020 with NPAT reported to be NZ$121.2 million increased by 24% when compared to previous corresponding period (pcp). Moreover, operating revenue was approximately NZ$570.9 million up by 12% on pcp.
Key highlights from 1H FY20 (data compared to 1H FY19)-
FPH reported a 23% increase in interim dividend to 12 cps.
Operating revenue was up by 12% to NZ$570.9 million
Hospital operating revenue experienced an approximately 19% growth
Homecare operating revenue surged by 2%.
Investment in the research and development was nearly NZ$54 million or 9% of revenue.
The revenue growth for new applications consumables was nearly 23% on constant currency. New applications consumables include products used for non-invasive ventilation, optiflow nasal high flow therapy, and surgical applications, accounting for almost 63% of hospital consumables revenue.
The solid first half for FY2020 was mainly driven by the hospital product group of the Company backed by strong demand for its AirvoTM and OptiflowTM systems.
---
Disclaimer
The website has been prepared for informational purposes only and is not intended to be used as a complete source of information on any particular company. The above article is NOT a solicitation or recommendation to buy, sell or hold the stock of the company (or companies) under discussion. Kalkine does not in any way endorse or recommend individuals, products or services that may be discussed on this site.