The world is battling an extremely serious health crisis today, but we would also like to hope and emphasize that it is a temporary battle. What's worrisome is the fact that the pandemic, as the World Health Organization (WHO) deems it to be, has become a major global economic drain, having deep ramifications for financial systems around the world.
Consequently, economies have been forced to undertake what we would like to refer as war time measures- closure of borders, social distancing measures and quarantine procedures, all affecting countries alike.
Communities, share markets and financial markets are having trouble dealing with a rapidly unfolding situation that no one has ever fathomed, let alone witness.
Finance Minister Grant Robertson's Significant Measures to Support Businesses
On 3 April 2020, Hon Finance Minister Grant Robertson announced measures to aid companies facing insolvency due to the coronavirus pandemic, in a major move to support their businesses and employees.
Besides this, the national sports organisations were offered assurance of funding.
The Government will be launching a legislation to make changes to the Companies Act, including:
Giving directors a 'safe harbour' from insolvency duties under the Companies Act, the ones pertaining to companies facing significant liquidity problems. The measure is likely to help companies continue trading, thereby minimising disruption to the economy.
Enabling businesses to place existing debts into hibernation until normalcy revives so that firms can engage into dialogues with creditors about prioritising the payment of some debts.
Allowing the use of electronic signatures amid virus restriction measures.
Offering the Registrar of Companies (for companies, incorporated societies, charitable trusts and other entities) the power to temporarily extend deadlines.
Providing provisional relief to firms incapable of adhering to requisites.
The Government plans to seek the Parliament's approval to agree to changes retrospective.
What's in Store for National Sports Organisations?
New Zealand's National sports organisations have been offered assurance of funding to safeguard their continuance to be viable through the pandemic.
The move has been taken after there were termination/ postponement of all sports from global, professional and competitions along with shutting of community facilities. This resulted in loss of substantial revenue streams across the sports realm.
Sport NZ's brand-new four-year investment plan has been delayed to 30 June 2021 with the intent to maintain the present investment levels. Moreover, it will not be compelled to continue its initiatives, rather aim at being operational amid the crisis period.
Sport and Recreation Minister Hon Mr Robertson also stated that every recreation-related business and sports in the country is eligible to apply for the COVID-19 wage subsidy.
Meanwhile, the Government is efficiently working on a sports recovery package proactively for a post-COVID 19 scenario.
New Zealand's Current Economic Stance
International credit rating agency Moody's has reaffirmed its highest Aaa credit rating on New Zealand. It believes that the kiwi land is expected to remain resilient, catalysed by Government's strong fiscal management, the flexible economy and low debt levels relative to the world.
There is a wage subsidy supporting jobs and businesses, a business finance guarantee, tax changes to improve cashflow, the rent freeze, Winter Energy Payment boost and income support measures, all demonstrating that the nation entered this crisis in a strong position.
The Wage Subsidy scheme and a Business Finance Guarantee Scheme can offer loans up to NZ$500k over three years.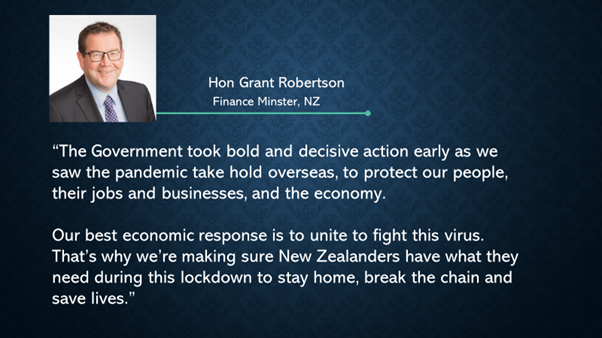 COVID 19 Hues in New Zealand
New Zealand confirmed its first COVID 19 case in the last week of February when a senior citizen with history of travel to the USA was affirmed positive with the virus. As on 4 April 2020, there were 824 confirmed cases, one death and 127 recovered cases.
The major clusters under investigation by public health officials are schools, events and workplaces.
To control the further spread of the virus, the New Zealand government unveiled a lion's share of NZ$16.3 billion economic rescue package, representing around 5.4% of the nation's GDP. Key measures include:
Healthcare-related spending to reinforce capacity (NZ$0.5 billion or 0.2 percent of GDP);
a permanent increase in social spending to protect vulnerable people (total NZ$2.4 billion or 0.8 percent of GDP over the next four years);
A lump sum 12-week wage subsidy to support employers severely affected by the impact of COVID-19 (NZ$9.3 billion or 3.1 percent of GDP);
A permanent change in business taxes to help cashflow (NZ$2.8 billion or 0.9 percent of GDP over next four years);
Support for the aviation sector (NZ$0.6 billion or 0.2 percent of GDP). The government has also settled a debt funding deal worth a NZ$0.9 billion with Air New Zealand to support the ailing business.
New Zealand is currently locked down and is one of the few countries that has taken apt measures well on time to curb the dire repercussions of the coronavirus. To date, there has been a high level of compliance with self-isolation norms in the country.
The Ministry of Health confirmed on 4 April 2020 that they had three fewer people in hospital with COVID-19. The Ministry has been growing the supply of both swabs and the components used by labs to process tests.
Bottomline
At the back of government support, robust healthcare system and pandemic controlling measures in place, New Zealand seems to be addressing this global issue with vigor and vigilance.
Interestingly, the recent performance of its stock market market too reciprocates with the government action.
On 3 April 2020, the share market remained mildly positive as the country accomplished the first full week of its lockdown stance.
The benchmark S&P/NZX50 was up by 0.65% (64 basis points) and settled at 9935. Following suit, the S&P/NZX20 was up by 0.61% at 6,786 and the S&P/NZX10 settled in green, up by 0.35% at 10,525.