According to DairyNZ, New Zealand's dairy sector has been a global leader in innovation. Farmers are continuing to draw on the range of tools to enable them to farm more efficiently and productively. According to Ministry for Primary Industries, Dairy export revenue is estimated to increase by 6.3 per cent to $19.2 billion for the year ending 30 June 2020. Dairy export revenue has been revised downwards by $390 Mn for the year to 2020 as a result of hot and dry conditions resulting in expectations of lower production as compared to the previous forecast, along with weakened international dairy prices due to coronavirus.
Fonterra Reduced its Milk Price Range: A Quick Look
As per the release, Fonterra has recently narrowed 2019/2020 forecast Farmgate Milk Price range to $7.10 - $7.30 per kgMS for the season and a mid-point figure stood at $7.20 per kgMS. According to these estimates, the company will contribute around $11 billion to the country's economy via milk price for the year.
The company has decided to narrow the price range and it has also reduced mid-point as a result of demand softening as compared to supply which is driving prices down.
The main reason for the softening of demand is that most of foodservice businesses are not operational.
The imbalance in demand and supply has impacted GlobalDairyTrade prices for products that assess Fonterra Co-operative Group Limited's Farmgate Milk Price. The GDT prices for Whole Milk Powder declined by 17 per cent since late January in US dollar terms.
Considering the uncertainty which has been caused by pandemic on the global daily prices, the company is setting the opening 2020/21 forecast Farmgate Milk Price range at $5.40 - $6.90 per kgMS. The wider range reflects the increased uncertainty it can encounter in the coming season.
Business performance and earnings guidance
For the nine months ended 30th April 2020, the company reported normalised Earnings Before Interest and Tax of $815 million, an increase of $301 million as compared to the same period of the previous year. As per the release dated May 21, 2020, the company's business segments have registered a good performance for YTD, despite the adverse impact of COVID-19 pandemic on the foodservice segment.
The ingredients segment registered a normalised EBIT of $668 million, up by 9%, mainly led by improved margins.
Consumer EBIT stood at $187 million, up by 46% mainly due to cost savings throughout all regions and growth in gross margin in Asia.
The company continued its focus on cost control and reduced total Group operating expenses by $148 million on the same period last year;
It is on track to deliver on its gross margin target, with gross margin up $244 million on last year to $2.5 billion;
Free cash flow is $698 million, up by $1.4 billion on last year, and net debt has reduced by 23% or $1.7 billion.
For the rest of the financial year, the company is expecting that FY 2020 underlying earnings would be in the range of 15-25 cps.
Based on the first 9 month's performance, the company expects its full year underlying earnings to be at the top half of this range. However, there are many ambiguities in the last quarter like, timing of shipments, how swiftly the broader foodservice sector improves, and how wider economic downturn will be influencing business.
Key Data (Source: Company Reports)
Strong Financial Performance in the First Half of FY20
The company's total group normalised earnings for first six months of 2020 financial year are up by $272 Mn on last year to $584 Mn.
The company achieved this growth via steady underlying earnings from Ingredients business, improvement in the gross margins in Foodservice and by the reduction of operating expenses. The Foodservice business has been the outstanding performer in the 1HFY20 as it increased its sales to coffee and tea houses and bakeries throughout Greater China and Asia.
How Has New Zealand Milk Production Trended?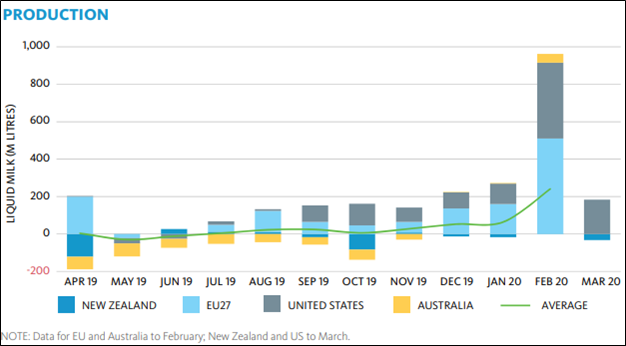 YoY changes in imports, exports, and production (Source: Fonterra)
New Zealand milk production was down 1.9% on a litres basis in March compared to March last year. The drought conditions in many locations throughout the country, mainly in the upper North Island influenced milk production in the month of March.
It was mentioned that New Zealand milk production was 1.1% lower for the 12 months ended March as compared to the last year.
Australia milk production rose by 8.1% in the month of February as compared to the same period last year. With rain in several regions balancing the impact of dry conditions, milk production is indicating signs of recovery, led by growth in output from various regions in Tasmania and Victoria.
EU Milk production rose by 4.4 per cent in the month of February as compared to the same period last year. The major production growth was witnessed in Spain (up 9.2%) which was followed by France (5.3 per cent) then The Netherlands (5.1 per cent) and, in the last, Germany (4.5 per cent).
Notably, US milk production also grew by 2.2 per cent in the month of March as compared to March last year.
---
Disclaimer
The website has been prepared for informational purposes only and is not intended to be used as a complete source of information on any particular company. The above article is NOT a solicitation or recommendation to buy, sell or hold the stock of the company (or companies) under discussion. Kalkine does not in any way endorse or recommend individuals, products or services that may be discussed on this site.