Capital raising at the time of uncertainty is impacted by future financial constraints of the business, macroeconomic conditions that affect the source and amount of capital, and the existing equity holders of the company. Every business requires cash for carrying out their operations in a standard yet progressive fashion. Any company generates cash through commercialization of its products or services, thereby generating revenue and earning profits.
Cash is something for which a company can continuously expand its capacity to hold, for serving everyday practice along with the unpredicted incidents. Capital raising is a prominent approach for businesses to raise capital to counteract the liquidity crisis. At present, companies are experiencing increased burden to maintain liquidity and sound financial position as they are at a standstill due to the ongoing pandemic that has swiftly spread worldwide.
During the unfolding of the coronavirus pandemic the businesses are progressively tapping investors for capital. At the same time, some of the companies are undergoing growth momentum at the backdrop of COVID-19 turmoil. However, economic activity has been deteriorating since Governments have introduced lockdowns to contain the virus worldwide. Currently, businesses are experiencing an unprecedented impact on their revenue due to the disruption in the supply chain and distribution cycle.
DO READ: Capital Raising During Crisis Scenario
Let us discuss the latest capital raising introduced by- VGL, AIA, KMD
Vista Group International Limited (NZX:VGL) Announces NZ$65 Million Equity Raising
Vista Group is a world-leading New Zealand company providing technology solutions to the global film industry. Further, the Group also offers moviegoer data analytics, box office reporting software, business intelligence solutions, creative and marketing services to movie workshops and online movie media and exhibition data for moviegoers other than Cinema Management software.
The Group has more than 700 employees across ten offices in New Zealand, South Africa, Australia, the United Kingdom, China, Netherlands, Latin America, and the United States.
Pause in Trading
Dated 17 April 2020, Vista Group informed the market that the securities of VGL are placed in a trading halt, and trading in VGL ordinary shares would resume at market open.
Completion of fully underwritten NZ$25 million placement and NZ$26 million institutional entitlement offer
Vista Group has announced that it had completed its NZ$25 million underwritten placement and the NZ$26 million institutional entitlement offer component of its fully underwritten 1 for 4.37 pro-rata accelerated entitlement offer as announced on 16 April 2020. As per the announcement on 16 April, the company planned to raise ~NZ$65 million under the Placement and Entitlement Offer.
On 17 April 2020, VGL stock rose 11.61 per cent to NZ$1.490, with a market capitalization of approximately NZ$248.335 million.
Auckland International Airport Limited (NZX:AIA) Fortifies Its Balance Sheet With An Equity Raise
Listed on the ASX and NZX, Auckland International Airport Limited operates the Auckland International Airport, and the airport comprises a single runway, an international terminal as well as two domestic terminals. Auckland International Airport has its operations in three divisions: Aeronautical, Retail and Property.
Equity raising
Auckland Airport had announced that the Company is overseeing an equity raising of up to NZ$1.2 billion to strengthen its balance sheet. Moreover, the Company ensured it remains well capitalised during this time of strict border controls and substantial decrease in the number of travelers. With this, the Company also highlighted that it is well-positioned for a post-COVID-19 recovery, and that the Government actions are supportive of a broad recovery.
By way of equity raising, the Company is also taking significant action in relation to the capital structure for enhancing the financial flexibility. Moreover, AIA has secured considerable backing from its lenders, as well as covenant waivers from the banking group along with the expansions to all bank services owing to mature before 31 December 2021.
Auckland Airport International mentioned that the safety and wellbeing of its people, travelers, customers and stakeholders would be the priority, although mitigating the impact of the coronavirus infection on its operations, with the intention of confirming that it remains well positioned for recovery once this pandemic end.
NZ$1,000 million Placement and Share Purchase Plan (SPP)
On 09 April 2020, Auckland Airport announced the opening of its NZ$200 million non-underwritten SPP. The SPP was a component of AIA's equity raising announced earlier whereby the Company also undertook a NZ$1,000 million share placement to current institutional investors and some select investors in both local as well as offshore markets.
On 17 April 2020, AIA stock increased 2.69 per cent to NZ$6.110, with a market capitalization of approximately NZ$8.735 billion.
Kathmandu Holdings Limited (NZX:KMD) Acquired Rip Curl and Unveiled NZ$207 Million Equity Raising
Kathmandu Holdings Limited, listed on the NZX in 2009, is a global outdoor and action sports company. The Company consisting of three iconic brands- Kathmandu, Rip Curl and Oboz. Kathmandu Holdings functions retail locations through New Zealand and Australia.
Equity Raising Details
The Group has unveiled a raise in equity consist of a fully underwritten NZ$30 million placement and a fully underwritten NZ$177 million pro-rata enhanced entitlement deal.
The placement, as well as entitlement offer, will a raise a total of roughly NZ$207 million, with the issue of nearly 414 million new Kathmandu ordinary shares indicating near about 140 per cent of existing shares on issue.
The Placement and Entitlement Offer will be performed at a per-share offer price of NZ$0.50, representing:
A discount of 30.2 per cent to TERP of NZ$0.72.
Almost 51 per cent discount to the last closing price of NZ$1.02 per share on 30 March 2020.
The Group revealed that the New Shares issued under the Placement and Entitlement Offer would rank similarly with the existing Kathmandu Holdings ordinary shares.
Financial Highlights for 1H FY20
For the half-year ended 31 January 2020, KMD reported a decent Outdoor segment (Kathmandu and Oboz) total sales up 0.4 per cent at constant exchange rates.
Successful completion of the Rip Curl Acquisition, creating a more diversified group of three iconic brands across key global markets
EBITDA for the group stood at NZ$ 40.5 million up by 46.7 per cent, as compared to NZ$ 27.6 million in pcp.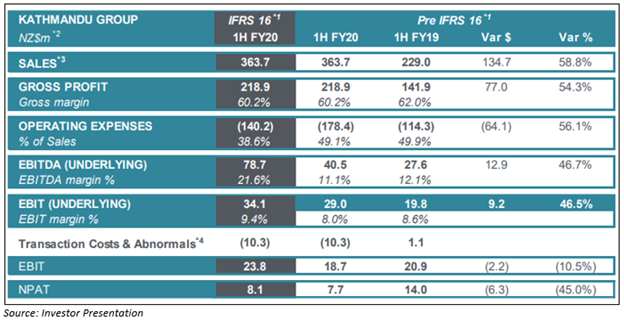 The successful completion of the acquisition of Rip Curl, has created a more diversified group of three famous brands across major global markets.
On 17 April 2020, KMD stock climbed 5.33 per cent to NZ$0.790, with a market capitalization of approximately NZ$476.886 million.