Source: solarseven, Shutterstock
Summary

S&P 500 gained 1.95%, Dow Jones was up 1.85%, and NASDAQ added 1.55%.
Senate finalizes President Joe Biden's US$1.9 trillion relief bill for approval.
Brent crude oil futures rise as OPEC & Russia-led group maintain production cuts.
US stocks ended Friday's session higher to wrap up the week with an upbeat note after labor data showed that the unemployment rate fell to 6.2% in February and hopes of economic recovery grew.
The S&P 500 gained 1.95% to 3841.94. The Dow Jones Industrial Average added 1.85% to 31496.30. The NASDAQ Composite Index was up 1.55% to 12920.15, and the small-cap Russell 2000 ticked up 2.11% to 2192.21.
Stocks gained pace in the afternoon session after a slow start. Markets were boosted by positive labor data, which showed that 379,000 new jobs have been added in February and the unemployment rate dropped to 6.2%, the lowest level in three months, showing a gradual recovery.
The easing of restrictions helped accelerate hiring in the month as more businesses resumed operations, backed by increased vaccinations and government assurance for a fiscal boost. The unemployment rate had skyrocketed to 14.8% last April. The new data provides some comfort. Still, the jobless rate remained higher than the pre-pandemic period when it was at a 50-year low.
Markets were also relieved to hear that Democrats and Republicans were close to agreement on some major pain point related to the unemployment benefits which had dragged on for some time.
Both sides were negotiating on a US$300 weekly payment, down from the US$400 cleared by the House earlier. The benefits might now be extended up to September. The lawmakers were keen on ending the stalemate as further delay may hamper recovery. The payment is part of the US$1.9 trillion coronavirus relief announced by the Biden administration in January.
In the oil market, the Brent crude futures continued to rise for the second day on Friday after the OPEC- and Russia-led oil producers maintained their production cuts. Some analysts estimate that if the output continues to remain low, prices may rise to US$75 a barrel in the second quarter.
Most sectors ticked up towards the end on Friday, including technology, healthcare, industrials, consumer cyclicals, basic materials, real estate, utilities, and financials, which had remained subdued for most of the week.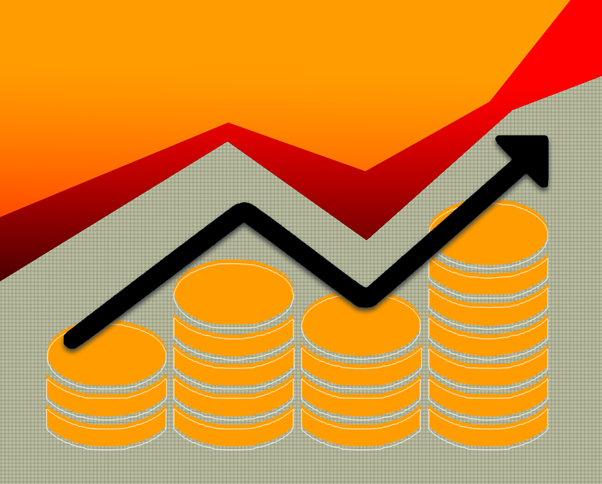 ©Kalkine Group 2021
Also read: Electric Vehicles Then & Now: Tracing The Near 200-Year History
Top Gainers
Top performers on S&P 500 included Nov Inc (11.15%), APA Corp (US) (8.82%), Western Digital Corp (7.91%), and Gap Inc (7.72%). On NASDAQ, top performers were Second Sight Medical Products Inc (381.82%), Sify Technologies Ltd (47.04%), Biopharmaceuticals Ltd (41.87%), and Purple Innovation Inc (29.42%). On Dow Jones, Intel Corp (4.64%), Cisco Systems Inc (4.16%), Chevron Corp (3.96%), and UnitedHealth Group Inc (3.95%) were among the leaders.
Top Losers
Top laggards on S&P 500 included Norwegian Cruise Line Holdings Ltd (-11.40%), Carnival Corp (-6.06%), Royal Caribbean Cruises Ltd (-5.65%), and Enphase Energy Inc (-3.90%). On NASDAQ, Super League Gaming, Inc. (-34.81%), Evofem Biosciences Inc (-29.82%), Allied Esports Entertainment Inc (-24.62%), and Acorda Therapeutics Inc (-24.48%) were the losers. On Dow Jones, Boeing Co (-0.96%), Goldman Sachs Group Inc (-0.63%), JPMorgan Chase & Co (0.13%), and Walgreens Boots Alliance Inc (0.58%) were among the laggards.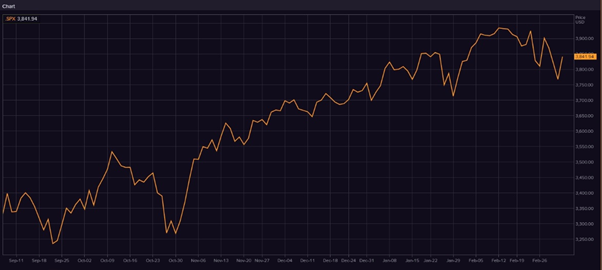 Image Source: Refinitiv, S&P 500 6-month price chart, March 5, 2021.
Volume Movers
Top volume movers included Apple Inc (25.62mn), Tesla Inc (18.91mn), American Airlines Group Inc (12.01mn), Ford Motor Co (11.82mn), Advanced Micro Devices Inc (11.76mn), Microsoft Corp (10.55mn), Carnival Corp (10.53mn), Second Sight Medical Products Inc (93.23mn), Sundial Growers Inc (28.47mn), Castor Maritime Inc (12.15mn), American Airlines Group Inc (12.03mn), Intel Corp (8.24mn), Cisco Systems Inc (6.12mn), and Verizon Communications Inc (2.90mn).
Futures & Commodities
Gold futures were down 0.24% to $1,696.65 per ounce, silver prices plunged 0.91% to $25.230 per ounce, and copper was up 2.87% to $4.0925.
Brent oil futures surged 4.32% to $69.62 and WTI crude gained 3.90% to $66.32 per barrel.
Bond Market
The 30-year treasury bond yields were down 1.02% to 2.284, while the 10-year bond yields were up 0.48% to 1.557.
US Dollar Futures Index was up 0.35% to 91.968.
Also read: How To Live Off Of Dividends?
While the new labor data has shown progress in the economy and come as a welcome change, the US is still short of 9.5 million jobs compared to the year-ago period.
However, the continued decline in the number of unemployment benefits claims, which fell to the lowest levels in February, provides hope of a steady recovery from here on.
Meanwhile, the Senate was expected to give its final approval to the US1.9 trillion relief bill after making several adjustments to the sticky points in the document over the course of the week.