Summary

Ant Group is all set to raise US$34 billion after the shares start trading on Hong Kong and Shanghai stock markets.
As part of the IPO, there are ~1,671 billion H Shares offered at HK$80.00 per H Share.
Ant Group's IPO would become the largest IPO to date.
Jack Ma's Ant Group is set to raise US$34 billion when its shares start trading on the Hong Kong and Shanghai stock market in the upcoming weeks. With this, Ant Group's IPO would become the world's largest stock market debut on record.
Jack Ma is the founder of e-commerce platform Alibaba.
The Company seeks to establish an infrastructure & platform that assists the digital transformation of the service industry. Ant Group is the parent company of Alipay mobile payment service. The Company's aim is:
For all to have inclusive, sustainable financial services.
To give small businesses a level playing field where they can grow and develop.
To make various aspects of digital life accessible via an open partnership with partners.
The Company is headquartered in Hangzhou, Zhejiang.
Ant Group's size and scale:
Ant Group has over 1,000 million Alipay app Annual Active Users, more than 80 million Alipay app Monthly Active Merchants, 711 million Alipay app Monthly Active Users and 729 million Alipay app Digital Finance Annual Active Users.
It provides Online Payment Services to over 200 countries and regions.
Digital Payments: Total Payment Volume in Mainland China is RMB118 trillion.

A Glance at the H Share IPO:
H Shares are overseas-listed foreign shares in the Company's share capital. They have a nominal value per share of RMB1. The shares will be subscribed for and traded in HK dollars. The H shares would be listed on the Hong Kong Stock Exchange.
Under the IPO, there are 1,670,706,000 H Shares with each share being offered at HK$80.00 (equivalent to ~US$10.30) along with a brokerage of 1% and SFC transaction levy of 0.0027%, along with Hong Kong Stock Exchange trading fee of 0.005%.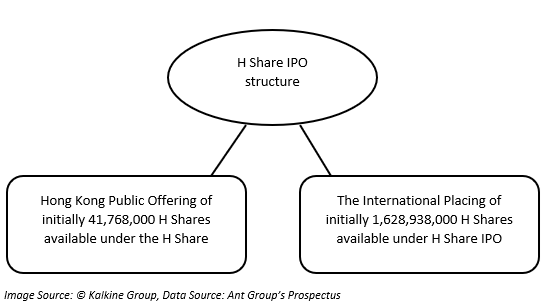 At this price, the market value of Ant Group would stand at ~US$310 billion.
Use of Proceeds Raised through IPO:
The overall proceeds received via Onshore Pre-IPO Investors would be used for the development and operations of the business. This includes, and is not restricted to, strategic investments or acquisitions, new business and product development, technology infrastructure, personnel recruitment and sales & marketing, plus other general corporate reasons.
Further, the proceeds would be used for funding the implementation of the globalization initiatives taken by the Company. It includes investments, acquisitions, and formation of alliances in several foreign markets. Besides, the funds would aid offshore syndicated loans repayment and bank borrowings. They would also support the acquisition of trademark, IP, and patent linked assets from Alibaba as part of the deal as per the SAPA.
There is no investor left unperturbed with the ongoing trade conflicts between US-China and the devastating bushfire in Australia.
Are you wondering if the year 2020 might not have taken the right start? Dividend stocks could be the answer to that question.
As interest rates in Australia are already at record low levels, find out which dividend stocks are viewed as the most attractive investment opportunity in the current scenario in our report Top Dividend Stocks to Consider in 2020
CLICK HERE FOR YOUR FREE REPORT!