Highlights

Banks have brought forward their projections for an interest rate hike by the central bank.
Rising inflation and cost of living pressures have fuelled earlier rate hike expectations.
A potential increase in interest rates could pile up interest payments for households.
At a time when interest rate hike speculations are rife in the Australian economy, mortgage payers are worrying about higher volatility in the months ahead. The Reserve Bank of Australia (RBA) has taken note of the existing rise in inflation, leading some experts to believe that the rate hike could be introduced as soon as June. While confirmation from the RBA is awaited, the market seems well poised for interest rate hikes by the end of 2022.
As living with inflation becomes a painful reality for Aussies, rising interest rates pose an even more challenging scenario for individuals. Unlike Australia, many central banks have already announced rate hikes, which have now borne fruit in the form of a cooling property market demand.
At a time when Australia is grappling with tensions arising from the Russia-Ukraine war, managing an interest rate hike has become a more daunting task. However, there is a high likelihood that the RBA would raise interest rates earlier than previously anticipated.
ALSO READ: What is the current state of inflation in OECD area?
How soon will interest rates rise in Australia?
The Reserve Bank, in its latest monetary policy meet, dropped its longstanding pledge to be "patient" with the interest rate policy. This small change in the central bank's stance has become the source of much commotion in the financial markets.
Analysts at Australia and New Zealand Banking Grp Ltd (ASX:ANZ) expect the RBA to raise the cash rate by 15 basis points in June, with a follow-up 25 basis point rate hikes in July and August. Meanwhile, economists at the National Australia Bank Ltd (ASX:NAB) have provided similar forecasts, with a rate hike expected in June.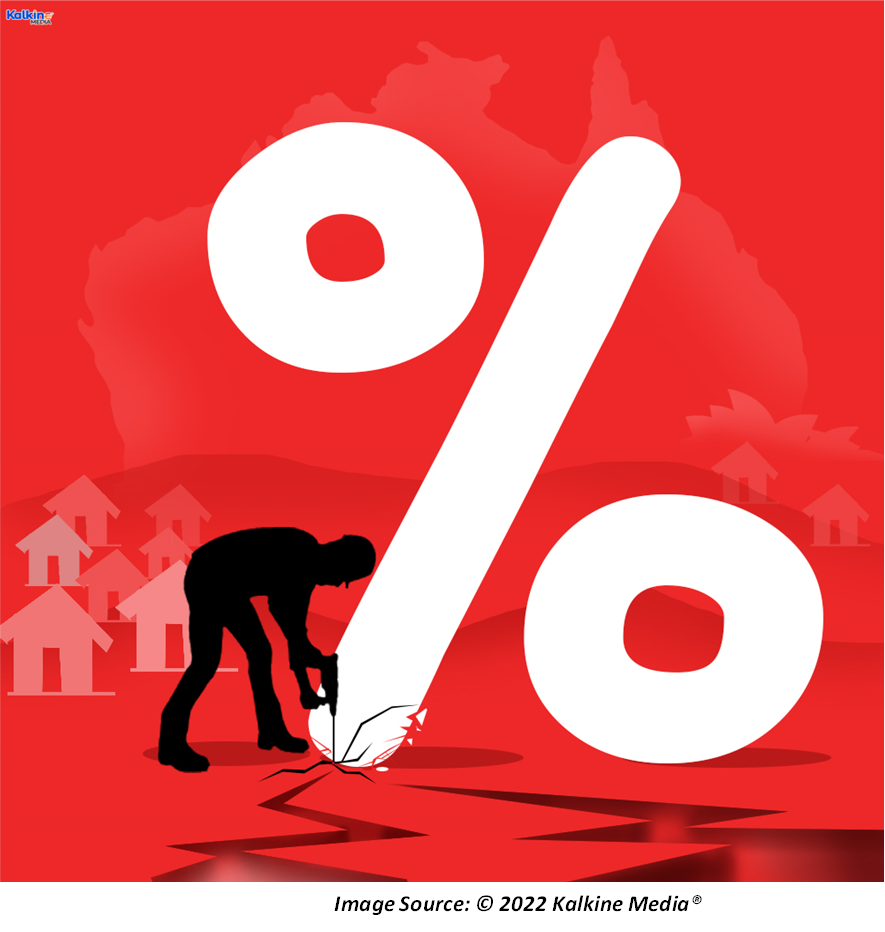 Westpac Banking Corp (ASX:WBC) is no different in revising its rate hike expectations following the RBA's speech. The bank has updated its forecasts of interest rate hikes, expecting the central bank to raise interest rates in June instead of the previous expectation of August. In fact, the bank expects about five cash rate rises in 2022, with three more increases next year.
Moreover, the Commonwealth Bank of Australia (ASX:CBA) expects interest rate hike conditions to be met by RBA's June Board meeting. Most banks had initially predicted the interest rate to rise sometime near August. However, the banks have now brought forward their projections while gearing up for a rate hike.
While rising inflation and the RBA's hawkish stance point toward an early increase in interest rate, none of the banks expect it as early as May. Experts suggest that the RBA would wait for its key data on wages due on May 18 before embracing a rate hike. As the RBA has time and again pushed for a stronger wage growth rate, the upcoming data would be crucial to the interest rate decision.
ALSO READ: How Australia's big four banks are preparing ahead of anticipated rate hikes?
Should Aussie mortgage payers worry?
The majority of mortgages lent out in Australia carry variable interest rates, which have not risen as quickly as fixed interest rates. However, a cash rate hike could be damaging for variable interest rate mortgage holders and prompt a rise in fixed rates.
The futures market has projected a rather worrying outlook for mortgage holders. The risk pointed out by the futures market suggests that the RBA could raise rates all the way by 0.5% in one go, which could be extremely destructive for borrowers. Economists at NAB have further highlighted that a lift in the cash rate to 3.25% over the next two years would be both higher and much steeper than all cycles in the post 1993 inflation-targeting era.
As Australia sits with a record high level of household debt, rising interest rates could leave many Australians struggling to manage finances. The high level of debt in the Australian housing market makes it highly sensitive to interest rate hikes.
Will Australia's Budget Spending Stoke Inflation?
Additionally, rising interest rates could pile up interest payments for households, potentially limiting a rising proportion of their monthly incomes. Coupled with the ongoing surge in commodity and fuel prices, rising interest rates could force households to swallow a concoction of alarming scenarios.
On the contrary, some believe that increasing interest rates before elections may not be ideal if inflation data demonstrates a substantial uptick. As the rising cost of living has become a pressing issue in electoral campaigns, an interest rate hike would appear off-brand. Meanwhile, as individuals were earlier promised no interest rate hike before 2024, a sooner rate rise could play with the current government's image.
Despite these concerns, expectations are increasingly building around a June rate hike, which might receive further backing during the May policy meeting.
DO NOT MISS: Why are Australia's housing growth rates losing momentum?