Summary

Fitch likely to revise its outlook for Britain on 25 September, rating could go down in the wake of latest Brexit updates
Food sector will lose out on EU's single market access status
Many fruits and vegetables will attract tariffs, with a value of 5 per cent or more
In case of a no deal Brexit, almost half of the goods and services being imported from the Europe could attract extra duties or levies beginning January 2021, including food. The UK government estimates had suggested that total value of border tariffs could run into billions of pounds.
These extra charges will come at a difficult time, when people are losing jobs, businesses are struggling for survival, and the economy is shrinking in size.
The British Retail Consortium is expecting prices of many food items including cucumber and olive oil to go up in such a scenario.
Fitch to downgrade its forecast for Britain
Credit rating agency Fitch has given an updated view on Brexit. It now expects that with limited progress on UK-EU trade talks, both might be moving on to the terms set out by the WTO (World Trade Organisation) by 2021. Brian Coulton, chief economist, Fitch said that the agency will be lowering Britain's forecast by roughly 2 per cent for the year 2021 as a result of a no-deal Brexit.
Britain currently has got an AA negative outlook by Fitch. This forecast will be revised on 25 September 2020.
Also Read: Brexit Updates: UK Contemplates A New Bill
Impact on food prices
The prices of food items are expected to go up from January 2021. However, the exact impact will be different across various sub-sectors of the food and beverages. It will depend on the import intensity of the product in question.
This intensity also fluctuates across seasons in the UK. For instance, import of fruits and vegetables is higher during spring and winters. Many of these come via the Europe. For instance, Europe sends around ninety per cent of the total imported lettuce to Britain during peak seasons.
Overall, one can safely say that around half of the total imported food coming into the UK is routed via the European Union. Most of this food coming in will attract a tariff of 5 per cent or more, according to UK government estimates. The food prices are expected to go up accordingly.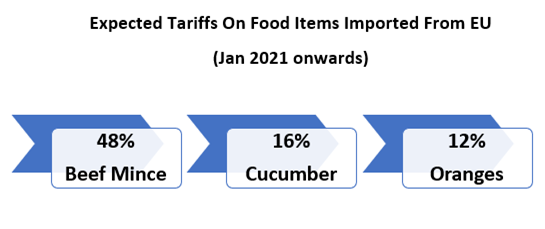 (Source: British Retail Consortium estimates)
The British Retail Consortium said that most of the imported food is sold through small retail outlets, who run on thin margins. They will see a substantial rise in cost, once the transition period gets expired by the end of December 2020 and Britain will have to pay higher duties on food items coming in via the EU.
Till now, agriculture enjoyed a zero-duty access to the EU's single market, which it might lose out on, added the BRC.
Also Read: British Economy To Rebound In Q3
Also Read: Sterling Expected to Weaken Against the US Dollar
Falling value of pound to add to the cost burden
In case the value of the sterling pound settles at a lower level than before beginning January 2021, food importers will have to bear this additional burden as well. A weaker currency will make imported products more expensive by the corresponding amount.
The pound sterling equalled 1.13 euros on 2 September 2020. Since then it is drooping and was trading at a lower value of 1.08 on 10 September 2020 at 3.45 PM. If market experts are to be believed, the British pound is under pressure with the news of Britain ultimately planning to leave the EU.
The UK government recently drew up a new legislation that would undermine the withdrawal agreement signed between the UK and the EU in the year 2019. The European Commission has requested the UK government to drop this legislation by the end of September 2020. Analyst expect the pound value to slide further against the euro.
Tate & Lyle plc (LON:TATE)
Tate and Lyle plc is an international supplier of food and beverages to various industries. The company stock (LON:TATE) was trading at GBX 689.40 on 10 September 2020 at 3.36 PM, down by 0.83 per cent from the previous day's close. The volume of shares traded totalled 235,521 at that time. The year to date return was recorded at a negative value of 9.57 along with an earning per share of 0.53. The instrument market cap was worth £3,256.46 million at that time. The stock's 52-week low / high range stood at 530.20 / 801.40.
The company share has move up by more than 1 per cent over the past three months period. The earnings yield for the company is running more than 8 per cent, which is a healthy indicator.
(Source: Company's website)
The company's latest financial results for FY 20 revealed a total revenue of 2882 million pounds with a 2 per cent growth over the last year. The latest trading statement sharing results for April to June 2020 showed a revenue growth of 5 per cent over the same period last year in 2019. Net debt was lower by 65 million pounds as compared to its 31 March 2020 value.
Also Read: Perspective on Resilient Food Producers Amid the Market Turbulence: Tate & Lyle & Associated British Foods
Also Read: Cranswick Plc's Revenue Up by 13% on Like-for-Like Basis in FY20
Cranswick plc (LON: CWK)
Cranswick plc is a leading food producer and supplier headquartered at Kingston upon Hull, UK.
The company stock (LON: CWK) was trading at GBX 3,570.00, down by 0.94 per cent on 10 September at 3.58 PM as compared to the previous day's closing price of GBX 3,604.00. The stock's market capitalization was 1,893.42 million pounds with the total volume of shares traded being 54,388. The 52-week low/high range was recorded to be 2,922.00 / 4,076.00. Positive retunes were seen at the time of recording for both year to date return of 4.16 and earnings per share of 1.59.
In its latest trading statement for the 13-week period ending 27 June 2020, Cranswick plc's revenue jumped by 24.8 per cent as compared to the same period last year in 2019. The net debt also fell for the period. The company's half-yearly results will be released on 24 November 2020. The company recently completed its poultry primary processing plant Suffolk.