Highlights

Australia heavily depends on fuel imports to meet its domestic energy demands.
According to recent reports, Australia has merely days of fuel storage left.
The country's transportation requires most of fuel supply; thus, Aussies might think of switching to electric vehicles.
Oil has been a hot topic across the world. Today's contemporary world heavily depends on fuel. However, while some countries are self-sufficient, others have to carry the burden of co-dependency. Australia is one of the latter nations. Additionally, with the rising tensions in Europe, the country is under massive pressure due to fuel shortages.
Australia's conflicted relationship with fuel
Like most other developed nations, Australia's demand for oil is massive, especially for transportation and electrification. According to a recent report by Australia Institute, this wouldn't be much of an issue if the country weren't importing 91% of its fuel. The government has always imported fuel to meet its domestic needs; however, since 2019, it has only increased the volume of imports.
Thus, Australia has become highly vulnerable to international fuel prices. And now, when the circumstances are so dire amid the Russian-Ukraine conflict, the country stands on the verge of running out of fuel storage.
ALSO READ: How can Australia secure its fuel supplies as geopolitical tensions boost oil price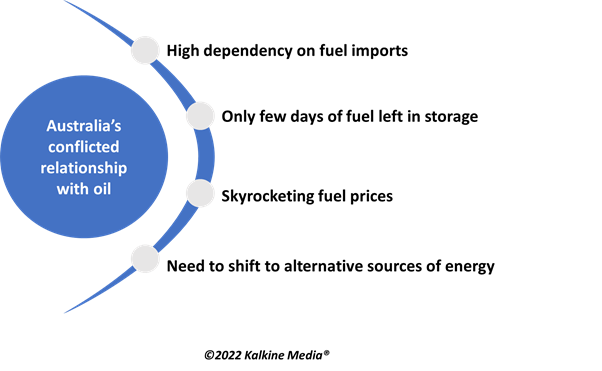 Is Australia's fuel supply a "national security problem"?
The Australia Institute, one of the country's proficient public policy think tanks has recently released a report stating that Australia just has around 60-70 days of fuel left. This is alarming, considering the International Energy Agency's guidelines that require a country to keep 90 days of fuel imports in storage.
Several researchers have said that Australia has a "national security problem" regarding fuel-especially for transportation. The demand for energy in the country has been on the rising graph; nonetheless, the country has nearly no self-backups.
The government plans to import oil from the USA. However, several researchers have said that getting oil in high quantities to meet the country's demand in such a short period amid high international tensions is difficult.
MUST-READ: Crude oil inches higher as EU considers ban on Russian oil imports
How is Fuel Price Increase Affecting Australians?
What's the way forward?
The skyrocketing fuel prices in the country are already hurting citizen's pockets. Besides, the dampening supply of fuel will only raise stress in the market. The rising international tensions have signalled that depending on heavy imports for the essentials such as fuel may not be a sustainable path for Australia.
All in all, the country needs to look at alternative options to substitute for the high demand for fuel. For instance, electric vehicles can be promoted in the country; that will help the transportation sector to lower its fuel dependency.