Highlights

Inflation pinches everyone, which begs the question as to whether the crypto investment space can be looked at as a hedge against it.
The five altcoins mentioned here have all registered very high YTD gains, but the timing of investing in any crypto is the key.
The five are billion-dollar market cap cryptocurrencies with their own unique blockchain features.
Price rise is pinching every household. From food and clothing to now energy prices, inflation is a matter of concern.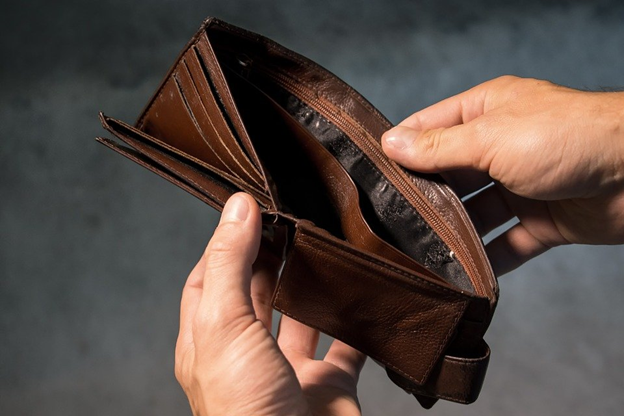 Source: Pixabay.com
With holiday shopping and inflation around the corner, the question arises as to whether crypto investment can help. Likewise, there is also a buzz about whether crypto assets could offset high inflation. Are cryptos a hedge against inflation? First, let's look at some returns on crypto investment.
For the Fed, the inflation target is two per cent. Today, let's look at five cryptocurrencies that outshined this figure. However, investing at the opportune moment is key.
1. Secret (SCRT)
Cryptos are no longer the secret wealth creators for a few. Though cryptos can also lead to losses given their volatility, the Secret crypto has so far returned well.
Also read: Can these 5 altcoins help fund holiday shopping?
Among the top 100 cryptocurrencies by market cap, the Secret crypto is an independent blockchain. It claims to provide privacy benefits to developers who can build decentralized applications on it. In contrast to the public blockchains where data is visible to all, Secret blockchain focuses on "transactional privacy."
Can these 5 Altcoins hedge against inflation?
Secret claims to be using "secret nodes" for network computations that preserve privacy. In a world that cares a lot about privacy, Secret may become a competitor to Ethereum.
As of now, the native token of Secret, SCRT, is trading at nearly US$8.5. On January 1, the price was nearly US$0.6. That said, the timing of investment in cryptocurrencies matters a lot considering the high volatility.
The Secret crypto has a market cap of nearly US$1.2 billion as of now.
2. Curve DAO Token (CRV)
Curve is a stablecoin exchange, indeed with decentralized attributes. It claims to be infusing liquidity into the stablecoins market by its automated market maker feature. Stablecoins are pegged to any stable asset like the US dollar.
CRV is the native token of Curve's decentralized autonomous organization, also dubbed as DAO. DAO is an Ethereum-based connector for smart contracts built on the blockchain.
Curve was launched in 2020, and has found a place among the top 100 cryptos by market cap. As of now, it has a market cap of nearly US$2 billion.
On January 1, 2021, CRV was trading at nearly US$0.64. The price, as of now, is nearly US$4.8.
3. THORChain (RUNE)
Although Thor is typically identified by a hammer, this cryptocurrency takes Thor to a blockchain. It enables users to trade cryptocurrencies without having to lose the assets' custody.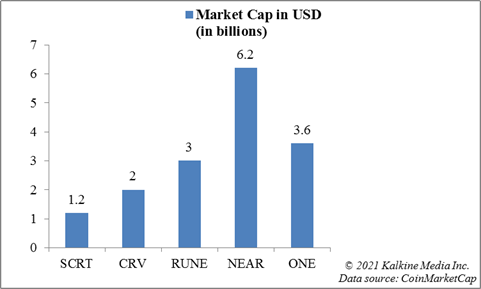 THORChain is more like Curve's liquidity protocol in that it acts as an exchange platform. Assets owned by users can be easily swapped without order books, thereby creating liquidity.
RUNE is the native token of THORChain. It can be used by network participants for payment of fees.
RUNE has a market cap of nearly US$3 billion as of now. On January 1, RUNE's price was nearly US$1.3. As of now, it is trading at nearly US$13.
4. NEAR Protocol (NEAR)
NEAR claims to be a DApps (decentralized application) platform. It uses the proof-of-stake (POS) protocol to let apps work on the web.
Also read: Can Bitcoin end 2021 with a price tag of $100,000?
The platform is said to have stable fees, with ease of scalability of the platform. NEAR is the native cryptocurrency of NEAR Protocol. It can be used to pay for data storage and also to vote on governance issues. NEAR crypto tokens are staked to run validator nodes.
NEAR Protocol is among the top 50 cryptocurrencies by market cap. As of now, its market cap is almost US$6.2 billion. On January 1, the NEAR token was priced at nearly US$1.5. It is trading at nearly US$12 as of now.
5. Harmony (ONE)
We know that Ethereum's blockchain is used to build DApps. Harmony also provides similar services to developers by claiming to provide improved processing speed.
Harmony's blockchain is said to allow the creation of blocks in seconds. It might also soon become a cross-chain platform.
Also read: After Shiba Inu's rally, 5 meme cryptos to watch in 2022
As of now, Harmony has a market cap of nearly US$3.6 billion. The ONE crypto was trading at nearly US$0.0042 on January 1. ONE is trades at nearly US$0.34 as of the time of writing.
Bottom line
The year 2021 was a year of rising prices for most things including houses and cars. So far, the above five altcoins have produced gains. All the five have also gained in double digits over the last seven days at the time of writing.
The timing of the investment and also withdrawal is extremely important in the volatile world of cryptocurrencies. Lately, Shiba Inu (SHIB) skyrocketed but then fell owing to Elon Musk's tweet that he doesn't own any SHIB crypto tokens. Investors must consider their risk ability and risk appetite.