Highlihghts

There is qualitative as well as quantitative data that point to a likely Bitcoin appreciation from hereon.
Altcoins too have gained immensely in 2021, and their appreciation could indirectly trigger interest in BTC.
BTC entered March 2020 with a price tag of nearly US$8,600 and by the end of the year 2020, Bitcoin was priced at nearly US$29,000, and it is now US$55,400 apiece.
The festive season is slowly kicking in. The pandemic may have dampened spirits a little, but cryptos could be a ray of hope, a silver lining.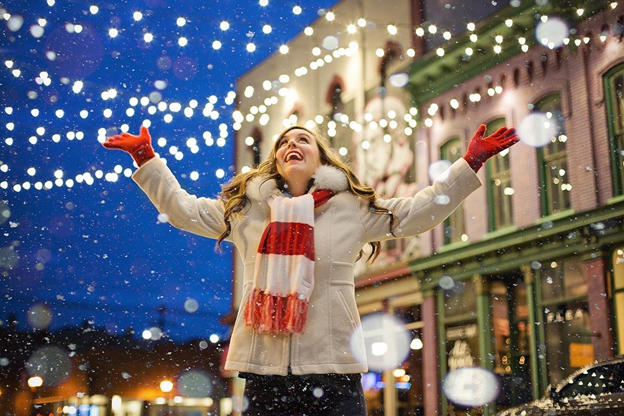 Source: Pixabay.com
Now that the world is slowly recovering from the pandemic blues, forthcoming festivities are the escape we all were looking for. So, what are your plans -- a trip to a remote location, or filling your house with a set of new appliances and furnishings? Is it possible these can be funded with crypto gains? Is it the time to invest in the crypto space?
Can Bitcoin (BTC) help fund festive shopping?
The argument in favor of this should be backed by data and weighed by an individual's risk ability and appetite. But before we jump to numbers, it is some latest developments that should be counted first.
Bitcoin became legal tender in 2021. Yes, despite all the negative talk concerning volatility in prices and excessive power consumption, Bitcoin finally achieved legal tender status in El Salvador. The country is aiming to reduce remittance costs and speed up cross-border payments using Bitcoin.
Also read: Can Bitcoin be termed as the 'asset of the century'?
If detractors are decrying its lack of utility; institutional investors are increasing their BTC holdings. Did you know that MicroStrategy, a business intelligence firm listed on NASDAQ, bought 5,050 new BTC in September 2021? The CEO, Michael Saylor, tweeted that the average cost of this new holding was nearly US$48,099 per BTC. And as of today, within less than a month, the company has already made a profit of nearly US$7,000 on each BTC.
If that's not enough to convince the staunchest critics of cryptocurrencies, the news that Bitcoin is now valued more than technology giant Facebook should be.
How has Bitcoin performed lately?
Bitcoin emerged one of the favorite investment destinations amid the pandemic gloom. It entered March 2020 with a price tag of nearly US$8,600. By the end of the year 2020, Bitcoin had gained immensely and was priced at nearly US$29,000.
Imagine the money its backers created at a time when many families around the world were looking at government cash support to pay rents and utility bills.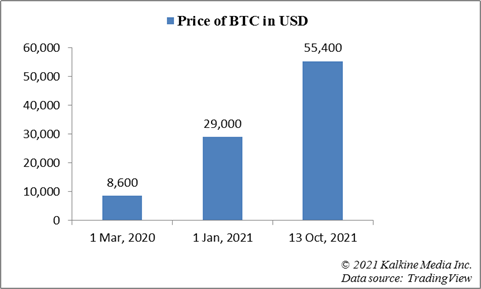 The momentum did not end there. It was like there was no looking back for BTC investors. In mid-April 2021, BTC was priced at nearly US$64,500 apiece. This is more than double the price in fewer than four months. And, this is when interest rates around the world were sitting at record lows in the wake of near-zero benchmark rates announced by the Fed, the Bank of Canada and other central banks.
Also read: 5 best cryptos to watch in 2022
But there was a stumbling block ahead. China's crackdown on Bitcoin mining resulted in the price going south. This, however, can be termed as a correction that is a feature of almost every asset, be it stocks or even precious metals like gold. By July 2021, BTC plunged to below the US$30,000-mark. The rebound was however unprecedented. It lifted the price and as of today, one BTC is trading at nearly US$55,400.
Also read: 3 reasons why Bitcoin is going down at any point in time
Should you buy Bitcoin or an altcoin?
The answer to this question is a little tricky. Bitcoin's appreciation is dwarfed by some altcoins like Axie Infinity's AXS. AXS started the year 2021 with a price tag of nearly US$0.54. As of today, it is trading at a whopping US$120. Its year-to-date (YTD) return is over 20,000 per cent. This is no mean feat.
Also read: Top 5 cryptocurrencies available for under $1
The key here is looking at the utility of any particular blockchain project. For example, Axie Infinity is a blockchain-based game with AXS as its governance token. It also infuses the NFT element for gamers. These attributes have added to the popularity, and hence this skyrocketing appreciation of AXS in 2021.
Ether, on the other hand, is another popular altcoin that is the native token of the Ethereum blockchain. If this blockchain finds more takers, Ether will continue to soar in the future. However, Bitcoin remains the most popular, largest cryptocurrency by market cap, and the biggest headline maker.
Bottom line
The festive season cannot be without spending a little on things you have wished for. The last one and a half years was a period of slow economic growth with many people losing their jobs. Investment in an asset, which is the talk of the town, is generally a safe bet, given that the timing is right. However, bear in mind, this is the extremely volatile crypto space we are talking about.
For now, Bitcoin has yet to soar to the level it attained in April 2021. There is enough space for a possible appreciation in BTC in the near future. But it is by no means a given.