Highlights

Genesis navigated successfully through COVID-19 challenges.
The Group's FY22 guidance stands in the range of $420 million to $440 million.
Genesis has committed to eliminate 1.2 million tonnes of carbon emissions by 2025.
NZ's leading electricity producer, transporter and retailer, Genesis Energy Limited (NZX:GNE; ASX:GNE), conducted its annual shareholder meeting on 29 October.
Genesis reported an EBITDAF of $358 million and underlying earnings of $75 million in FY21, up from $356 million and $53 million in FY20. However, these metrics were lower due to two items.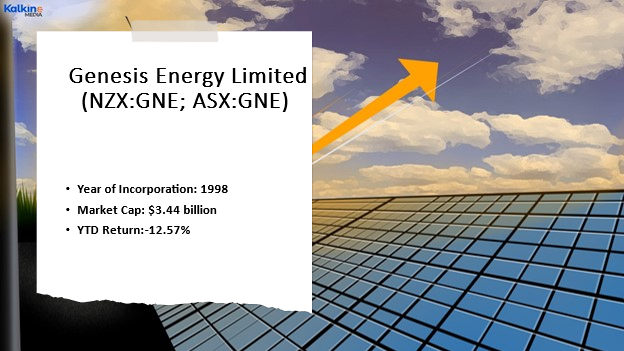 Image source: © 2021 Kalkine Media, Data source- Refinitiv
Image Description: Genesis' details
EBITDAF and underlying earnings were impacted by the decision to utilise the carbon Fixed Price Option, and the disadvantageous Beach arbitration decision relating to carbon obligations.
Genesis also paid a full-year dividend of 17.4cps, up 1.2% on 17.2cps in 2020. In addition, the group revised its dividend policy to a range of 70% to 90% of free cash flow from the one based on maintaining dividends in real terms.
RELATED READ: Genesis (NZX:GNE): How did the Company perform in Q1 FY22?
Kupe gas field's strategic review was of key consideration for the Board this year. Genesis retained its part ownership in Kupe following the review.
Commitment to a low-carbon future
Genesis committed to eliminate 1.2 million tonnes of carbon emissions by 2025. This is in connection to the internationally recognised benchmark to limit global warming to below-1.5 degree Celsius of pre-industrial temperature.
Related article: Is New Zealand on the right path to become a zero-carbon country?
To meet the targets, Genesis aims to economically displace baseload thermal generation with 2650 GWh of new renewable generation by 2030. The Group has signed power purchase contracts with Tilt Renewables and Contact Energy that will generate 1935 GWh per year of renewable electricity.
RELATED READ: How are 5 NZX energy stocks performing amid RBNZ's latest report?
Genesis has also collaborated with a number of external experts to test the viability of biomass conversion at the Huntly power station. Huntly is ideally situated for major electricity generation, located near to demand, with high-voltage connection and an ample local workforce.
On 29 October, GNE ended the trading session at $3.22, up 0.63% from its previous close.
Bottom Line
Genesis has declared the FY22 guidance in the range of $420 million to $440 million subject to normal hydrological requirements, any material one-off expenses or other unforeseen circumstances.
This guidance range comes on the back of increased renewable generation delivered through the functioning of Waipipi wind farm, a return to normal hydrology, and portfolio optimisation.
(NOTE: Currency is reported in NZ Dollar unless stated otherwise)