Highlights
It seems difficult to ascertain the long-term impact of the Russia-Ukraine war on the Australian economy.
At present, the Australian economy seems to be performing relatively well than many other advanced economies.
Amidst a substantial rise in inflation, the RBA has brought forward its rate hike projections.
After facing multiple obstacles in the form of the global pandemic and supply-side disruptions, the Australian economy is now staring at the devastating effects of the Russia-Ukraine war. While some effects of these disruptions can already be felt across major industries, the long-term impact of the war is difficult to ascertain. Thus, it seems imperative for the economy to devise a comprehensive plan to counter war-related uncertainty.
Going by the official employment and GDP statistics, the Australian economy has performed quite well despite global uncertainties. The resumption of business activity, combined with a return of the labour force, created a perfect ground for economic stability as soon as virus-related fears subsided. However, just as is the case with most economies, Australia's pandemic recovery seems to have been interrupted by the Russia-Ukraine conflict.
The immediate impacts of the war have largely shaped up in the form of rising inflation and a potential slowdown in economic growth. Further uncertainty is added by the fact that the Australian economy had already been under the influence of increasing inflation due to supply chain issues and soaring consumer demand. However, experts suggest that these effects could become more pronounced in the Australian economy if the war does not terminate soon.
MUST READ: Why IMF expects Australian economy to grow at 4.2% in 2022
Effects of sanctions on prices
Most nations have taken a non-violent stand against Russia by implementing sanctions on its exports and destabilising its financial ecosystem. Self-sanctioning has also become a prominent phenomenon as lesser companies want to conduct their operations in Russia. These activities have halted trade channels while exacerbating the supply-chain bottlenecks.
Meanwhile, prevailing sanctions on Russia have become significant for economies like Australia due to a ripple effect observed in commodity prices. Oil and gas prices were the first to shoot up as soon as news of the Russia-Ukraine war broke out. With the war intensifying, several countries have introduced bans on oil imports from Russia, prompting retaliation by the Russian government.
Fears loom that the escalation of war can further hurt the oil supply, causing energy prices to rise across the globe. While Australia may not be directly dependent on Russia for its oil imports, the threat of Russia's retaliation to sanctions looms from many miles away.
Along with oil and gas, the prices of other commodities have also surged on the back of rising tensions. In particular, wheat prices initially reached unforeseen levels, reaching all-time highs due to the closure of Ukrainian ports.
It is worth noting that Ukraine and Russia hold a major market share in total international imports of food grains. Meanwhile, both countries are huge exporters of corn and sunflower seeds, which could also see an impact of the war. These inflationary concerns surfacing in the foreground seem to be provoking already battered economies.
DO NOT MISS: Inflation jumps to 30-year high in NZ, what to expect from Australia?
Interest rate hike expectations
While inflationary fears are mounting, the Australian central bank has not yet increased interest rates to combat inflation. However, the current rise in energy and commodity prices has added further heat to the discussion around interest rates.
Several experts expect the Reserve Bank of Australia (RBA) to increase interest rates by June this year. Meanwhile, the financial market is bracing for multiple rate hikes of 25 basis points each by the end of 2022. Speculations are rife that the central bank may need to take strict action in case inflationary spells become more pronounced. This means embracing rate hikes at a quicker speed than expected.
ALSO READ: RBA's April meeting minutes out, any hint of rate hikes?
It seems essential for the central bank to address growing inflation at the earliest as rising prices of essential commodities could dent consumer spending on bigger purchases. This would mean a dip in investment and overall household spending, impeding the pace of economic growth.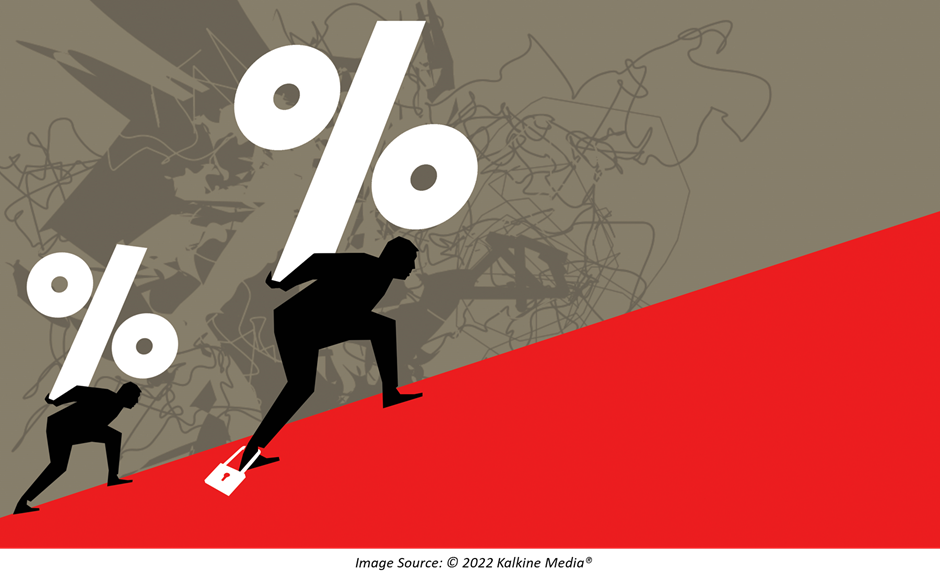 What can be expected?
Since the pandemic ensued, the Australian economy is leaving no stone unturned to return to normalcy. However, the economy is facing back-to-back challenges in the form of virus-induced restrictions, supply chain disruptions, the Russia-Ukraine war and the devastation caused by floods.
All these market forces have somehow contributed to a slower economic recovery. At the very least, these factors have hurt consumer sentiment and delayed business activity, weighing on economic activity.
With some of these market forces intensifying each passing day, a large blow to consumer spending could be seen in the economy. In such a case, the central bank may delay its tightening measures to allow for greater liquidity. This strategy has somehow worked in the post-pandemic world, but at the cost of rising inflation.
MUST READ: Should Aussie renters worry about potential interest rate hikes?
Experts suggest that monetary and fiscal policy tightening might not be optimal to tackle inflation amidst the Russia-Ukraine war. With wages remaining relatively steady, high interest rates could cause more damage than benefits, prompting businesses to curtail investments.
Thus, the RBA needs to manage inflation while keeping track of economic growth. At present, the central bank wants wages to reach the pre-existing target before increasing the cash rate to maintain affordability among households.
Achieving higher wages within a short span of time seems tough due to existing contractual agreements. Thus, the RBA has changed its existing stance on interest rates, bringing forward its rate hike expectations. Overall, the central bank will have to consider a range of crucial market forces before embracing its first-ever interest rate hike.
GOOD READ: Do you know how wars impact interest rates?