Highlights

One of the companies listed below collaborated with Fobi AI to leverage its e-commerce platform with artificial intelligence.
One of the companies mentioned highlighted an active customer base of 118 million users on its e-commerce platform.
The highest ROE posted among them was 33.26 per cent, and ROA was 27.97 per cent.
E-commerce users in Canada grew exponentially over the years and 72.5 per cent of the population used it as of 2021.
As per the latest report published by Statista, in late 2019, Canadian e-commerce retail trade sales were C$ 1.85 billion, and the revenue generated from e-commerce is expected to surpass US$ 33 billion by 2024.
Let's explore some Canadian e-commerce companies.
Shopify Inc. (TSX: SHOP, NYSE: SHOP)
Shopify offers subscription-based e-commerce solutions to medium and small companies. The merchants of Shopify can avail of platforms like physical stores, social media websites and kiosks to conduct their business.
On September 7, 2021, the company held a market cap of C$ 242.89 billion and posted a return on equity (ROE) of 33.3 per cent and return on assets (ROA) of 27.97 per cent.
The stock price of Shopify closed at C$ 1,946.48 apiece on September 3, 2021, and on this day, it traded roughly six per cent below its 52-week high of C$ 2,075.88 (July 26, 2021). The one-year stock return was 46 per cent.
In the second quarter of FY21, the total revenue of Shopify was US$ 1.12 billion, an increase of 57 per cent Year-over-Year (YoY). In the same quarter, its net income was US$ 879.1 million or US$ 6.9 on a per-share basis.
By the end of the latest quarter, the e-commerce company had more than 118 million users actively using Shop Pay and the Shop App.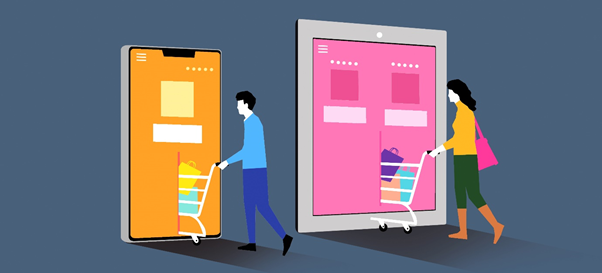 © 2021 Kalkine Media
Points International Ltd (TSX: PTS)
Points International designs and offers a wide range of loyalty programs to retailers and wholesalers. The company also provides e-commerce products and services to its customers. The company held 14.94 million outstanding shares and a market cap of C$ 347.5 million on September 7, 2021.
On the valuation front, Points International held a price-to-book (P/B) ratio of 4.8 on September 7.
The revenue of Points International increased by 152 per cent YoY, which was US$ 103 million in Q2 FY21. Its gross profit and adjusted EBITDA were US$ 12.3 million and US$ 3.4 million, respectively, in the same quarter.
Points International joined hands with Bilt Reward to create a reward program, allowing users to earn points on rent.
The stock price of Points International expanded by close to 62 per cent over the past year. The stock price reached its 52-week high of C$23.25 on September 2, 2021, while the price at market close on September 3 was C$ 23.26.
Also Read: 6 best Canadian e-commerce stocks to buy right now
Lightspeed Commerce Inc. (TSX: LSPD)
The C$ 21.41 billion market cap e-commerce company has built a SaaS-enabled platform that supports trade and commerce. The e-commerce platform also supports payment systems and other functions.
The company held a debt-to-equity (D/E) ratio of 0.03 and a P/B ratio of 8.02 on September 7.
At the market close on September 3, the stocks of Lightspeed were priced at C$ 150.19. On this day, stocks traded 300 per cent above their 52-week low price of 37.51.
On a quarter-to-date (QTD) basis, it returned nearly 45 per cent, but over the past year, these stocks rocketed 243 per cent.
As per the latest report, Lightspeed and Fobi AI Inc., a leading analytics and artificial intelligence company, collaborated to provide real-time data and analytical solutions to customers of the former company.
Also Read: Rritual Superfoods (RSF: CSE) adds lustre to its e-commerce strategy with Tinuiti partnership
Nuvei Corporation (TSX: NVEI)
This C$ 22.4 billion market cap company provides payment solutions and technology to its merchants and other customers. Nuvei Corporation has a geographical presence in the UK, Europe, and other parts of the world.
The senior leadership of Nuvei Corporation has announced the completion of the acquisition of SimplexCC Ltd., a leading digital payment technology and AI company.
In Q2 FY21, Nuvei posted revenue of US$ 178.2 million, which increased from US$ 83.3 million in Q2 FY20. Its adjusted EBITDA was US$ 79.4 million in the same quarter. Its e-commerce volume was 84 per cent.
On September 3, the stock price of Nuvei Corporation closed at C$ 153.56. It reached its 52-week high of C$ 167 on September 1, 2021. On a year-to-date (YTD) basis, the stock price expanded by 97 per cent.
Ackroo Inc (TSXV: AKR)
Ackroo provides its merchant SaaS-enabled platform that administers in-store and online solutions. The merchants use the e-commerce platform to manage loyalty and other transactional activities.
The company held a market cap of C$ 22.52 million, a P/B ratio of 6.00, and a D/E ratio of 1.57 (at the time of writing).
The stock price of Ackroo was C$ 0.19 on September 3. In the last nine months, the stock price increased by 30 per cent.
In Q2 FY21, Ackroo posted revenue of almost C$ 1.47 million, and its gross profit margin was C$ 1.3 million.
Bottom line:
Reportedly, the lockdown during the pandemic acted as a boon for the Canadian e-commerce industry, leading to an all-time high of online shopping and retail e-commerce trade.