Highlights

The Onex Corporation stock fell by 40.33 per cent and closed at C$ 64.51 on September 22, 2022.
As of June 2022, the total revenue for Air Canada witnessed an increase of 54.72 per cent.
In June 2022, the net earnings for Cargojet Inc. were reported at C$ 104.6 million compared to C$ 78.3 million in the previous year.
The aviation sector in Canada has a significant presence in the global market. The overall health of the economy majorly influences the demand for air travel at a global level. Post-pandemic, the conditions for air travel have eased out.
Further, the development and approval of multiple vaccines have paved the way to recover from the crisis.
Amidst, investors must explore the different airline stocks by analyzing their daily movements. No one stock suits all the investors. Some of the airline stocks include- Air Canada (TSX: AC), Onex Corporation (TSX: ONEX), Chorus Aviation Inc (TSX: CHR), Cargojet Inc (TSX: CJT), and Transat A.T. Inc. (TSX: TRZ), etc.
Here, let us look at the performances of five airline stocks:
Air Canada (TSX: AC)
Air Canada is a major player in the aviation sector and has an employee size of 19,769. The total market capitalization for Air Canada is C$ 6.3 billion.
For the second quarter of fiscal 2022, Air Canada reported operating revenue of C$ 3.981 billion, which is five times higher than the operating revenue in the year-ago quarter. In Q2 2022, Air Canada also posted the narrowest quarterly operating loss of C$ 253 million since the onset of the pandemic.
Its cash from operations in the reported quarter was C$ 1.077 billion versus its cash in operations of C$ 1.377 billion in Q2 2021.
Onex Corporation (TSX: ONEX)
Onex Corporation operates in two segments: investing, which includes private credit and equity, direct investments and asset and wealth management of funds, pension plans, and insurance companies. Onex Corporation operates with a total market capitalization of C$ 5.4 billion.
The company announced a quarterly dividend of C$ 0.1 with a dividend yield of 0.637 per cent. Onex's earnings per share (EPS) was 11.29, while it had a price-to-earnings ratio of 5.6.
For the quarter ending June 30, Onex had reported approximately C$ 1.2 billion of cash and near-cash, compared to C$ 1.6 billion in the quarter ending December 31, 2021.
Chorus Aviation Inc. (TSX: CHR)
Chorus Aviation Inc. specializes in aircraft leasing solutions, repair, overhaul, contract flying, maintenance, etc. Further, it operates in Regional Aviation Services and Regional Aircraft Leasing.
The C$ 534.024 million market company is headquartered in Dartmouth, Canada. Chorus Aviation Inc. is slated to release its Q3 2022 financial results on November 10, 2022.
The company said it completed the Falko acquisition for US$ 843.7 million in the second quarter of 2022 results.
In Q2 2022, Chorus Aviation's adjusted net income was C$ 27.6 million, an increase of C$ 16.2 million quarter-over-quarter. While the adjusted EBITDA was C$ 104.9 million, up by C$ 28 million quarter-over-quarter.
Cargojet Inc (TSX: CJT)
Cargojet Inc. operates as an air cargo co-load network that works within domestic boundaries with an employee size of 1,496.
Presently, Cargojet Inc has a total market capitalization of C$ 1.928 billion. The company's EPS was 11.20, paying a quarterly dividend of C$ 0.286. The five-year dividend growth was reported at 7.59 per cent.
In Q2 2022, Cargojet registered total revenue of C$ 246.6 million compared to C$ 172.1 million in the second quarter of 2021.
The Relative Strength Index (RSI) value of the CJT stock was 20.21 as per Refinitiv data on September 26, 2022. Indicating that the stock might be oversold.
Transat A.T. Inc. (TSX: TRZ)
Transat A.T. Inc. operates in the tourism industry and facilitates the marketing and organization of holiday travel, including air travel, vacation packages, and hotel stays. It has a market cap of C$ 111.152 million.
The Transat A.T. Inc. stock fell by over 32 per cent on a year-over-year basis. It tumbled over 18 per cent on a quarterly basis.
Transat A.T. Inc.'s third quarter of fiscal 2022 revenue was C$ 508.3 million. The company reported an adjusted operating loss of C$ 57.8 million (operating loss of C$93.2 million) in Q3 2022.
The below graph displays the stock price over the past three quarters.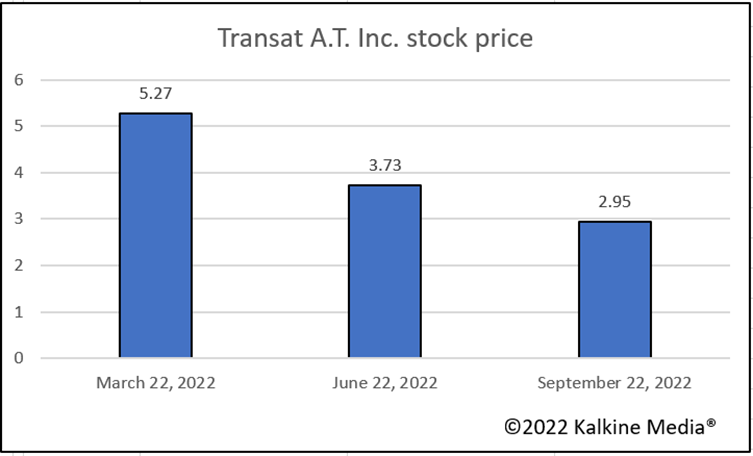 Bottom Line
Post-pandemic demand for air travel demand is growing to pre-pandemic levels. According to the International Air Transport Association's (IATA) data released in August, the global total traffic in June 2022 increased by 76.2 per cent compared to June 2021.
However, the aviation sector is governed by external factors over which market participants have little control. A long-term strategy supported by fundamental and technical analysis can be explored by interested participants.
The world is moving towards recovery and bringing in new trends every day. Global factors govern airline stocks. For further information, refer to Kalkine Media's news section and be updated with the changing trends.
Please note, the above content constitutes a very preliminary observation based on the industry and is of limited scope without any in-depth fundamental valuation or technical analysis. Any interest in stocks or sectors should be thoroughly evaluated taking into consideration the associated risks.