Summary

Global health care spending set to rise at a CAGR of 5 percent between 2019 to 2023
Under COVID-19 and evolving consumer expectations, the sector is undergoing massive change
Digital health ecosystem is shaping the future; virtual health care services on surge, making it a multibillion-dollar global industry
Health care stocks are poised for growth in coming days as the industry hunts for potential breakthroughs in COVID-19 vaccines.
Global expenditure on health care has rapidly increased in the last two years and is expected to further accelerate amid the pandemic. The sector has expanded faster than the global economy, posting 3.9 percent growth in real spending between 2000 and 2017 while the economy grew 3 percent a year, says a World Health Organization study. Global health care spending is expected to rise at a compound annual growth rate (CAGR) of 5 percent between 2019 to 2023, says Deloitte's 2020 Global Health Care Outlook report.
The health care sector is vast, with a broad range of players poised in various market segments such as medical products, medical services, drugs and pharmaceuticals, biotech, equipment, digital services and many more.
With the onslaught of COVID-19, the industry is witnessing a massive change in dynamics as consumer expectations evolve. Virtual health care and its allied services are seeing a surge, making it a multibillion-dollar global industry.
The digital health ecosystem is the "new now" and shaping up the health care systems of the future, says the Deloitte report. The sector will be guided by the need for predictive and preventive care and low-cost, precise, and "less invasive treatments", says the consulting firm.
The World of Digital Health Ecosystem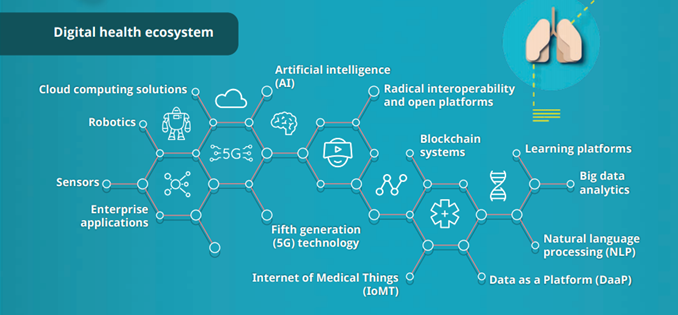 (Source: Deloitte)
Health care spending in Canada touched C$ 264 billion in 2019 and was expected to represent 11.6 percent of the GDP, says the Canadian Institute for Health Information (CIHI). This upward spending trend is likely to continue as the country tackles the medical emergencies emerging from the pandemic.
Of the total spending, hospitals secured the largest share at 27 percent, followed by drugs and physicians at 15 percent each. Health care expenditure is the highest among senior citizens, with those in the age group of 65 to 69 years spending on average C$ 6,656 and those above 80 years spending C$ 20,793 in 2019, according to CIHI data. The 2020 coronavirus pandemic has been particularly risky for seniors across the world.
As Canada's medial system continues to evolve with the new normal, aging demographics and scientific advances, health care stocks are poised to drive the growth in the markets in coming days. Toronto Stock Exchange's health care index is up 1.54 percent in the last three months. The market is likely to rally as potential breakthroughs in the hunt for COVID-19 vaccine make headlines.
The performance of health care stocks has widely varied in the coronavirus-led bear market, with some company shares yielding good returns and others on a downward trend.
Under these circumstances, here's a look at growth stocks on the TSX to choose from:
WELL Health Technologies Corp. (TSX: WELL)
WELL Health Technologies has posted remarkable gains since its debut on the stock market in June 2013, its scrips advancing by over 2100 percent in nearly seven years. The shares swelled over 101 percent in 2020, overriding the pandemic-led stock market crash by leveraging evolving trends in the health and wellness sector.
WELL Health Technologies is an omni-channel health care and service provider, which operates health clinics, offers tele-health services and is a leading supplier of Electronic Medical Records (EMR) in Canada. It currently operates 21 medical clinics, provides digital EMR software and services to over 1500 medical clinics across Canada. It also is a majority owner of SleepWorks Medical.
The company made it to the TSX Venture 50 Company list for three years in a row in 2018, 2019 and 2020. It graduated to the key Toronto Stock Exchange on January 10, 2020.
With a current market cap of C$ 410 million, WELL Health Technologies revenue has proven resilient in the face of the pandemic, consolidating its position as a growth stock. It has delivered good return on equity to its investors. The company posted a quarterly revenue of C$ 10 million in the first quarter of 2020, representing 38 percent year-over-year (YoY) growth. WELL EMR Group digital services revenue posted 918 percent YoY growth.
Viemed HealthCare Inc. (TSX: VMD)
Shares of Viemed HealthCare has advanced by over 72 percent this year in the face of COVID-19-led market crashes, earning the tag of a growth stock. The scrips have grown over 480 percent since its trading debut in December 2017.
Viemed HealthCare is a leading provider of in-home health care solutions in the United States. It offers products and services for respiratory patients and related equipment for neuromuscular care and oxygen-therapy services. It has two business wings – Sleep Management and Home Sleep Delivered. Sleep management focuses on disease management and improving respiratory patients' quality of life through technology and education while Home Sleep Delivered concentrates on in-home sleep testing for sleep apnea sufferers.
Its product sale has seen a massive upsurge amid the coronavirus pandemic with demand for ventilation products skyrocketing across the world.
In its first quarter results, the company posted a revenue increase of 31 percent YOY to US$ 23.8 million, while net income for the period was up 117 percent to US$4.2 million.
Andlauer Healthcare Group Inc. (TSX: AND)
Stocks of health care supply chain services provider Andlauer Healthcare Group has surged over 91 percent since its trading debut in December 2019. The company's services are in demand during the pandemic and has delivered good returns to investors.
The firm distributed quarterly cash dividend of C$ 0.05 and has a current yield of 0.524 percent. Its first quarter revenue is up 14.4 percent, earning C$ 81.7 million as compared to C$ 71.4 million Q1 2019. Net income surged 8.5 percent while EBITDA increased by 9.2 percent.
The group has a third-party logistics platform and specialized transportation offering delivery, distribution, warehousing, and other related solutions in the medical and pharmaceutical space. It focuses on safe and efficient delivery of health care products and services from development to patients. It has a coast-to-coast distribution network including 1.8 million sq. ft. of capacity and state-of-the-art security.