Highlights

Growth stocks are sought by investors looking for capital gains.
The stocks of one of the below-mentioned companies skyrocketed by more than 1,619 per cent in the past year.
Among them is a stock with a price-to-earnings ratio of 210.10.
Investors often look to invest their money in growth stocks for long-term capital gains. These companies are focused on their future routes to grow their businesses.
Generally, growth-focused companies do not offer dividends as they tend to reinvest their earnings to further expand their businesses. Thus, investors need to research about the stock, its fundamentals, future plans and prospects to capitalize from the forthcoming market situations.
Also read: 5 events that can influence Canadian markets on October 7
Let us explore three Toronto Stock Exchange (TSX) listed growth stocks.
1. Paramount Resources Ltd. (TSX:POU)
Paramount Resources Ltd is a Calgary-based energy firm engaged in the exploration and development of petroleum and natural gas fields across the Grande Prairie area, Kaybob, central Alberta and other regions. The firm further produces and markets its products in the key markets of Canada and the United States.
On Tuesday, October 5, the oil and gas firm's scrip touched its 52-week high at C$ 19.58 and fell more than two per cent to C$ 19.13 apiece on October 6.
POU's scrip climbed about 798 per cent in the past year and soared nearly 283 per cent on a year-to-date (YTD) basis. Its scrip increased by approximately 30 per cent in the last month.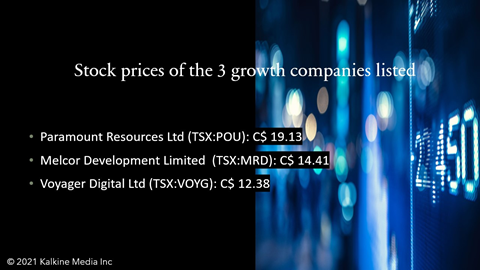 Paramount Resources, in its latest quarter, exceeded guidance ranging 77,000 boe/d to 78,000 boe/d and posted an average sales volume of 79,995 barrels of oil equivalent per day (boe/d), mainly driven from the Karr operations.
The firm reported C$ 112.1 million cash from operating activities and C$ 86 million from adjusted funds flow, in the second quarter of 2021.
Paramount posted a price-to earning (P/E) ratio of 19.60, price-to-book (P/B) ratio of 1.241 and return on equity (ROE) of 7.07 per cent, at the time of writing.
2. Melcor Development Limited (TSX:MRD)
The Edmonton-headquartered real estate company Melcor Development Limited develops and manages residential and commercial properties across Alberta, British Columbia, Arizona, Saskatchewan and Colorado.
On Wednesday, October 6, The MRD's stock wrapped up trading at C$ 14.41 apiece, about six per cent below its 52-week high of C$ 15.34 (September 28). Its stock grew more than 136 per cent in the past year and expanded almost 53 per cent on a YTD basis.
The company recorded 49 per cent YTD growth in its revenue to C$ 108.82 million and a 76 percent year-over-year increase in funds from operation (FFO), in the second quarter of 2021. In addition, it posted a net income of C$ 9.01 million in Q2 2021.
Melcor held a P/E ratio of 210.10, P/B ratio of 0.449 and ROE of 0.23 per cent on October 6.
3. Voyager Digital Ltd. (TSX:VOYG)
The crypto asset brokerage firm Voyager Digital Ltd. offers turnkey software solutions and empowers retail and institutional investors to trade in crypto assets.
The software technology firm's stock climbed more than 1,619 per cent in the past year and expanded by almost 136 per cent in the last nine months. On a YTD basis, its stock rose by roughly 148 per cent.
The firm saw its stock closing at C$ 12.38 per share on Wednesday, October 6, marking a fall of more than 67 per cent from its 52-week high of C$ 37.95 (April 6).
Voyager Digital posted a P/B ratio of 14.395 and a price-to-cash flow (P/CF) ratio of 127.20, at the time of writing.
Also read: Is Shiba Inu the future altcoin? Know price prediction as it nears ATH
Bottom line
As the earnings are reinvested to further the growth of the businesses, growth stocks are not likely to pay dividends to their shareholders. However, the stock prices of such stocks are expected to rise with time.
It is important to go through the financial and market performances of such companies and learn about their operations, future prospects, etc. to ensure you earn high returns when it's time to sell the stock. Also, investors should decide for how long they want to invest in the stock, and then choose to invest in a stock which is compatible with their investment goals.