Highlights

Kinaxis reported that its total revenue swelled by 70 per cent year-over-year (YoY) in Q1 2022
Shopify saw a quarterly revenue growth of 22 per cent YoY in Q1 FY2021
Shopify said that this revenue growth marked a two-year compound annual surge of 60 per cent
Increased volatility and growing uncertainty in the stock market can be stressful for investors with short-term goals. But, for long-term investors, this could mean including healthy growth stocks with robust financials in their portfolios.
Though the TSX technology index decreased by over 37 per cent year-to-date (YTD), investors with a long-term perspective can explore TSX stocks like Kinaxis (TSX: KXS) and Shopify (TSX: SHOP). Let us talk about these 2 TSX tech stocks.
Kinaxis Inc (TSX: KXS)
Kinaxis is a software technology company providing Software-as-a-Service (SaaS) solutions to help businesses in sales and operations planning (S&OP) and supply chain management.
Kinaxis recently announced a partnership to connect its concurrent planning platform Kinaxis RapidResponse® with Blume Global, a multimodal supply chain solution platform to better align supply chain planning and execution and solve freight transportation worries.
The midcap technology company said that its total revenue swelled by 70 per cent year-over-year (YoY) to US$ 98.1 million in Q1 2022. This revenue increment was mainly led by 1040 per cent growth in subscription term licenses revenue in the latest quarter compared to the previous year's quarter.
As a result, Kinaxis posted a profit of US$ 12.52 million in the first three months of 2022, relatively up from a loss of US$ 1.53 million a year ago.
KXS stock plummeted by almost 11 per cent in a year. According to Refinitiv, Kinaxis's relative Strength Index (RSI) value was 57.15 (at moderate level) on June 28, with Moving Average Convergence/ Divergence (MACD) indicator approaching base line.
Shopify Inc (TSX: SHOP)
Shopify posted US$ 1.2 billion in total revenue in the first quarter of 2022. The e-commerce platform company said that this quarterly revenue reflected a rise of 22 per cent YoY and marked a two-year compound annual surge of 60 per cent.
Shopify also signed an agreement to acquire e-commerce fulfilment tech facilitator Deliverr to simplify logistics and supply chain management solutions for merchants.
SHOP stock slipped by over six per cent on June 28. As per Refinitiv findings, SHOP held an RSI of 47.8 on June 28 with MACD indicator nearing zero line.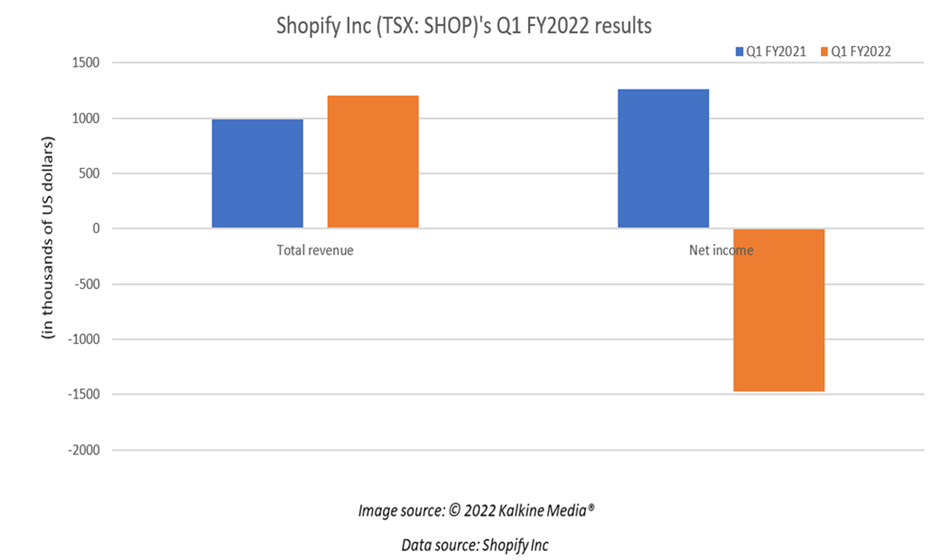 Bottomline
Investors could consider Kinaxis and Shopify if they are looking for quality growth stocks to benefit from future growth. Supply chain disruption is one of the factors that affected many businesses, particularly during COVID-19 and heavy flooding in British Columbia. As TSX tech companies discussed here provide supply chain management solutions and are working on improving their supply chain network and infrastructure for businesses, these could offer significant returns in the long run.
Please note, the above content constitutes a very preliminary observation based on the industry, and is of limited scope without any in-depth fundamental valuation or technical analysis. Any interest in stocks or sectors should be thoroughly evaluated taking into consideration the associated risks.