Highlights

As cryptocurrencies gain momentum, investors appear to be searching for cryptos to buy now in hopes of making long-term gains.
Cryptocurrencies like Solana have recently performed well.
Algorand is gaining investor attention after surviving the crypto market crash on September 7.
The cryptocurrency market is highly volatile, and the most recent example for this is the market crash on Tuesday, September 7, when the crypto space witnessed a heavy sell-off globally.
The virtual currency market is under immense pressure, but that doesn't seem to have impacted the hype around cryptocurrencies.
After almost all the cryptocurrencies noted a decline on Tuesday, the market now seems to be returning to normal, trading in green at the time of writing this article.
As the demand for cryptocurrencies gain momentum, investors are often left confused while selecting a coin for their investment portfolio. To address this issue, we have shortlisted two cryptos that you can explore.
Also Read: What is IOST crypto? What is the altcoin's price prediction?
1. Solana (SOL)

Often dubbed as the biggest rival for Ethereum, Solana crypto has recorded a massive surge since the past few days. At 8 AM EST on Thursday, Solana was trading at US$ 207.3 per token after surging by 28.1 per cent in the last 24 hours, according to CoinMarketCap.
Amid increased volatility, Solana soared by 80 per cent in the last seven days and became the sixth largest cryptocurrency in the world in terms of market capitalization. In comparison, major virtual currencies Bitcoin and Ether declined by seven per cent since the past one week.
Ethereum is said the be the most-used network for decentralized applications, and now Solana seems to have emerged as a tough challenger. Solana claims that its 'fast-growing' network has over 400 projects ranging from decentralized finance (DeFi) services to NFTs and more.
According to the company website, Solana's average cost per transaction is US$ 0.00025.
On Thursday, Solana crypto clocked an all-time high of US$ 213.47 per token. It has a circulating supply of 292,839,794 and a total supply of 488,630,611 SOL tokens.
Also Read: Dromos crypto: Price prediction and everything to know about DRM token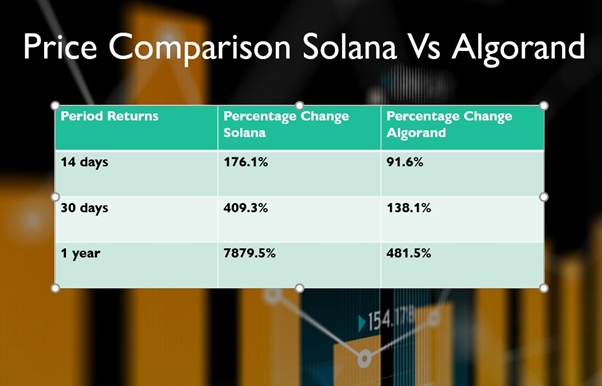 © 2021 Kalkine Media Inc.
2. Algorand (ALGO)

When the crypto market crashed on Tuesday, Algorand crypto stood out and recorded a price increase.
Started by Silvio Micali, professor at the Massachusetts Institute of Technology, Algorand is gaining investor attention as it claims to have improved the efficiency and speed of transactions on the blockchain network.
Based on the proof-of-stake (PoS) protocol, ALGO is used to generate new coins and the network is capable of handling one million transactions per day. In comparison to the previous day's 30th rank, ALGO token climbed to the 17th rank in terms of market capitalization on Thursday.
ALGO token has catapulted by 70 per cent in the last seven days and was priced at US$ 2.3 per token on Thursday (8AM EST).
Bottom line

Cryptocurrency market is under stress, but its acceptance is increasing every day. Those interested can research about the use case of a particular crypto asset, which will help in deciding whether to explore its investment options or not.