Cryptocurrency-linked stocks have rocketed this year, guided by the ongoing heavy trading in virtual coins such as Ether, Bitcoin, and Dogecoin.
Bitcoin hit record US$ 64,000 apiece last month, while Ether recorded new high of US$3,545.20 on Thursday. Meme-inspired crypto Dogecoin has skyrocketed to the moon, with a staggering 12,500 per cent year-to-date (YTD) return.
Meanwhile, the Toronto Stock Exchange Venture-listed stocks and exchange-traded crypto funds have been getting a lot of attention from investors.
Cryptocurrency miners such as Bitfarms Ltd. (TSXV:BITF), CrypoStar (TSXV:CSTR), and Banxa Holdings Inc. (TSXV:BNXA) have increased as much as 160 per cent, 121 per cent, and 3,537 per cent, respectively. While the main exchange-listed Hut 8 Mining Limited (TSXV:HUT) has swelled 78 per cent this year.
Acceptance & Rise Of Digital Currency Funds
Digital currency investment funds or exchange-traded funds (ETFs) have recently started trading on Canada's stock market. Across the board, cryptocurrency-related ETFs like Purpose Ether ETF (TSX: ETHH.U) and Ether ETF (TSX: ETHR.U) have traded in synchronization with Ethereum's token and garnered 26 per cent growth in the past one week.
Analysts expect Purpose Ether Fund, a pioneer in crypto fund, to replicate the cryptocurrency's performance. The asset management firm also offers Bitcoin ETF worth nearly C$ 1.4 billion.
Drivers Of Crypto Rally
Coinbase, the leading US crypto exchange, went public via direct offering in mid-April. This development boosted the crypto market's overall value to an all-time high.
Meanwhile, Bitcoin surpassed TESLA (TSL:US, NASDAQ:TSLA) in terms of market cap. Earlier this year, Tesla invested US$ 1.5 billion in the world's largest cryptocurrency and earned its first profit worth US$ 101 million from crypto trading in the first quarter of 2021.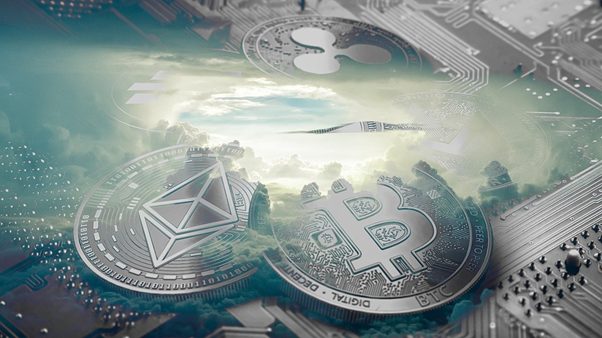 Source: Pixaybay.com
However, Bitcoin's ongoing rally is yet clear certain rigorous regulatory hurdles as central banks tighten supervision of digital coins and related operations amid increased mainstream acceptance.
For now, market frenzy of virtual tokens continues. Dogecoin – once known as a joke coin – is now more valuable than Canadian Pacific Railways (TSX:CP) with its market cap soaring to nearly US$ 80 billion as of May 6, 2021. Unprecedented trading in the token also led to crypto exchange crashes worldwide.