The gambling industry has slowed down amid the coronavirus pandemic. Most Canadian exchange-listed stocks are trading at undervalued share prices.
However, online sports betting and gaming stocks have stayed profitable, led by the rising digital users in the space. Gambling stocks could rebound to their all-time high once businesses reopen in 100 per cent capacity.
On that note, let's look closely at some gambling stocks listed on TSX.
1. Great Canadian Gaming Corporation (TSX:GC)
The gambling, hospitality and entertainment firm manage casinos, table games, beverages across Canada. It generates most of its revenue from the Ontario province. Its stock price is C$ 44.41 apiece and it has a market cap of C$ 2.55 billion.
The mid-cap stock is marching with a negative price-to-earnings (P/E) ratio of 19, representing an undervalued trend. It has traded flat month-to-date (MTD) and gained 60 per cent in one year.
In a long-term price trajectory, the stock is up to nine per cent against its 200-day simple moving average (SMA), holding a bullish pattern.
Great Canadian Gaming announced the reopening of its Ontario-based casino on July 12. It has also constructed Pickering Casino Resort in the Greater Toronto Area.
The company held a stable working capital worth C$ 437.5 million at the end of the first quarter of 2021.
2. Engine Media Holdings Inc. (TSXV:GAME)
Engine Media hosts esports tournaments and esports racing and broadcasts them through its TV and radio. The stock is changing hands at C$ 8.23 apiece on the Toronto Stock Exchange Venture (TSXV).
The gaming stock has halved against its 52-week high of C$ 16.50 apiece (January 29, 2021), down by 20 per cent year-to-date (YTD). It has a negative one-year return of 13 per cent. However, it has a notable return on equity (ROE) of around 819 per cent.
The stock jumped nearly three per cent on July 28, but its trading volume was 25,114 shares against its 30-day average volume of 52,645 shares.
The diversified media firm posted total revenue of US$ 9.6 million in Q3 FY2021, an increase of 14.6 per cent compared to US$ 8.4 million in the previous quarter. The company reported a net income of US$ 6.2 million for the quarter against net loss for Q2FY21.
3. Gamehost Inc. (TSX:GH)
The company provides its services in the leisure segment that incorporates casinos, lottery, and table games.
Gamehost's stock price is C$ 7.95 apiece. It soared nearly 39 per cent in 2021 and recovered 89 per cent from its one-year low of C$ 4.2 apiece (recorded on October 28).
The stock is down almost five per cent against its 30-day SMA, and it holds a long-term bull run and up over 18 per cent against its 200-day SMA. It has an ROE of 2.2 per cent and a P/E ratio of 79.5.
Gamehost's revenues were down by 48 per cent year-over-year to C$ 8.9 million, compared with C$ 17.2 million in Q4 2019. The company has recently announced the resumption of its operations that could bolster its revenues in the current quarter.
4. FansUnite Entertainment Inc. (CSE:FANS)
The tech-driven gaming firm offers online sports betting products. FansUnite provides tech solutions to the entertainment and gaming industries.
The betting stock is trading at C$ 0.71 apiece after plunging as much as 70 per cent from its 52-week high of C$ 2.37 apiece (February 19, 2021). However, it has bounced back by 284 per cent from its one-year low of C$ 0.185 apiece.
The stock is marching double-digit below against its moving average multiple, showing a bearish trend. The C$ 150 million market-cap stocks have a P/E ratio of -17.8.
FansUnite Entertainment Inc raised over 4.8 billion through multiple financings in the first half of 2021. The company is likely to boost its operations in the second half of this year.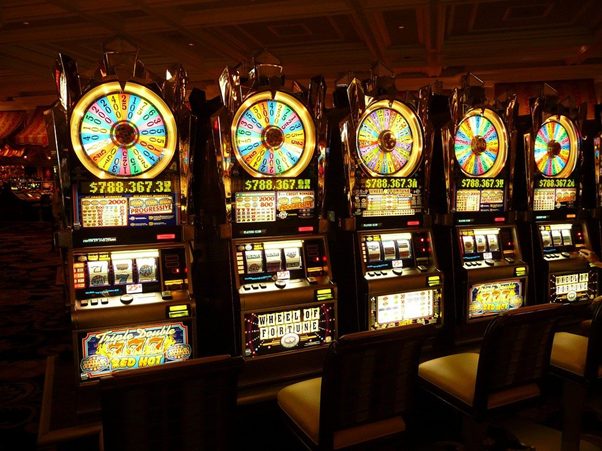 Gambling Machines (Source: Pixabay.com)
5. Bragg Gaming Group Inc. (TSX:BRAG)
The casino content aggregator and business-to-business gaming tech solutions provider has a market cap of C$ 199 million. Its stock price is C$ 9.71 apiece.
The stock grew more than double in the last one year, but its YTD returns are down by 32 per cent. The gaming scrip tumbled 69 per cent against its one-year high of C$ 31.80 apiece, and rebounded by 159 per cent against its one-year low of 3.75 apiece (September 21, 2020). Thus, it may repeat its last year recovery movement.
Bragg posted a top line of US$ 17.7 million in the second quarter of 2021, up 23.5 per cent on a year-over-year basis.
6. Enthusiast Gaming (TSX:EGLX)
Enthusiast Gaming develops games and digital sports, and has over 300 million monthly users on its platforms.
The leading Canadian gaming company's stock price is US$ 6.34 apiece, up over 40 per cent YTD, led by unprecedented online traffic. The stock witnessed a notable last one year with 309 per cent returns.
However, the stock is down nearly 42 per cent compared to its one-year high of C$ 11.1 apiece (Noted on April 21). It has rocketed by 322 per cent in the last nine months.
The company registered a top line of C$ 30.0 million in the first quarter of 2021, up 32 per cent against C$ 7.1 million in Q1 2020.
7. Score Media and Gaming (TSX:SCR)
Score Media and Gaming caters to millions of betting and esports fans through its social media and gambling platforms. Its share price is C$ 19.5 apiece and holds a market cap of C$ 1.03 billion.
SCR stock is up 30 per cent YTD, outperforming the TSX 300 Composite Index, which is up 12 per cent. It returned 178.5 per cent in the past one year.
However, Score Media stock is down by around 66 per cent compared with its one-year high of C$ 56.70 apiece (February 10, 2021).
In the third fiscal quarter of 2021, its media revenue zoomed over 270 per cent YoY to C$ 8.9 million. However, it reported a negative gross revenue for the gaming segment in Q3 FY21 due to unsettled bets and advertising expenses.