Rise in gold and silver stocks saw the base metal sector lift Canada's main stock market index on Friday, September 3.
The base metal sector was up by 1.27%. Falling oil prices, on the other hand, pulled back the energy sector by 0.39%.
At close, the S&P/TSX composite index settled at 20,821.43 after gaining 26.31 points or 0.13% on Friday.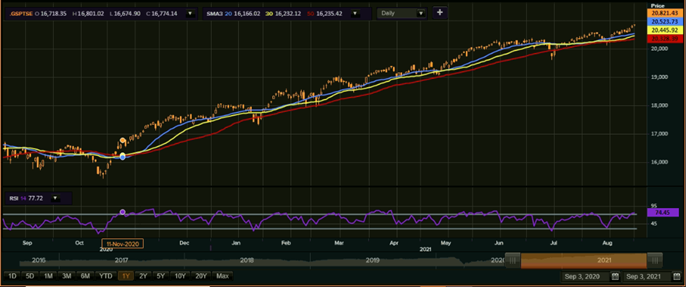 1-Year Price Chart (as on September 03, 2021). Analysis by Kalkine Group
Gainers and Losers
Actively Traded Stocks
Suncor Energy Inc., Great-West Lifeco Inc. and Hut 8 Mining Corp were the most actively traded stocks on Friday, with trading volumes of 9.63 million, 8.60 million and 6.71 million.
Wall Street Update
US stocks underperformed on Friday as traders expressed concern about the ramifications of the Labor Department's monthly employment report.
The Dow Jones Industrial Average fell 74.73 points or 0.2% to 35,369.09, while the S&P 500 Index was down by 1.52 points to 4,535.43. The Nasdaq Composite Index, however, climbed 32.34 points or 0.2% to 15,363.52.
Commodity Update
Gold traded with negative biasness at US$ 1,825.65/oz down 0.25%.
Brent oil traded slightly higher at US$ 72.22/bbl up 0.25%%, while Crude oil traded almost flat to positive by 0.07% at US$ 68.80/bbl.
Currency News
The Canadian Dollar was up against the U.S. Dollar on September 3, while USD/CAD closed at 1.2526, lost 0.20%.
The U.S. Dollar lost some ground against the basket of major currencies on Friday for the six-straight session and closed in red at 92.04, down 0.21%.
Money Market
The U.S. 10-year bond yield ended on a positive note on September 3, and closed in green at 1.326, grew 3.15%.
The Canada 10-year bond yield made a significant recovery in Friday's trade and jumped 2.77% to 1.188.