Highlights

Evmos brings Ethereum-based assets and apps to the coexisting networks of the Cosmos ecosystem.
Major crypto exchanges like Huobi Global and DigiFinex allow users to trade EVMOS crypto.
EVMOS is the native utility token of Evmos protocol.
The cryptocurrency market suffered a major setback after it was reported that a security flaw in the Nomad token bridge allowed hackers to siphon off the bridge's cash. The bridge's US$ 190.7 million in cryptocurrency has reportedly been withdrawn.
Without providing any additional information or the amount of the theft, Nomad stated in a tweet that it was aware of the occurrence and was conducting an investigation.
Nomad is a cross-chain bridge, and it allows exchanges between Evmos, Avalanche, and Ethereum, among others. As a result, Evmos (EVMOS) experienced a sell-off on Tuesday morning, and its price declined by 2.3 per cent over the last 24 hours to US$ 1.48 at 5 AM EST. Kalkine Media recommends its users stay alert as the crypto market is extremely volatile, and due diligence is important.
What is Evmos?
As per the official website, Evmos brings Ethereum-based assets and apps to the coexisting networks of the Cosmos ecosystem. Additionally, it matches developer and user incentives.
With the help of the Evmos blockchain, Ethereum developers can use a fast-finality Proof-of-Stake (PoS) chain and deploy their smart contracts to the Evmos EVM, according to the blockchain's whitepaper.
Major crypto exchanges like Huobi Global, Bitget, and DigiFinex allow users to trade EVMOS crypto, the native utility token of the Evmos blockchain. According to CoinMarketCap, the details like market capitalization and circulating supply of the Evmos crypto are unknown, and its rank is 2,820.
Evmos has acknowledged the hacking incident and said on Twitter that the Nomad ERC20 bridge contract had been exploited, and it is working closely with their team to get more information.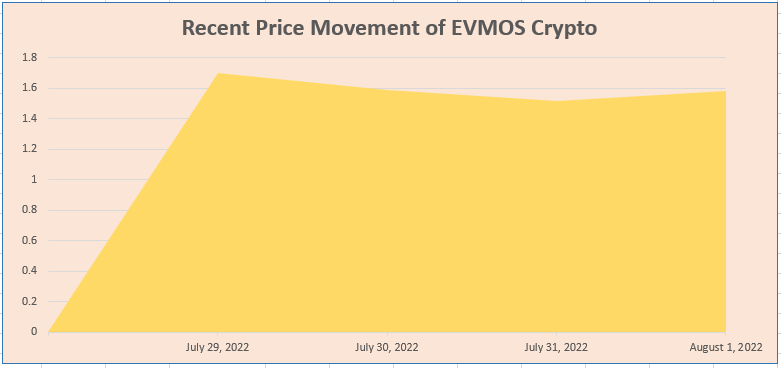 ©2022 Kalkine Media®
The blockchain protocol said that several entities were able to withdraw sizable sums of money due to a weakness in the Nomad bridge contract that allowed it to accept arbitrary root hashes.
Bottom line
Ever since the hacking report surfaced, the overall crypto market has been affected. At the time of writing, the market capitalization of the global digital currencies had gone down by 1.7 per cent to US$ 1.05 trillion.
Hackers have recently targeted cross-chain bridges several times. Recently, an exploit had reportedly led to the theft of almost US$ 9 million from concentrated liquidity pool Crema Finance.
Meanwhile, Nomad said it has informed law enforcement authorities and its aim is to identify the accounts involved in hacking and try to recover the funds.
Risk Disclosure: Trading in cryptocurrencies involves high risks including the risk of losing some, or all, of your investment amount, and may not be suitable for all investors. Prices of cryptocurrencies are extremely volatile and may be affected by external factors such as financial, regulatory, or political events. The laws that apply to crypto products (and how a particular crypto product is regulated) may change. Before deciding to trade in financial instrument or cryptocurrencies you should be fully informed of the risks and costs associated with trading in the financial markets, carefully consider your investment objectives, level of experience, and risk appetite, and seek professional advice where needed. Kalkine Media cannot and does not represent or guarantee that any of the information/data available here is accurate, reliable, current, complete or appropriate for your needs. Kalkine Media will not accept liability for any loss or damage as a result of your trading or your reliance on the information shared on this website.