Highlights

TerraUSD, ticker UST, has its peg with USD, and it is said to be amassing Bitcoin reserves

USD is an accepted reserve currency globally, with most major commodities denominated in it

Bitcoin's value has fluctuated widely in 2022, and altcoins like Ether are also very volatile
The market is abuzz with reports around the use of Bitcoin as a reserve currency by Terraform Labs. It makes it necessary to know what the term 'reserve currency' means, besides knowing about TerraUSD, a stablecoin, which is looking to accumulate Bitcoin reserves.
What is a reserve currency?
'Reserve', in this context, essentially means accumulation. To easily understand the subject, let's talk about the US dollar, which makes an essential reserve currency by central banks around the world.
Key commodities like crude and gold are valued in USD denomination in the international market. In order to maintain a stable supply of these commodities, countries maintain USD reserves that can be used to make payments to suppliers.
The USD was itself coupled with gold until President Nixon did away with the gold peg. In the crypto space, assets that fall under the category of stablecoins are usually pegged to the USD. Tether or USDT, the largest such asset by market cap, claims to maintain reserves in USD and other assets like corporate bonds and commercial paper.
Also read: Bitcoin bond and Bividend: 2 new extensions of Bitcoin?
What is TerraUSD?
Falling in the stablecoin category, TerraUSD is also pegged to the USD, but it is said to be accumulating Bitcoin as reserves. Separately, a crypto asset called LUNA is also a part of the wider Terra umbrella.
News reports claim that Terraform Labs, the entity behind the project, is set to amass Bitcoin worth a whopping US$10 billion.
This sum would be used to back TerraUSD (UST) stablecoin. It is also being claimed that the entity has so far accumulated some 40,000 Bitcoin, the value being reported as US$1.7 billion. Other big Bitcoin corporate holders include Tesla and MicroStrategy.
What is Bitcoin volatility?
As a matter of fact, even the value of USD is not fixed, and it can change against a basket of other major currencies. But the deviation is not very large.
Bitcoin, however, has been hyper volatile despite having a multi-billion-dollar market cap.
Also read: 3 reasons why Bitcoin is going down at any point in time
At the beginning of 2022, Bitcoin's price was over US$46,500, which fell to nearly US$33,500 before the end of January. This was preceded by a sharp rally in 2021 when Bitcoin touched nearly US$67,500 in November.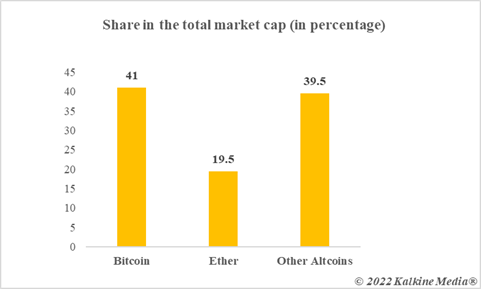 Data provided by CoinMarketCap.com
Bottom line
There is hot debate in the market about Bitcoin's use as a reserve currency. As of now, the crypto has manifested volatility, which many say may not allow it to become a perfect reserve currency.
Terraform Labs, however, may prove critics wrong, but nothing can be said with certainty. This remains a subject to keep a close eye on in the near term.
Also read: What's happening with Shiba Inu? What is the '$1/SHIB token' discussion?
Risk Disclosure: Trading in cryptocurrencies involves high risks including the risk of losing some, or all, of your investment amount, and may not be suitable for all investors. Prices of cryptocurrencies are extremely volatile and may be affected by external factors such as financial, regulatory, or political events. The laws that apply to crypto products (and how a particular crypto product is regulated) may change. Before deciding to trade in financial instrument or cryptocurrencies you should be fully informed of the risks and costs associated with trading in the financial markets, carefully consider your investment objectives, level of experience, and risk appetite, and seek professional advice where needed. Kalkine Media cannot and does not represent or guarantee that any of the information/data available here is accurate, reliable, current, complete or appropriate for your needs. Kalkine Media will not accept liability for any loss or damage as a result of your trading or your reliance on the information shared on this website.