Summary

Real Energy will initiate drilling of a brand new CSG well in the ATP 2051P, the Venus-1, next month.
Ensuing works have been planned with production testing expected to continue into next year, 2021.
Venus-1 prospect has sizeable upside over the near-term - 694 petajoules (Pj) of prospective resources.
Real Energy believes that it can provide a significant contingent resource in the short term with success on this new well.
Successful proof of commercial gas flows at the Venus-1 pilot may allow the commencement for predictable conversion of the gas resources in ATP 2051P into reserves.
The Company continues to pursue several initiatives through its 100 per cent owned Pure Hydrogen Corporation.
Real Energy Corporation Limited (ASX:RLE) has been fetching abundant market interest at the back of its recent merger proposal with Strata-X Energy Limited (ASX:SXA) to form Pure Energy.
Pursuant to this compelling opportunity, the Company has decided to begin drilling of Venus-1, a new CSG well, next month in October 2020. It should be noted that post the merger, Pure Energy will have 100 per cent of Project Venus, a first-class address.
GOOD READ: Real Energy's JV Project Venus: How Are Developments Fostering?
Drilling of Venus-1 CSG Well
The planned drilling would be done in the ATP 2051P. This is Project Venus JV's first and foremost Surat Basin CSG.
Project Venus' ATP 2051P equals an area of 154 km2. It is situated within the valuable Walloon CSG fairway, Surat Basin. It should be noted that Walloon CSG fairway is a productive gas-generating region with more than 10,000 wells drilled.
Silver City Drilling, a drilling contractor, has been selected to drill Venus-1 and is expected to mobilise to the site in the next few weeks, according to the company update released on 15 September 2020. The well will be drilled deep to ~ 680 metres, with casing to the top Walloon. This would leave the gas saturated Juandah coal seams in an open hole of 6 1/8-inch (to total depth).
The pilot targets to determine the ideal methods of completion that may help achieve (commercial) gas flow rates.
Let us skim through the works planned shortly after the Silver City drill rig is finally demobilised-
Interestingly, new technology non-frack reservoir enhancement and borehole stabilisation treatment enable simpler/ less costly completions and potential for early gas flows.
The Company further informed that the after-stimulation water influx rate and additional data are a mandate to design the JV's first-ever Walloon CSG pilot well. Besides, Venus-1 will be equipped with a downhole pump, water handling methods and surface facilities. Reportedly, these are required to conduct a controlled drawdown flow test across several months.
After reservoir enhancement, Venus-1 will be set up and denoted as the first pilot CSG well for long-term production testing targeting (commercial) gas flows. This is in line with Pure Energy's vision for the next one year- to test completion methods aimed towards commercial gas flow rates.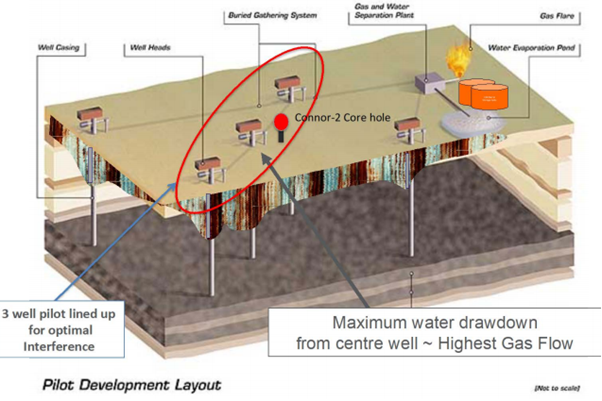 (Source: Real Energy's Presentation, 15 Sep 2020)
GOOD READ: Real Energy and Strata-X Energy Host Joint Webinar Underscoring Pure Energy
Pilot Drilling Timeline & Production Testing Highlights
The Venus Pilot drilling as well as its set up may begin in October. Subsequent production testing may continue early next year, in 2021.
Real Energy has provided the below details about the production testing-
The production testing is designed to establish preliminary gas breakout along with growing gas flows over the controlled draw down period. This is essential to model and forecast future gas flow rates and potentially (commercial) gas flow rates;
The results of the production test may either expand the pilot or launch an aggressive appraisal course (if commercial flow rates are achieved). The appraisal program will be designed to verify adequate reserves for the Project Venus JV to get gas sales agreements for commercial field development;
Moreover, owing to the location within an established giant gas fairway and immediately adjacent to gas infrastructure, the project offers the capability to attain early cash flows.

Other Activities In The Pipeline
Meanwhile, Real Energy continues to pursue initiatives through its 100 per cent owned Pure Hydrogen Corporation.
Real Energy may soon release the merger Scheme Booklet to shareholders. Shortly after, shareholders may meet to approve the proposal, possibly in late October 2020.
ALSO READ: Real Energy Braces To Rationalise Cooper Basin Acreage, Executes Term Sheet To Sell ATP1194