So far, 2020 has been a mixed bag for commodities. However, Iron ore has managed to stand tall with handsome gains of over ~40 per cent on a YTD basis and has marked a fresh 52-week high of RMB 845.00 per dry metric tonne (as on 14 July 2020) on the Dalian Commodity Exchange.
Demand for iron ore is on an upsurge as China is spurring its steel industry to capture a large tranche of the global steel industry, coupled with a supply shortage due to bad weather conditions that prevailed across Australia and Brazil, has supported the iron ore price.
Iron ore's stupendous price appreciation has had a direct bearing on iron ore miners and one such pure-play iron blue chip stock - Fortescue Metals Group Limited (ASX:FMG) has benefited and has posted strong fundamental growth.
FMG has emerged as the top-performing stock in the metal and mining space with a YTD return of 62.27 per cent (including dividend), outperforming returns from S&P/ASX 200, S&P/ASX 200 Resources, and iron ore.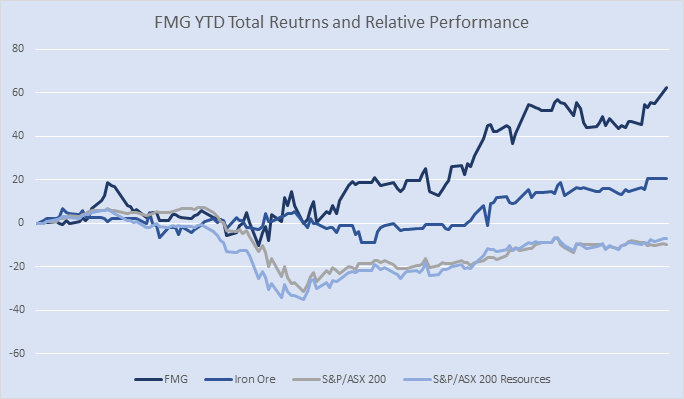 Staggering Leap in Revenue and Profitability
FMG had reported a revenue of USD 9,965 million in FY2019, considerably up by ~ 44.69 per cent against the previous financial year. The higher revenue further translated into higher profitability with FMG reporting a ~ 262.98 per cent increase in Net Profit After Tax (or NPAT) for FY2019.
After witnessing an impeccable FY2019, the company is poised to observe another bumper financial year going by the results that FMG has put out up to March quarter; the revenue growth estimates could surpass the FY2019 revenue, assuming the company is able to meet its guidance.
FY2020 Estimates Pointing Towards Record Revenue

FMG shipped 42.3 million tonnes in March 2020 quarter, down by 8.44 per cent against the previous quarter; however, a strong iron ore price momentum has helped the miner to keep its revenue growth intact, which could be inferred from a 73 per cent higher average realised price during the first-half of FY2020.
The company reported a revenue of USD 6,485 million for the first-half and with the average realised price of USD 80.36/dmt, and; the March 2020 quarter revenue is estimated to stand ~ USD 3,087.9 million considering the average realised price in march quarter to be at USD 73/dmt (as reported by the company), leading to a 3-Q combined revenue of 9,572.9 million, representing 96.06 per cent of the FY2019 revenue.
FMG set to hit record revenues?
Post analysing the shipment pattern and revenue growth, it could be seen that the company had shipped 130.9 million tonnes of iron ore until March 2020 quarter and further FMG had guided to ship 175 million tonnes in FY2020, which leads to 44.1 million tonnes to be shipped remaining for June 2020 quarter.
Now, even if we assume that FMG would meet the shipment of 44.1 million tonnes in June 2020 quarter and realise the same price of USD 73/dmt (conservative basis), it leads to estimated FY2020 revenue of USD 12,792.20 million, up by ~ 28.36 per cent against FY2019, and surpassing the record revenue seen in FY2014. These are only hypothetical figures based on assumption that the company would meet its level guidance.
Basic information from Refinitiv database; FY2020E (as calculated)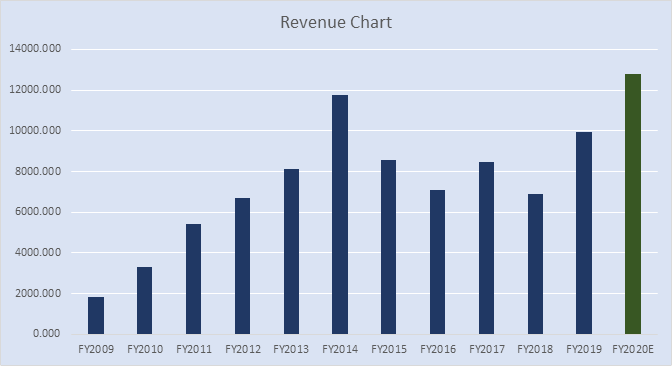 Cost Analysis

On analysing the cost structure over the past five years, it could be inferred that the cost of goods sold represents ~ 60 per cent of the total revenue. Post taking the mean and median approach of forecasting, the cost of goods sold could be ~ USD 8,058.96 million (mean approach) or ~ 7,431.88 million (median approach) in FY20.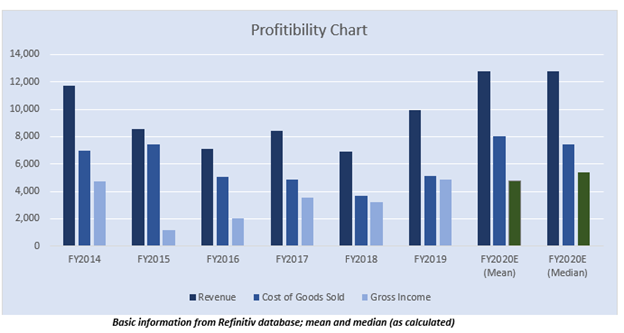 On considering the above chart, it could be seen that the company had demonstrated strong growth in profitability, and the current estimates also point that FY2020 could witness another financial year of strong profit, even after assuming mean or median estimates of COGS .
Also, while the above profitability is subject to completion of the shipment guidance of 175 million tonnes, and FMG had recently upgraded its shipment guidance to 177 million tonnes, which is now further fuelling market sentiments, prompting the stock to break all previous record highs. However, it is to be noted that there is risk of company not meeting its guidance target.
Growth and Profitability
ESG Considerations and Industry Leading Emissions Reduction Targets
One of the major factors that decide the quality of mining firm or a mining stock is the environmental responsibility shared by the miner.
The global mining activities account for a substantial carbon footprint, and apart from the mining activities, the end usage of raw material produced by the mining companies makes up a significant portion of the global greenhouse gas emission, which is known as the value chain emission or the Scope 3 emission.
Industry experts believe that over 78 per cent institutional investors now consider ESG among other things within their investment strategies, and over 51 per cent institutional investors have witnessed return enhancement by incorporating ESG in their investment strategies.
Thus, it becomes crucial for a miner to share environmental and ecological responsibility.
FMG is one of the leading miners across the continent, putting its best foot forward to deal with climate change challenges.
In the recent past, the company announced an industry-leading emissions reduction goal to achieve net carbon neutrality or net-zero operational emissions by 2040 via limiting its Scope 1 and Scope 2 emissions of existing operations by 26 per cent from 2020 levels by 2030.
Recent Ownership Shuffling
In the recent past, many institutional investing companies such as BlackRock Institutional Trust Company, N.A., Vanguard Investments Australia Ltd., The Vanguard Group, Inc, and even Andrew Forrest have increased their holding in the company.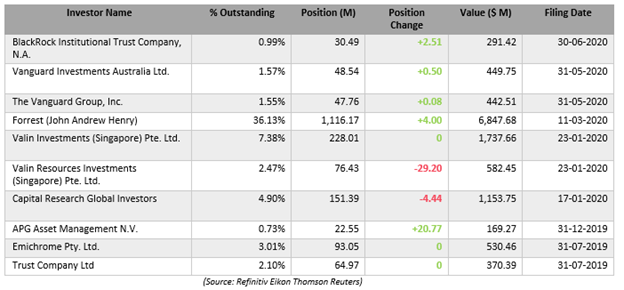 FMG is basking under the iron ore price rally, and with major economies opening-up there seems to be some direction as far as iron ore demand is concerned. However, the possibility of the second wave of COVID-19 infections and raising geopolitical tensions could be seen as a risk for all such projections. The stock of the company last traded at $16.110 (as on 16 July 2020), up by 0.50 per cent against its previous close on ASX.