Summary

There is unprecedented demand growth for magnet rare earths (RE), with legislation driving transition to EV's and renewable energy.
Greenland Minerals updated about its 100% owned, world-class Kvanefjeld Rare Earth Project at the CLSA Rare Earths Deep Dive.
The Project has exposure to all key magnet RE's and is developing into becoming the start point of major new RE supply.
Greenland Minerals aims to offer secure, stable supply of all critical magnet RE's for European industry.
Currently bearing an advanced permitting status, Kvanefjeld Project will be presented for public consultation in late 2020 to early 2021.
The demand for magnet RE's (Nd, Pr, Tb, Dy) is projected to soar by over 150%, necessitating a 2x increase in global production to keep up, on the back of increasing shift from hybrid EV's to battery EV's and step change in global trends (Source: Adamas Intelligence).
There is an organic growth forecast across categories like EV's, wind power, consumer appliances, and electronics. Acknowledging the same, ASX-listed Greenland Minerals Limited (ASX:GGG) sees an excellent development window for its globally significant Kvanefjeld RE Project. The Company is building an integrated global RE supply business.
To know about Greenland Minerals Q3 2020 Report, CLICK HERE.
RE Unprecedented Demand Growth
The longer-term picture for RE remains extremely robust. The demand for RE is set for major growth, estimated at ~9% CAGR over next 10 years against a backdrop of limited supply, which offers the optimal development window. RE's are critical to electrification as EV's and wind turbines need RE magnets (Nd, Pr, Tb, Dy).
Besides, with constrained supply, and major Chinese producers likely to absorb greater costs, pricing of key magnet metals may rise steadily through the decade.
MUST READ: Strong Bond With Shenghe Resources
How Is Kvanefjeld a Complete RE Project?
The positive RE outlook creates the ideal development window for Greenland Minerals' Kvanefjeld Project. Key reasons for the same are-an advanced development status, encouraging production profile across key magnet RE's, as well as competitive cost structure. According to Greenland Minerals, its world-class Project is the largest code compliant undeveloped RE deposit globally.
The Project has exposure to all key magnet RE's – Nd, Pr, Dy and Tb. Besides, the vast mineral inventory of the Project comprises more than 11Mt REO, 590Mlb's U3O 8, 2.4Blb's Zn.

The Optimised Feasibility Study 2019 depicted capital costs reduction to US$505M (inclusive of 15% contingency on direct and indirect costs). RE production was highlighted at 32,100t/a REO in intermediate product- inclusive of 5,692 t NdPr oxide, 270 t Dy oxide, 44t Tb oxide.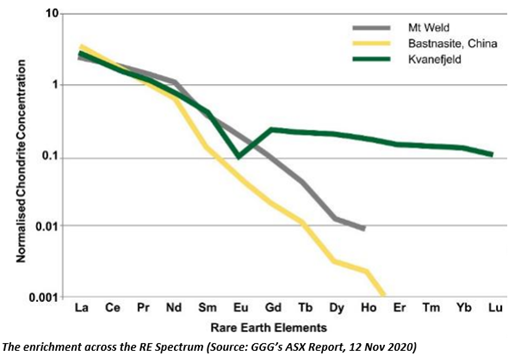 Kvanefjeld Project's Advanced Status
Greenland Minerals has made accelerated developments over the Project, which is now at an advanced permitting stage. The review phase of Project permitting is complete- Social Impact Assessment has been reviewed, updated, and accepted for public consultation. More recently, the Environmental Impact Assessment was reviewed and accepted for public consultation.
Having said so, Kvanefjeld Project meets Greenland guidelines and international standards, along with principles of Best Available Technology and Best Environmental Practice.
The Project will now be presented for public consultation, in late 2020 to early 2021, with follow-up white paper to be concluded in Q2 2021. The commercial development, marketing, off-take, engagement of end-user industries, might then follow suit.
The European Opportunity
Europe is evolving into a growing RE demand centre, actively engaging organisations, and industry to tap the lucrative RE opportunities.
RE's are critical to Europe's green industrial sector, especially EV's and wind turbines. So much so, the European Commission launched the European Raw Materials Alliance in September 2020.
Greenland Minerals sees itself to be ideal for offering secure, stable supply of all critical magnet RE's for European industry. The Company is actively engaging Global Rare Earth Industry Association, European Raw Materials Alliance, and European Rare Earth Resources to support the growing European demand.
Notably, the Project seems to be well-positioned for upcoming development window to meet RE demand surge. As the Company believes, Kvanefjeld will be a step change in global RE supply.
Greenland Minerals' shares quoted $0.29 during early trade hours on 13 November 2020.