Summary

Renegade Exploration Limited has announced its intentions to acquire a tenement, E53/2109 close to its current tenement package at the Yandal East Project.
RXN had also recently agreed to acquire the Interest of Sovereign Metals Limited in the Carpentaria JVA.
An airborne magnetic survey over gold and nickel prospects is currently underway at the Yandal East Project and shall two weeks to complete.
Young explorer and developer of minerals Renegade Exploration Limited (ASX:RNX) has been looking to rapidly evolve into a mid-tier resource company. For this purpose, RNX has been in pursuit of acquiring and developing economic mineral deposits.
Important discussion at: ASX:RNX Executes Share Purchase Agreement For Sale of Yukon Project
Lately, the Company announced its intention to procure a tenement adjacent to its current tenement package at its flagship Yandal East Project. The Company has agreed to acquire tenement, E53/2109 which includes the Archaean-Granite contact west of E53/1726.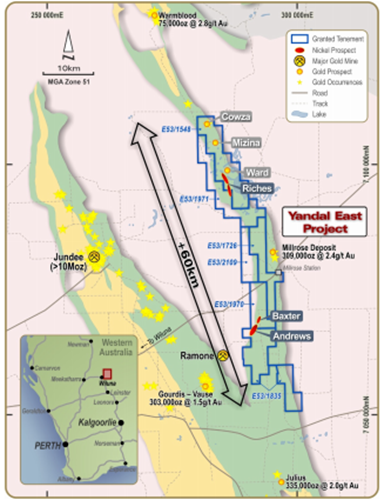 Yandal Tenement Map, including EL53/2109 (Source: ASX Announcement 18 December 2020)
Acquisition will take place on the following key terms:
Around $10,000 worth of reimbursement of expenses to date
Issue of 2 million shares in RNX
Tenement to be formally transferred
September Quarter Update: ASX:RNX Speeding up Exploration at Yandal East Project, Reports September Quarter Full of All Round Progress
RNX to Acquire Interest in Carpentaria JVA
In pursuit of its objective to evolve through the acquisition of mineral deposits, RNX had also agreed to acquire the Joint Venture Interest in the Carpentaria Joint Venture Agreement (JVA). Currently, the parties to the Joint Venture include Sovereign Metals Limited (ASX:SVM) and Mount Isa Mines Limited (MIM).
RNX shall acquire the 23% interest of Sovereign Metals Limited in the Carpentaria JVA, subject to receiving of all required regulatory consents in connection with the transfer of SVM's interest in the JVA to RNX.
Detailed discussion at: ASX:RNX To Acquire ASX:SMV's Share in Attractive Carpentaria JVA
Recent Activities at Yandal East Project
The Yandal East project is located within the Yandal Greenstone Belt, a well-endowed gold region, and the Company has recently initiated an airborne magnetic survey over the project's gold and nickel prospects.
The commencement of this program was announced on 14 December 2020 and is being executed utilising drone technology.
Did you read: ASX:RNX Unlocking Potential in Major Gold Province While Seeking Fresh Opportunities
It shall take around two weeks to conclude the program which focuses on the lately developed nickel prospects and comprises of gold targets also.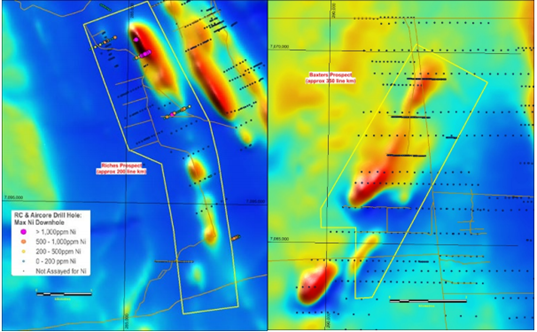 Riches Prospect (Left) and Baxter/Andrews Prospects (Right) (Source: ASX Announcement 14 December 2020)
RNX is optimistic that the program shall help to identify Baxter/Andrews Prospects for both gold and nickel prospectivity. Moreover, RNX is also hoping to conduct some field sampling as there exists some outcrop in this area.
The Company remains optimistic about the identification of the targets for drilling in the coming year and has planned a follow-up ground geophysical programs in January/February over these areas.
More details at: ASX:RNX On The Hunt For Drilling Targets At Yandal East, Begins A Drone Survey
RNX share price closed for the week on 18 December 2020 at a price of $0.006 and has a market capitalisation of $5.17 million.
*All financials are in AUD, unless specified.