Summary

Multi-disciplined engineering and construction company Saunders International Limited (ASX:SND) returned to profitability in FY20, with revenue up 33% year-on-year.
Major catalysts behind Saunders' impressive performance are FY19 restructure and adoption of a new operating model, organisational structure and strategic direction, pro-active pandemic management, new contracts and focus on working capital management.
The Company has completed the FIX phase of its strategy, and the key focus for FY20 & FY21 is to execute the GROW phase.
Saunders' financial position is strong, and the working capital focus continues to ensure that the business has the flexibility to continue its growth strategy.
The new project outlook for Saunders is positive with business sectors and clients forecast to increase their capex over the coming years.
FY20 was the year when Saunders International Limited (ASX:SND) was expected to complete the turnaround phase of its strategic plan and impressively, the Company lived up to the expectations, delivering improved operational and financial performance across the business.
The leadership team continues to work around a structured process to ensure the Growth phase of the Strategic plan keeps the business in a strong position of growth and profitability.
GOOD READ: Services of Saunders International
FY20- The Comeback Year for Saunders
Saunders was successful in generating revenue and profit in FY20 from the expanded range of services that the Company offers to its clients. Consequently, the financial performance marked an impressive uptick-
Revenue of $66 million was 33% more than the $50 million achieved in FY19.
NPAT was $1.3 million, demonstrating a $2.9 million improvement over FY19.
The strong balance sheet comprises of $11.1 million worth cash and cash equivalents with no interest-bearing debt except for financial leases.
Saunders tripled its bonding facility to $15 million.
To Read About Saunders' Recent Project Wins, CLICK HERE.
What Is Driving Saunders' Profitability?
Throughout FY20, Saunders achieved all set objectives, delivering a significantly improved financial performance. Despite the COVID-19 disruptions, Saunders has managed to run all worksites safely.
Illustrated below, are the major drivers of Saunders' profitability and ever-evolving improved stance-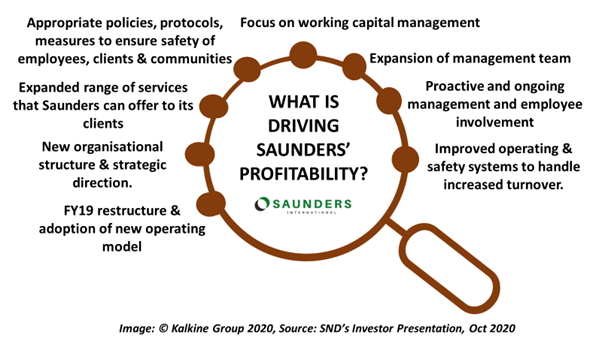 FY21- A Good Start
The Company is in a great position to deliver on its revenue and EBIT expectations for the year, with over 85% of the expected FY21 revenue already committed, says Managing Director Mr Mark Benson.
The Company has started FY21 with an order book of $110 million, with a further $36 million of new work awarded in FY21.
The order book remains strong after Q1 FY21 and at the 30 September 2020 is valued at $103 million.
FY21 budget revenue would increase by ~ 50% over FY20
There are further project opportunities worth $622 million in Saunders' pipeline.
For insight on Saunders' FY21 Stance, CLICK HERE.
Is Future Growth Secured?
Quoting Mr Benson-
"Our diversity and strengthening market position across different sectors, should protect us against challenges that may arise in the Australian market."
Saunders has a solid foundation for growth with a strong order book and pipeline of opportunities. Besides, it is experiencing strong growth in both the core and emerging services. A strengthened financial capacity coupled with $36m in new contract wins for FY21, indicate that Saunders' future growth can be well secured.
As an icing on the cake, the recent Federal budget reported a continued spend in the civil infrastructure sector, while the Australian fuel reserves bagged a specific budget allocation. Saunders has already launched its projects in the defence sector- indicating that sector diversities could work in its favour.
However, the ongoing uncertainty in relation to the economic impacts of the COVID-19 pandemic could continue.
SND last traded at $ 0.560 on 28 October 2020.