Summary

Waste management player Cleanaway had a strong FY2020 with 2.1% and 8.7% growth in revenue and NPAT, respectively. Solid waste services contributing 59% of FY2020 net revenue.
The Company made significant achievements in FY2020 and is half-way to its Footprint 2025 strategy. Further strategic initiatives are in progress for the next phase of the strategy.
For Q1 FY2021, group EBITDA was in line with the FY2020 run rate.
In FY2021, the Company expects EBITDA to be moderately better than FY2020 subject to economic conditions in H2 FY2021.
ASX mid-cap company, Cleanaway Waste Management Limited (ASX:CWY) is a waste management, industrial and environmental services company in Australia. The Company has provided solutions to both businesses and customers for more than 50 years.
Cleanaway offers its clients an unmatched capability to collect, process, treat, recycle, or safely dispose of any waste. In FY2020, a considerable portion of the revenue was from the solid waste services segment.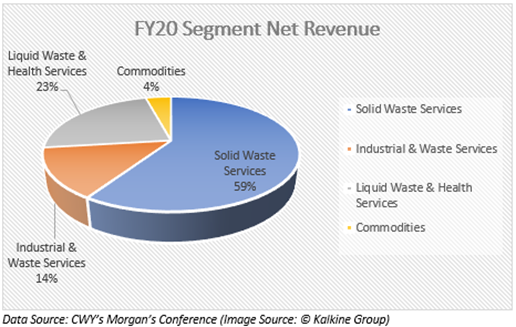 On 14 October 2020, Cleanaway released its Annual General Meeting report where it highlighted the significant progress made during FY2020 ended 30 June 2020.
Significant Milestones Achieved During FY2020:
During the period, the Company completed the integration of Toxfree Solutions and took significant steps towards the conclusion of the legacy landfill remediation and rectification plan.
Further, CWY acquired, integrated and rehabilitated SKM Recycling Group's assets, thus bolstering the network of valued infrastructure across Australia. Exciting new initiatives are being taken towards generating energy by recycling waste, plastics, and glass.
A Glance at FY2020 Results
Revenue from Solid Waste Services grew 0.8% and ex commodity by 2.4% as compared to the previous corresponding period (pcp).
Revenue from Industrial & Waste Services declined by 8.3% on pcp.
There was a 3.8% growth in revenue from Liquid Waste & Health Services.
Underlying EBITDA improved by 2.5% to A$473 million and EBITDA margin improved by 60bps to 22.5%.
Underlying EBIT went up by 2.5% and EBIT margin increased by 60bps to 12%.
Underlying NPAT and underlying EPS both were up 8.7% on pcp.
Operating cash flow grew 4.3% to A$366 million.
CWY announced a final dividend of 2.1 cents. The total dividend for FY2020 stood at 4.1 cents.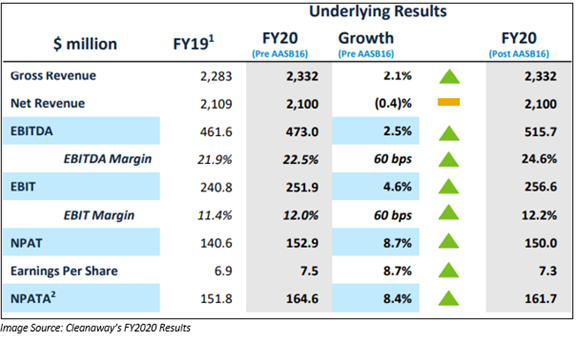 A Glance at FY2020 Cash Flow Statement:
Net cash from operating activities during FY2020 was A$366 million (Pre AASB16) and A$401.5 million (post AASB16).
Net cash from investing activities during FY2020 was A$ 282.2 million (Pre AASB16) and A$282.2 million (post AASB16).
Net cash from Financing activities during FY2020 was A$60.2 million (Pre AASB16) and A$ 95.7 million (post AASB16).
Net increase in cash and cash equivalents was A$4.2 million to A$23.6 million.
Closing cash balance as of 30 June 2020 was A$79.8 million.
GOOD READ: Can ASX 200 Cleanaway Waste Share Price Continue the Run with Dividend Push
Capital Structure in FY2020:
As on 30 June 2020, the Group had $A421 million worth of headroom under current banking facilities. The Group is well-positioned within covenant limits of less than 3x for Net Debt to underlying EBITDA ratio and more than 3x for interest cover ratio. The next refinancing is due in July 2022.
In FY2020, the Company's capital expenses were 10% of the net revenue and in line with the ongoing target. Leasing finance worth A$57.7 million was used during FY2020 for government-related deals. FY2021 finance leases of more than A$75 million would be used for new as well as the renewed government-related contracts to line up with the contracted cash flows.
Trading Conditions for FY2021
CWY, in its media release, updated that the trading conditions have remained mixed throughout the country. Victoria experience a significant impact from the COVID-19 pandemic.
On a group level, Q1 FY2021 EBITDA was in line with the FY2020 run rate. Considerable progress was seen during September 2020.
The Company anticipates an improvement from the businesses as they emerge from COVID-19-related restrictions. In FY2021, the Company expects EBITDA to be moderately better than FY2020 and would depend on the economic conditions during the second half of FY2021.
Progress Towards Footprint 2025 strategy
CWY highlighted that the Company has made considerable changes in the last five years and has reached half-way mark towards its Footprint 2025 strategy.
Below are the strategic initiatives in progress for the next phase of the strategy.
CWY plans to build an Energy-from-Waste facility in Western Sydney in a joint venture with Macquarie Capital. The Facility would be created using the technology that is already being used in Europe. Last week, The Environmental Impact Statement of the project went on public display.
The Company aims to build a plastic pelletising plant in a joint venture with Pact Group Holdings Ltd and Asahi Beverages in Albury NSW. This Facility will make a legitimate closed loop recycling solution for the PET plastics that is recovered via CWY's collections network.
The Company expects to conclude the rebuilt Perth Material Recycling Facility by Q3 FY2021, assuming no COVID-19 related disruptions occur.
Stock Information:
On 15 October 2020, CWY share price settled at A$2.230, up 1.363% from the previous close. CWY has a market cap of A$4.58 billion and has ~2.054 billion outstanding shares.
With the pandemic continuing to affect the globe, healthcare companies are evaluating their lead compounds for COVID-19 treatment. Future revenue for these stocks depends on the probability of launching an approved treatment in the market.
CLICK HERE FOR YOUR FREE REPORT!