Summary

The biotech industry comprises companies using living organisms to develop drugs and diagnostics to treat various diseases.
The ongoing scientific advances are presenting tremendous opportunities for market participants in the biotech space.
The best biotech companies boast a strong product portfolio, impressive product pipeline and advanced clinical development programs.
The biotechnology sector includes stocks that use living organisms, such as bacteria, to develop drugs to treat a range of indications. These products must undergo rigorous, costly, and time-consuming clinical trials to receive authorisation from a regulatory authority. This signifies that the investors might need to wait for years to know if a product under development will start paying back.
The industry comprises small start-ups and large, well-established corporations aiming to develop multiple drug molecules and technologies. Besides, scientific advances are generating new ways that were only imaginable earlier to treat and prevent several diseases. The biotech sector presents tremendous opportunities for investors who are looking for long-term returns.
MUST READ: Looking for healthcare dividend stocks? Here are the top five players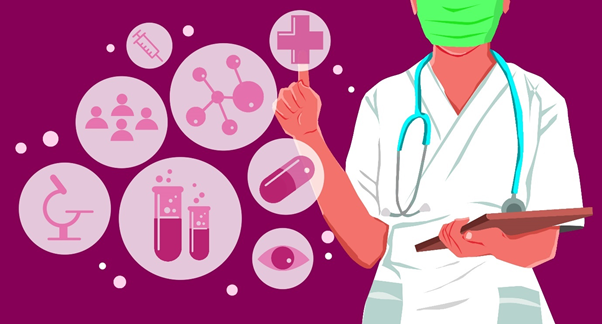 Source: Copyright © 2021 Kalkine Media
The COVID-19 pandemic has generated significant opportunities for biotechnology players to develop potential treatments and vaccines. Several biotech players have moved their focus on developing vaccines and treatments for SARS-CoV-2 to their product pipeline with the pandemic.
With this backdrop, let's take a look at the 10 best biotech stocks on the ASX-
ALSO READ: Which are the Top 10 blue-chip stocks on the ASX?
Actinogen Medical Limited (ASX:ACW)
ASX-listed biotechnology firm Actinogen Medical is developing a revolutionary therapy for cognitive impairment associated with neurological indications due to modifications of increased levels of cortisol inside the brain cells. The lead drug candidate of Actinogen Medical is Xanamem® which has been designed to block the production of cortisol (stress hormone) in the brain.
ASX-listed clinical-stage company Bionomics Ltd is leveraging its proprietary platform technologies to discover and develop innovative drug candidates. The lead drug candidate of Bionomics is BNC210 which is currently under development for the treatment of posttraumatic stress disorder (PTSD). Besides, Bionomics has a strategic collaboration with Merck & Co., Inc with two drugs in early-stage trials.
Incannex Healthcare Limited (ASX:IHL)
Clinical stage pharmaceutical player Incannex Healthcare is developing exclusive medicinal cannabis products and psychedelic medicine therapies. IHL has a robust patent filing strategy as it develops its therapies in conjunction with its medical advisory board.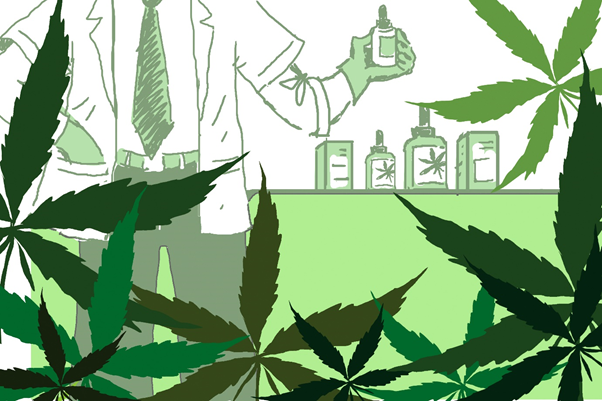 Source: Copyright © 2021 Kalkine Media
Antisense Therapeutics Ltd (ASX:ANP)
Antisense Therapeutics is an Australian biotechnology firm engaged in developing and commercialising antisense pharmaceuticals for unmet medical needs in rare diseases. The Company is developing a CD49d receptor antisense inhibitor named ATL1102.
DO READ: How are medical chatbots transforming patient care?
Telix Pharmaceuticals (ASX:TLX)
Melbourne-headquartered biopharmaceutical firm Telix is focused on the development of therapeutic and diagnostic products using Molecularly Targeted Radiation. The Company is developing a portfolio of clinical-stage products to address the significant unmet medical need in cancer and rare diseases.
ASX-listed pharmaceutical manufacturing firm IDT Australia has extensive experience in developing high potency and high containment pharmaceutical formulations. The facilities of
IDT facilities are cGMP compliant and are frequently audited by the US Food and Drug Administration (FDA) and Australian Therapeutic Goods Administration (TGA).
Globally active biotechnology firm Immutep is a leader in developing immunotherapeutic (LAG-3 related) products for the treatment of cancer and autoimmune indications. Immutep is developing product candidates IMP321 and IMP761 with its large pharmaceutical partners.
ASX-listed Race Oncology is developing Bisantrene, a potent inhibitor of the FTO (Fatso/Fat mass and obesity-associated) protein. The Company is exploring Bisantrene as a new treatment for renal cell carcinoma (clear cell) and melanoma.
GOOD READ: Race Oncology joins hands with Trialog for Phase 2 AML trial in Israel
Source: Copyright © 2020 Kalkine Media
Melbourne-based novel antibody technologies developer Patrys Limited is focused on the development of the deoxymab platform as therapies for several different cancers. The deoxymab platform of PAB is based on cell-penetrating antibodies, for example, 3E10 antibody initially isolated from a mouse model of systemic lupus erythematosus (SLE).
NeuroScientific Biopharmaceuticals Ltd (ASX:NSB)
NeuroScientific Biopharmaceuticals is engaged in the development of peptide-based pharmaceutical compounds that target several neurodegenerative indications with high unmet medical need. The product portfolio of the Company comprises Emtin peptides including EmtinB, EmtinAc, EmtinAn, and EmtinBn.
MUST READ: Is cloud computing the future of all businesses?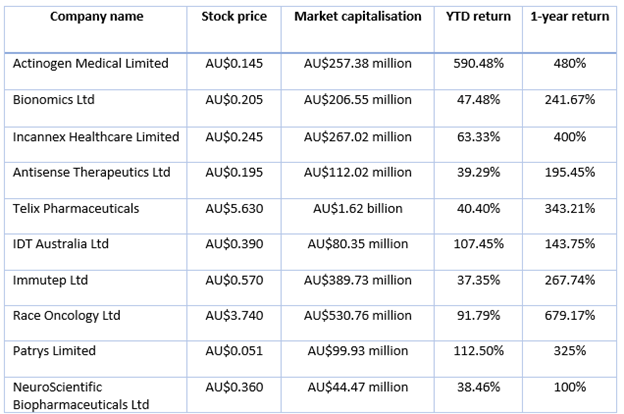 Source: Copyright © 2021 Kalkine Media (Data Source: ASX, as of 22 June 2021)