Summary

In June 2020 quarter, Prescient added new assets in its belt with the most significant milestone of a next-generation immunotherapy platform 'OmniCAR'.
Prescient onboarded former Juno Executive Dr Allen Ebens, having a vast experience of more than 24 years in drug development.
Received two US patents covering PTX-200 drug candidate for treating leukemia and breast cancer.
PTX-100 Phase 1b 'basket study' added a new trial site in Melbourne.
The main costs for June quarter comprised the ongoing R&D costs across all Prescient programs, at the end of the quarter, Prescient had cash reserves of ~A$7.4 million.
ASX-listed clinical-stage targeted oncology player Prescient Therapeutics Limited (ASX:PTX) is engaged in developing personalised medicine approaches to treat cancer with an unmet medical need, including cellular as well as targeted therapies. The Company is gaining attention on the back of solid June quarter.
On 22 July 2020, Prescient posted its June quarter results and operating highlights. In June quarter Prescient's operations remained unscathed by COVID-19. Notably, the Company added new assets in its belt and made significant milestones despite the ongoing global health crisis.
No Material Disruption Amid COVID-19
The quarterly reporting period has posed many challenges for every business owing to ongoing COVID-19 pandemic. It is noteworthy to mention that Prescient has not experienced material disruption to its operations so far, and the team continues to focus on advancing valuable assets of the Company.
The supply chain and logistics of Prescient are unaffected with drug supplies available to all trial sites.
Let us shed some light on Prescient's financial and operational highlights during the quarter ended on 30 June 2020
Financial Highlights
At the end of June quarter, the Company had cash reserves of A$7.4 million. Main costs for the quarter comprised the ongoing R&D costs across all programs of Prescient.
The Company made payments of A$115,000 to the related parties of the entity, and their associates. The amount comprised of the remuneration of executive and non-executive directors, including on-costs for the quarter. Moreover, the Company continues to manage its expenses tactically.
Operational Highlights-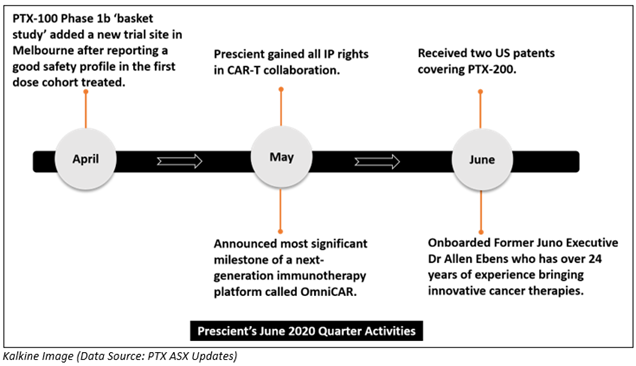 Obtained Key Licenses for next-generation immunotherapy platform 'OmniCAR'
During the June quarter, Prescient made significant progress towards its goal of building a leadership position in the emerging next-generation of personalised cancer therapy and CAR-T treatment.
One of the most significant milestones achieved during this quarter was the revelation of a next-generation immunotherapy platform 'OmniCAR', which was created from global licensing deals with the University of Pennsylvania and Oxford University.
GOOD READ: Impressive! Prescient Obtains Key Licenses for Next Generation Immunotherapy Platform
This next-generation immunotherapy platform permits Prescient to develop advanced CAR-T assets that are controllable and flexible and improves the position of the Company to the forefront of the exciting CAR-T arena.
OmniCAR seeks to overcome challenges that are faced by current generation CAR-T programs, such as time, cost, safety, control as well as targeting issues that have held back broader adoption of CAR-T therapies for cancer patients.
Notably, this significant milestone will be instrumental in the development of next-generation CAR-T assets by PTX and will enable external collaboration along with licensing opportunities.
Moreover, the Company is undertaking a strategic review of the numerous opportunities for OmniCAR and is looking forward to providing updates on the outcomes of this review.
Onboarded Former Juno Executive Dr Allen Ebens
On 1 June 2020, Prescient onboarded Dr Allen Ebens to its Board of Directors. Dr Ebens has over 24 years of experience bringing innovative cancer therapies to market including polatuzumab, which was approved by the US Food and Drug Administration (FDA) and is currently marketed for the treatment of lymphoma.
Notably, Dr Ebens was a former senior executive with a CAR-T pioneer company, Juno Therapeutics, which was acquired by biotech Celgene for US$9 billion in 2018.
CAR-T infrastructure and expertise expansion during the June quarter gives Prescient a robust foundation on which it can build a global leadership position in the most promising and progressive fields of cancer therapy.
Received Two US Patents Covering PTX-200
On 17 June 2020, PTX received two US patents for PTX-200. These patents for PTX-200 (USPTO 15/487,854 and 15/487,843) were a substantial addition to a strong IP portfolio of Prescient. This accomplishment bolsters a strong IP position of PTX in a unique targeted therapy.
READ MORE: Another Golden Feather in Prescient's Hat, PTX-200 Receives Two US Patents
Became Outright Owner of IP Resulting from CAR-T Collaboration
In November 2019, Prescient and Carina Biotech joined hands for developing exciting new CAR-T approaches for cancer treatment, and as per the prior agreement, the resultant new IP from the CAR-T collaboration with Carina Biotech were to be shared equally by both companies.
On 11 May 2020, Prescient disclosed it had modified a key term in its collaboration with Carina Biotech to generate next-generation CAR-T and cell therapy advances. PTX has negotiated to be the complete (100%) owner of any new IP rights created from this collaboration.
Clinical development: PTX-100 Phase 1b 'basket study' added a new trial site in Melbourne
The PTX-200 trial in acute myeloid leukemia and the PTX-100 basket study in multiple cancers both continued to screen, enrol and treat eligible patients.
Remarkably, the PTX-100 Phase 1b 'basket study' added a new trial site in Melbourne following investigators headed by internationally renowned oncologist Professor Miles H. Prince AM stated a good safety profile in the first dose cohort treated.
Encouragingly, a clinical signal was noticed in the first cohort, with a cutaneous T-cell Lymphoma patient experiencing symptomatic relief.
The Company remains focused on the opportunity to work with some of the leading medical research teams across the world and make meaningful improvements to cancer treatment, especially to those patients that are poorly served by current treatments.
Business development: Prescient stepping forward with world-leading in-house expertise
Presently, with the addition of new cancer therapies to the pipeline Prescient is engaged on establishing a leading position in the field of oncology, building on its accomplishments and the world-leading in-house expertise and skills it has gathered.
Furthermore, the Company continues to actively review strategic partnership initiatives that will advance its therapeutic pipeline and enhance shareholder value.
On 23 July 2020, PTX stock quoted at A$0.064 with a market capitalisation of A$26.42 million at AEST 11:30 AM. PTX shares generated a return of 91.43% in last three months.
To know more about Prescient Therapeutics Limited, click here.
To stay updated with PTX company activities and announcements, please update your details on their investor centre.