Highlights

The year 2021 saw a significant focus on research & development in the biotech and pharmaceutical areas, with increased government funding to ensure healthcare resilience.
The life sciences space appears to be typically driven by technological advances and increasing demand for pharmaceutical solutions.
The initial proof-of-concept studies have highlighted the dual theranostic potential of INVO43, which could prove promising in treating and diagnosing a range of cancers.
INVO43 is Invion's new active pharmaceutical ingredient using PhotosoftTM technology.
The global biotech industry has been on investors' radar, with the COVID-19 pandemic highlighting the necessity of identifying new drug development models and finding solutions for neglected diseases. As a result, the year 2021 saw a significant focus on research & development (R&D) in the biotech and pharmaceutical areas. Also, governments across various geographies increased their support to advance R&D programs.
In Australia, the 2021 Federal Budget introduced a AU$206 million patent box scheme to boost innovations through tax incentives to biotechnology and medical companies. The Australian government's efforts have been focused on increasing the resilience of the country's biotech sector.
Promising ASX Stocks to Watch Amid Biotech Boom
Meanwhile, the biotech area appears to be essentially driven by technological advances, new pathways for drug discovery and increasing demand for pharmaceuticals among the population.
In the current upbeat settings, let us look at three promising ASX-listed biotech space players addressing the unmet clinical needs.
Clinical-stage life sciences company Invion is committed to developing Photosoft™ technology for the treatment of a range of cancers.
Notably, PhotosoftTM technology is an improved next-generation Photodynamic Therapy which uses non-toxic photosensitisers and visible light in combination with oxygen to kill malignant cells. Importantly, the technology can become an alternative to surgery and other immunosuppressive drugs used in cancer treatments.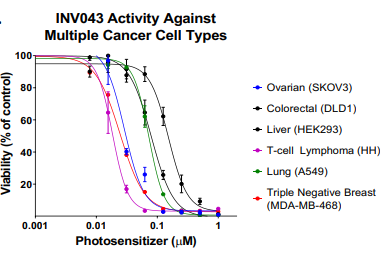 Source: IVX Update, dated 25 May 2021
ALSO READ: Invion's (ASX:IVX) promising therapy aims to fill the void in cancer treatment space
On this front, Invion recently selected a new active pharmaceutical ingredient (API), INV043, which has given positive results in the recently conducted proof-of-concept studies. In addition, the research has pointed at the dual theranostic potential of INVO43, which could prove promising in treating and diagnosing a range of cancers.
Notably, Invion's cancer research and clinical trials on Photosoft™ technology are funded under an R&D services agreement by RMW Cho Group Limited, the technology licensor.
The life sciences company has also collaborated with leading global medical research institutes – Hudson Institute of Medical Research and the Peter MacCallum Cancer Centre – to advance its research program.
ALSO READ: How Invion Limited (ASX:IVX) is progressing its promising PDT technology to treat multiple cancers
Invion's shares have surged by 30% in 2021 so far, trading at AU$0.013 on 7 October 2021.
A clinical-stage biopharmaceutical company, Dimerix is developing its proprietary product DMX-200 for focal segmental glomerulosclerosis (FSGS), respiratory complications associated with COVID-19 and diabetic kidney disease. It is also advancing the development of DMX-700 for chronic obstructive pulmonary disease (COPD).
The Central Drugs Standard Control Organisation, an Indian regulatory agency, has formally recommended approval for the DMX-200 clinical study in COVID-19 patients to treat respiratory complications. As a result, multiple clinical sites in India have been initiated.
Dimerix also recently commenced ACTION3 Phase 3 clinical study in FSGS patients, with the first ethics submission filed in Australia.
DXB shares have given a return of 25% on a year-to-date basis and traded at AU$0.30 on 7 October 2021.
Focused on regenerating mobility for patients, Orthocell develops products to repair various soft tissue injuries.
The company's recent pre-clinical Anterior Cruciate Ligament (ACL) reconstruction study has returned positive results. The outcomes have highlighted the potential of Orthocell's CelGro® collagen 'rope' solution to be the first off-the-shelf biological device to enable the optimal repair of ACL injuries.
Recently, the company also secured new patents for its novel CelGro® collagen medical device platform in Canada and Hong Kong. The platform is for the suture-less repair of soft tissue defects.
READ MORE: Orthocell (ASX:OCC) secures patents for CelGro® in Canada and Hong Kong
OCC shares traded at AU$0.50 on 7 October 2021. The OCC share price has appreciated by 2% on a year-to-date basis.
Invion (ASX:IVX) is B2B client of Kalkine