Highlights

Dividend stocks are a regular flow of income source from investments
A dividend is a pay-out of a certain portion of a Company's profit to its investors
Stocks paying good dividends give you a stable portfolio
Investing in dividend stocks provides a regular income flow for your investments. A dividend, generally issued by a publicly traded company, is a payout of the portion of a Company's profit to eligible shareholders. Dividend stocks generally provide stability to an investor's portfolio.
Based on different financial and economic factors, a company's board of directors decide to pay or not pay dividends.
In this article, we will discuss the top five stocks from ASX healthcare based on five years' average dividend yield (data from Thompson Reuters).

Data Source: Refinitiv (as of 09 May 2022)
VIP Gloves produces a wide range of nitrile gloves for use in hospitals, pharma, laboratories, food preparation and other purposes. The company's operations are based in Malaysia.
In the quarter ended 31 March 2022, the company's sales tumbled by 10% due to global supply chain issues. Similarly, total sales revenue decreased by 21%.
VIP has extended its product range to service a niche market with the production of thin nitrile gloves (as against the currently produced medium thickness gloves), which is likely to enhance the company's financial performance in Q4 FY2022.
Monash IVF Group Limited (ASX: MVF)
Monash IVF Group specialises in assisted reproductive technologies (ART) and tertiary level prenatal diagnostics. It offers a complete range of specialist diagnostic obstetric and gynaecological ultrasounds and fertility treatments.
Key highlights from 1H22
7% increment in adjusted net profit after tax compared to 1H21
Return on equity (ROE) increased to 9.1% compared to 8.6% in 1H21
Reported profit before tax decreased by 18.9%
Reported 2.2 cents per share fully franked interim FY2022 dividend
Do read: From VIP to REG: Five ASX healthcare stocks with the highest dividend yield
Regis Healthcare Limited (ASX:REG)
Regis is one of the largest aged care providers in Australia. It provides services of residential care, short-term care, home care and retirement living services.
As per the half-year result ended 31 December 2021, REG announced an interim dividend of 3.52 cents per ordinary share (50% franked).
Other significant highlights from 1H 2022 are as follows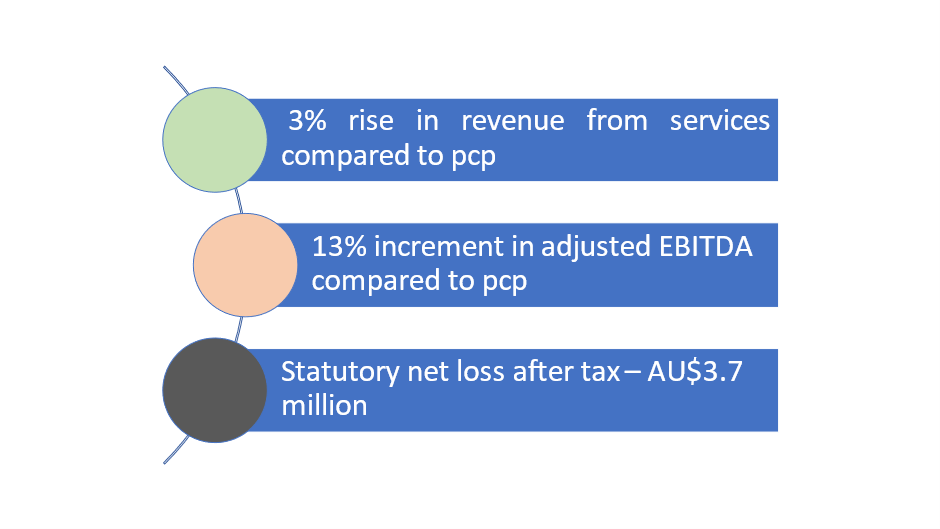 Image source: © 2022 Kalkine Media®
Estia Health Limited (ASX: EHE)
EHE provides services of residential aged care homes with 68 homes across Australia and cares for more than 8,000 residents every year.
Estia reported an 8.7% growth in operating revenue during H1FY22. However, the company faced an AU$8.1-million net loss after tax. It announced an interim dividend of 2.35 cents per share fully franked. Overall, EHE'S pre-COVID-19 average bed occupancy was 93.6%, constantly above sector and peers. Similarly, the average occupancy in H1FY22 was 92.6%.
Related read: PCK, SW1, ICR, HSC: How these ASX aged-care stocks fared in December quarter
Virtus Health Limited (ASX: VRT)
Virtus Health Limited is the largest in-vitro fertilisation provider in Australia. It provides assisted reproductive technology, specialist pathology and day hospital services.
Major highlights of the company from H1FY22 are as follows:
The company attributed the downfall in EBITDA and profit to increased operating expenses also, including increased costs associated with COVID-19 safety-related precautions.
Which Are The 10 ASX Dividend Stocks with Over 7% Yield?