Highlights

Australian Pharmaceutical Industries operates a portfolio of wholesale and retail businesses in the growing health, wellbeing, and beauty sector.
Lately, the Company has received acquisition proposals from Wesfarmers and Sigma Healthcare.
Considering Sigma Healthcare's proposal, the API Board has determined that this offer is superior to the indicative non-binding proposal from Wesfarmers.
Australian Pharmaceutical Industries Limited (ASX:API) is a health and beauty business that is involved in pharmaceutical distribution, retailing as well as manufacturing. The Company is one of Australia's leading wholesale suppliers of pharmaceutical and allied formulations.
In the last three months, API shares have generated excellent returns of 36.04%. API shares traded flat at AU$1.510 on 28 September 2021. The Company has a market capitalisation of AU$743.91 million.
Over the recent past, Australian Pharmaceutical Industries has been grabbing headlines as the Company received proposals for the acquisition of its 100% shares. Earlier in July this year, Wesfarmers submitted its proposal to acquire API, and now Sigma Healthcare has joined the race.
Let us delve deep and discuss these proposals in detail-
Proposal from Wesfarmers
During mid-September, Wesfarmers Limited (ASX:WES) informed about its agreement with Australian Pharmaceutical Industries concerning its offer to acquire 100% of the shares in API by way of a scheme of arrangement. The Company offered a cash consideration of AU$1.55 per share as per the revised proposal.
Earlier in July, Wesfarmers had proposed AU$1.38 cash per share; however, API rejected this proposal after a detailed analysis of the underlying value of its business.
The revised proposal from WES allows for the payment of dividends (fully franked) up to a maximum of 5 cents per API share, including any final dividend declared for FY21 (period ended 31 August 2021).
GOOD READ: Seven ASX-listed stocks to consider before September ends
New merger proposal from Sigma Healthcare
Recently, Sigma Healthcare Limited (ASX:SIG) submitted a conditional non-binding indicative proposal for acquiring 100% of the shares in API by way of an API scheme of arrangement.
Copyright © 2021 Kalkine Media
Sigma is confident that the rationale for a combination of API and Sigma is highly compelling. The combined entity would offer significant benefits accruing to both sets of shareholders, the industry as well as other stakeholders, the Company believes.
Furthermore, Sigma opines that a merged Sigma and API group would result in-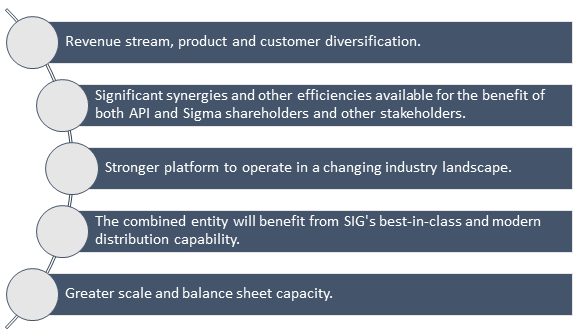 Copyright © 2021 Kalkine Media
The proposal is subject to several conditions such as completion of satisfactory confirmatory due diligence by Sigma Healthcare, receipt of necessary regulatory authorisations as well as unanimous opinion of the API Board.
What's Next?
Sigma has highlighted that the API Board has considered its proposal and determined that this proposal is superior to the indicative non-binding proposal from Wesfarmers.
Consequently, API has agreed to grant Sigma Healthcare access to allow the Company to undertake confirmatory due diligence and commence working with Sigma on negotiating as well as signing binding transaction documentation.
On 28 September 2021, WES shares traded at AU$56.270 (↓2.106%) and SIG shares traded at AU$0.602 (↓0.414%).
ALSO READ: Should pharmaceutical companies waive IP rights on COVID vaccines