A recent ASX200 entrant midcap pharma company, aggressively cutting costs as it prepares to take its drug RYONCIL™ into the mighty US healthcare market. Additionally, this drug is being evaluated in clinical trials against acute respiratory distress syndrome for ventilator-reliant COVID-19 patients.
Founded in 2004 and listed in the ASX in August 2010, Australian-based Mesoblast Limited (ASX:MSB; Nasdaq: MESO) uses its proprietary mesenchymal adult stem cells (MLCs) therapy platform to develop regenerative medicine or allogeneic (off-the-shelf) cellular medicines indicated for inflammatory ailments, cardiovascular disease and back pain.
The company's pipeline showcases commercial products and late-stage product candidates. Mesoblast also possesses an extensive patent portfolio of patents and patent applications with terms extending through 2040. These patents provide manufacturing and strong commercial protection for the products in all major markets, including the United States, Europe, Japan and China. Mesoblast operates from Australia, the United States and Singapore.
Recent Roller Coaster Ride on ASX
During the coronavirus pandemic, the share prices of Mesoblast went up by almost 4.5x on account of its flagship drug candidate remestemcel-L being evaluated in clinical trials against acute respiratory distress syndrome for ventilator-reliant COVID-19 patients.
However, In the second week of August 2020, Mesoblast share prices experienced a roller-coaster journey. On 11 August 2020, FDA announced a concern on the quality of RYONCIL production, leading to a 31% decline in share prices and further decline of 8% the next day. Interestingly, the share price jumped back by almost 40%, and later recouping all the losses, after obtaining the majority of the votes from the Federal Drug Administration (FDA) committee meeting favouring the product. Going by the recent share price activity, it seems like the investors have hope on the RYONCIL product.
The company is in the process of achieving FDA approval for its product candidate RYONCIL™ (remestemcel-L) indicated for paediatric steroid-refractory acute graft versus host disease. While a tentative approval has been received, the final decision will be released on 30 September 2020. Once approved, RYONCIL™ may be launched in the United States in 2020.
Mesoblast Beats the Market Hands Down; Enters Benchmark Index ASX 200
We can also, clearly see that Mesoblast has performed astonishingly well when compared to the representative index of ASX, S&P/ASX 200 (ASX:AXJO) and S&P/ASX 200 Pharma and Biotech (ASX: AXPBJD). In one year, Mesoblast has delivered a return of 259% as compared to S&P/ASX 200 (-7%) and S&P/ASX 200 Pharma and Biotech (24%). On 22 June 2020, Mesoblast was added to the marque index ASX200, further increasing the company's stature.
Aggressively cutting costs, Royalty and Milestone payments continue to grow
Over the six years to FY20 ending 30 June, the company has grown its Revenue from US$19.8 million in 2015 to US$32.2 million in 2020 at a CAGR of 10.21%. However, revenues hit a massive low in 2017, because of a $37.5 million non-cash deferred revenue items recognized in FY2016 connected with regaining control of the Company's MPC-150-IM product. However, if we compare FY2020 sales to 2017 sales, the revenue increased at a CAGR of 137.62%.
Comparing Year on Year sales, FY20 revenues recorded a 92% increase in sales over FY2019. This increase was largely backed by royalty and milestone payments earned through strategic partnerships with other biotech companies.

Commercial Revenues consisting of sales of TEMCELL, increased from US$0.5 million in FY16 to US$6.6 million in FY20, at a CAGR of 90.61%. TEMCELL debuted in 2016. On year on year basis, 32% growth was observed in commercialization revenue from FY19 to FY20. Japan-based pharmaceutical company; JCR Pharmaceuticals has exclusive commercialisation rights for Mesoblast's MSC technology indicated for acute GVHD in Japan. The company is currently increasing the production capacity for TEMCELL because of an increased number of orders placed by JCR as compared to what was initially forecasted during the product launch in 2016.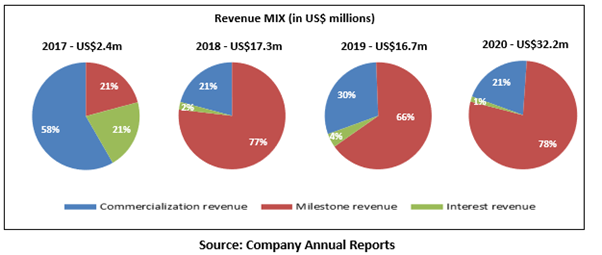 The company experienced a massive increase in its milestone revenues from 2017 to 2020, recording a CAGR of 268.4%. In FY20 alone, the Company experienced a jump of 127% to hit US$25.0 million in milestone revenues backed by strategic partnerships.
The company has managed to maintain its operational expenses even while its revenue has shot up. On year on year basis, Mesoblast's R&D expenditure for FY20 was US$56.2 million, representing 175% to the revenue compared to 358% and 372% recorded in FY19 and FY18 respectively. The reduction in R&D costs was backed by US$8.6 million savings on Phase 3 clinical trials, offset by expenditure in pre-commercial activities to support the potential launch of RYONCIL in the United States.
SG&A (Selling/General/Admin) Expenses were 80% of revenue compared to 130% and 127% recorded in FY19 and FY18 respectively. Overall expenditure also decreased as compared to its revenue growth with FY20 expenses being 326% of revenue compared to 620% and 482% in FY19 and FY18 respectively.
Source: Refinitiv Eikon, Thomson Reuters
In FY20, Mesoblast decreased its losses by 13% to record a net loss of $US77.9 million. The decrease in loss was achieved despite a US$13.8 million increased expenses incurred for commercial preparation of probable US launch of RYONCIL -indicated for paediatric steroid-refractory acute graft versus host disease.
The company has US$129.3 million as cash on hand at 30 June 2020 post raising US$90 million from global institutional investors in May 2020. The company has a window of accessing up to an additional US$67.5 million over the next year from the existing debt facilities and strategic partnerships.
September - a critical month for Product Advancement and Commercialisation in the US
Robust Product Pipeline with Phase 3 Product Candidates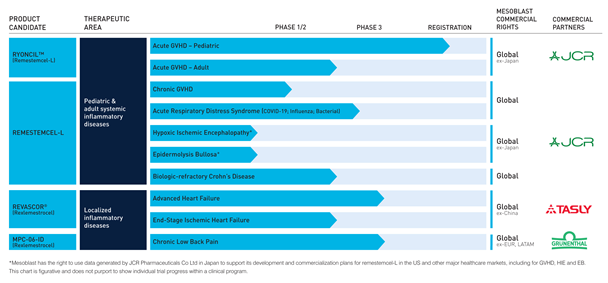 Source: Company Website
RYONCIL™ (remestemcel-L) for acute-Graft-versus-host disease
RYONCIL™ (remestemcel-L) is the lead drug candidate of the company which is currently being marketed in Japan by JCR Pharmaceuticals as TEMCELL for the acute-Graft-versus-host disease. Rest of the word commercialization rights remains with Mesoblast.
In August 2020, the company received a majority vote in an FDA advisory committee meeting, ruling the decision in favour of RYONCIL™ being effective for treatment for acute-Graft Host Versus Disease (aGVHD) in children. The final decision will be released on September 30, the Prescription Drug User Fee Act (PDUFA) action date. If Mesoblast receives the approval for its allogenic stem-cell-based therapy, Mesoblast is expected to make RYONCIL available in the United States during Q4 2020.
According to the company, the US addressable market is almost eight times larger than Japan for remestemcel-L in SR-aGVHD in children and adolescents up to 18 years old, representing a considerable commercial opportunity for Mesoblast's first potential product launch in the US. At present, there are no FDA-approved treatments available in the US for children under 12 with SR-aGVHD.
To support the commercial launch of RYONCIL post the potential FDA approval, Mesoblast entered into a commercial supply agreement during fiscal 2020 with Biotech company Lonza to facilitate inventory build of the product.
Mesoblast intends to conduct a post-market study for remestemcel-L for Adults with SR-aGVHD.
remestemcel-L for the treatment of moderate to severe acute respiratory distress syndrome (ARDS) due to COVID-19 infection
remestemcel-L was administered under emergency compassionate use to 12 COVID-19 patients with moderate to severe ARDS in a pilot study at New York based Mt Sinai Hospital. The candidate drug proved promising as 75% of patients came off ventilator use and got discharged within a median of 10 days.
Post the successful pilot run, Mesoblast is currently undertaking a Phase 3 study enrolling 300 patients with recruitment expected to close in the Q4 2020. The company is scaling up manufacturing capacity to support the requirement of potential label extensions of RYONCIL such as COVID19 ARDS.
remestemcel-L is also being developed for the treatment of Crohn's disease refractory to steroids and immune suppressants.
To Sum-up
While receiving approval of its flagship product RYONCIL™ is encouraging; there is always a possibility that the decision to be announced on 30th September may not be in favour of the company. Also, the results of Phase 3 clinical trials evaluating the efficacy of remestemcel-L for the treatment of ARDS caused due to COVID-19 infection may go south. The company is now closely monitoring the developments of its flagship drug as it tries to enter the US market.