Highlights

During the time of uncertainty in the market, it is seen that market participants look for stocks that offer them good dividends with consistent dividend history.
Healthcare players played a crucial role in the pandemic period.
HLS, SHL, and ANN are known healthcare players with solid FY2021 results and long dividend history.
In a volatile market, market participants look for stocks that offer good dividends with consistent dividend history and decent dividend yield. They also look for stocks that reduces the overall risk of the portfolio.
The Healthcare industry played a major role during the pandemic period and is expected to contibuee its growth momentum in the upcoming period and aid in the recovery of the Australian economy.
In this article, we will be looking at three health care stocks offering a decent dividend.
INTERSETING READ: Five ASX-listed medical device stocks for year 2022
Healius Limited (ASX:HLS)
Healius Limited is a healthcare service company that offers medical, para-medical and related services and day surgery operators. In addition, it provides services like pathology, diagnostic imaging, day hospitals and IVF.
Healius has a history of providing dividends since 2012. However, in 2H FY2020, it did not provide a dividend. In FY2021, it offered a final dividend of AU$0.067 per share on 08 October 2021.
Healius played a pivotal role in Australia's public health response to COVID-19. It made strategic progress on strategic initiatives. Underlying NPAT improved by 179%. During the period, it reduced its debt by AU$555.7 million. It undertook an AU$101 million on-market share buy-back program.
The total dividend announced for FY2021 was 13.25 cents per share, indicating a payout ratio of 62% of the reported net profit after tax.
On 21 October 2021, HLS closed at AU$4.750, with an annual dividend of 2.91%.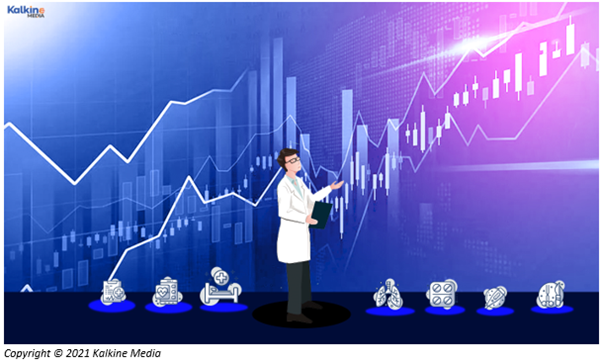 Sonic Healthcare Limited (ASX:SHL)
Sonic Healthcare is one of the largest medical diagnostics companies in the world. It offers lab & radiology services to medical practitioners, clinics, community health services, as well as their collective patients. Listed on 30 April 1987, the Company has consistently provided dividends since 2012.
In FY2021, the Company delivered revenue growth of 28% to AU$8.8 billion and EBITDA growth of 81% to AU$2.6 billion. It made a massive growth of 149% in NPAT to AU$1.3 billion. SHL provided a final dividend of AU$0.550 per share on 22 September 2021.
On 21 October 2021, SHL closed at AU$39.920, with an annual dividend of 2.33%.
RELATED READ: Sonic Healthcare (ASX:SHL) profit balloons 166% on COVID-19 testing
Ansell Limited (ASX:ANN)
Ansell Limited provides superior health & safety protection solutions that improve human well-being. In order to provide a better shield, the Company is constantly researching, developing and investing in producing & distributing advanced product innovation & technology sold under recognised brands trusted by customers.
Ansell was listed on 22 August 1985 and has constantly provided dividends since 2012. In FY2021, the Company provided a final dividend of AU$0.594 per share on 16 September 2021.
In FY2021, Ansell reported sales of US$2,027 million. EBIT improved by 56% YoY to US$338 million, driven by elevated production volumes, pricing/mix benefit, along with SG&A operating leverage.
Profit Attributable to Ansell shareholders grew 57.5% YoY to AU$246.7 million.
The Company expects its net interest expense between AU$20 million and AU$21 million, and EPS would be between US 175 cents and US 195 cents.
On 21 October 2021, ANN closed at AU$31.820, with an annual dividend of 3.17%.
Bottom Line
Healthcare played a significant role during the COVID-19 period. In the coming days, players from this sector are expected to gain market attention as Australia and other parts of the world continues to embark on being COVID free along with innovations across other healthcare sectors.
DID YOU KNOW: Australia cranks up fight against COVID-19 with two new drugs