Summary

BNPL stocks have been soaring and grabbing investors' attention as they are becoming more and more confident about the major switch to online payment phenomenon amid rising coronavirus cases.
On 13 July, SZL notified on concluding A$79.1 million via institutional placement, the announcement for the same was made on 10 July. SZL had revealed its plans to raise A$86.3 million comprising A$79.1 million via Placement and A$7.2 million through SPP to step up its growth strategy and reinforce balance sheet.
Afterpay notified on the completion of capital raising of A$650 million through Placement on 8 July and another A$150 million via SPP would be raised to fund the Company's global expansion plans and accelerate investment in growing underlying sales.
While share markets worldwide have been sent into a flurry as investors evaluate risks of COVID-19 induced economic contraction, BNPL firms have largely stayed unaffected from regular fluctuations of the indices.
BNPL conglomerates have benefitted from the shift to online shopping during coronavirus crisis, especially in countries like the US, where state aid has further lifted retail sales. With rising unemployment figures and millions of job losses, consumers are in dire need to manage their expenditure, and a lot of them are doing so through BNPL lending at the point of sale.
Investors are now expecting customers to be reluctant to visit physical stores for shopping, as coronavirus cases have risen again in several countries boosting businesses for the BNPL companies.
ALSO READ: Spike in BNPL stocks amid support from the US PPP- SZL, ZIP, SPT, APT
BNPL stocks have been hitting record highs and many entities are now all geared up to quench their thirst for expansion by raising capital.
Let's have a look at 2 BNPL stocks that have been in the news recently for the completion of capital-raising.
SZL follows footsteps of APT, concludes A$79.1 million capital raising
Sezzle Inc. (ASX:SZL), the US-based business providing an interest-free instalment payment solutions, has been grabbing investors' attention of late, with its shares providing return of whopping ~1,778% between reaching a low price of A$0.37 on 23 March to A$6.95 on 9 July, skyrocketing by 41.837% from its last close.
Also, on 13 July, SZL zoomed up by 19.424% (at AEST 12:36 PM) and was trading at A$8.300. The same day, SZL notified the market on successfully raising A$79.1 million through a Placement valued at A$5.50/CDI and received a support from both current and new CDI holders.
Shares of Sezzle were placed in trading halt on 10 July, while on the same day the Company announced about its capital raising plans, taking advantage of the steep rise in its share price. The BNPL payment platform announced plans to boost nearly A$86.3 million to fast-track its growth strategy and bolster its balance sheet. The Capital Raising would consist of an institutional placement to raise A$79.1 million (fully underwritten) and followed by a non-underwritten Share Purchase Plan (SPP) that aims to raise roughly A$7.2 million.
The pricing is supposed to be decided via a bookbuild procedure with an underwritten floor price of $5/CDI (underwritten floor price).
The underwritten floor price signifies a-
28.1% discount to the last traded price of $6.95 on 9 July 2020, and
10% discount to the five days VWAP of $5.56/CDI on 9 July 2020
Sezzle anticipates achieving an annualised run rate for UMS (underlying merchant sales) of A$1.4 billion by 2020's end.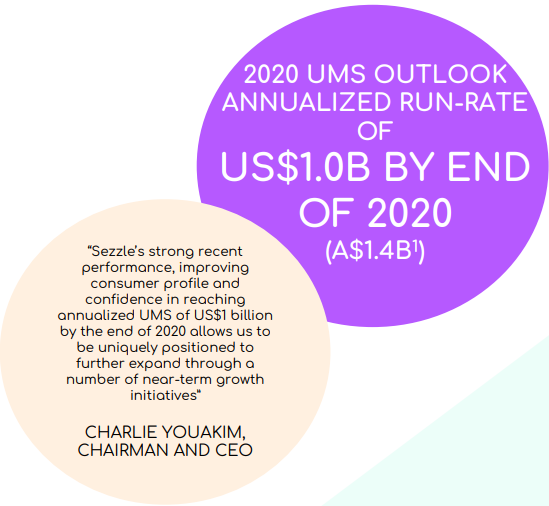 Source: ASX
SZL plans to use the raised money for additional business development, marketing staffs and other costs. The BNPL firm is also eyeing other markets with plans to expand in Canada. The fund would be used to hire more developers and software engineers for developments for the Sezzle platform, along with boosting balance sheet.
Sezzle has been following footsteps of BNPL giant Afterpay, which also declared its plans to raise capital recently and went into a trading halt before announcing the same.
Afterpay capital raising of $800 million
Afterpay Limited (ASX:APT), an Australian based payment solutions company's shares have been soaring and rose steeply over 700% from a low price of A$8.9 on 23 March to $72.3 on 10 July. The rise came in due to the shift towards online spending amid coronavirus. The BNPL firm is now valued at A$20.1 billion, as on 13 July, surpassing all expectations.
On 13 July, APT was trading at A$71.17, decreasing by 1.577% (at AEST 1:11 PM).
As per July 7 update, the payment solution firm has plans to raise A$1 billion in fresh capital in 2020 to expedite its global expansion, after the firm reported record sales in Q420 with underlying sales soaring 127% to A$3.8 billion. The BNPL firm shares were under trading halt on 7 July.
ALSO READ: BNPL Buzzing- Sezzle Reports Record 2Q20, Afterpay Reveals Expansion Roadmap & Capital Raising
As per a trading update dated 8 July, Afterpay raised A$650 million through a Placement (fully underwritten institutional placement) of 9.8 million ordinary shares at A$66/share. The pricing was determined via an institutional bookbuild with an underwritten floor price of A$61.75/share. The settlement of the Placement took place on 10 July. Also, the Placement securities were slated to be allocated via ASX and had started trading from 13 July.
Afterpay would also offer a A$150 million SPP (share purchase plan) for retail investors, which is not underwritten, with stakeholders enabled to purchase A$20k worth of APT's stock via SPP. Securities issued under the SPP will be issued at the lower of A$66.00, being the Placement price, and the fie days VWAP of APT shares up to the SPP ending date.
APT's CEO & MD, Anthony Eisen and co-founder Nick Molnar would each sell 2.05 million shares alongside Placement worth a total of A$250 million (10% of their respective holdings in APT) as part of the process. The move was intended to diversify the assets and liquidity of the BNPL firm.
Further, the proceeds from the capital raising would be used to quicken investment in increasing underlying sales and focus on international growth in the short duration to boost stakeholder value in the extended term.
As discussed above, another BNPL player Sezzle also completed capital raising on 13 July, which came in after a few days of Australian BNPL giant Afterpay announcing its plans to raise capital to fund expansion.