Summary

BNPL stocks are leading ASX on record sales, as the US reopened its Paycheck Protection Program (PPP) recently, for small businesses to receive funds for maintaining payroll, mortgage interest, rent, etc.
Sezzle shares have been soaring this week after the Company reported record merchant sales and active merchants by 58% and 27%, respectively. Of late, it has unveiled capital raising plans of A$86.3 million to reinforce balance sheet and fast-track growth plans.
Afterpay and Splitit have been performing strongly with rapid growth across its KPIs in Q4FY20.
BNPL companies can benefit from US PPP fiscal support, which would also aid them retain their workforce.
The economic downturn following COVID-19 pandemic has accelerated and forced many consumers and companies to go for alternate payment options. BNPL firms have been gaining further momentum on ASX due to US Paycheck Protection Program (PPP), which was formed by the US President Trump's administration to aid small companies and non-profits struggling due to lockdown measures amid coronavirus crisis.
On 6 July, the US government again opened the PPP program for small businesses who can apply for the program. PPP was initially started in April, to cover costs and soften job losses caused by COVID-19.
BNPL firms like Sezzle, Zip and Splitit, are among several businesses expected to unite with companies in manufacturing, hotel, entertainment, and construction to receive relief under the program. PPP loan would aid the current operations of the businesses and in preserving workforce by keeping the payroll intact.
Let's have a look at 4 BNPL stocks that have been surging recently due to their incredible performance in the past few months.
Sezzle Inc (ASX:SZL)
Sezzle shares have given a return of more than 1700% from a touching low price of A$0.37 on 23 March to hit a record high of A$6.95 on 9 July.
The Company's shares have been surging this week after it reported a jump in active merchants and merchant sales by 27% and 58% QoQ, respectively on 7 July 2020. It was followed by an announcement, on 10 July, for capital raising plan of A$86.3 million to speed up its growth strategy.
Sezzle grew at a record pace in 2Q20. Some highlights include:
The surge in underlying merchant sales to US$ 188 million, up 58% QoQ
Active Consumers increased by 28% QoQ to 1.48 million, while Active Merchants jumped 27% QoQ to 16,112
Repeat usage rates improved by 10 points in June quarter to 87.5% compared to 77.2% June 2019
Purchase frequency by cohorts is at about 15 transactions per year

Source: ASX
Further, Sezzle also launched a capital raising of up to ~A$86.3 million to bolster its balance sheet and accelerate growth by making an investment in global expansion projects. The capital raising will involve:
~A$79.1 million (US$55.0 million) fully underwritten institutional placement
~A$7.2 million (US$5.0 million) non-underwritten security purchase plan
SZL's underlying merchant sales are likely to achieve an annualised pace of A$1.4 billion by this year's end. The Company is well placed for the shift of North American customers and retailers to eCommerce platform as coronavirus impact is yet to dissolve.
Zip Co Limited (ASX: Z1P)
Shares of Z1P have given a positive return of 470%, from a low point of A$1.175 on 19 March to A$6.7 on 9 July. Further, on 10 July 2020, Z1P climbed up by 8.06% from its last close to be at A$7.24.
As per an update on 12 June, Z1P reported a strong month for May with solid transaction volume and outstanding repayment performance. The Company reported that it was on track for its FY20 target of $2.2 billion in annualised transaction volume set at the start of the year. As the economy recovers from COVID-19, cautious tightening of credit and repositioning of business in the last few months have Z1P well placed to grow ahead.
Z1P which is in plans to soon acquire remaining US BNPL firm QuadPay is another applicant in line for gaining fund via US PPP.
ALSO READ: BNPL Buzzing- Sezzle Reports Record 2Q20, Afterpay Reveals Expansion Roadmap & Capital Raising
Splitit Payments Ltd (ASX:SPT)
SPT shares have given a positive return of 135%, from a low point of A$0.215 on 23 March to A$1.57 on 9 July. On 10 July, SPT last traded at A$1.62, moving up by 3.185% compared to its previous close.
On 8 July SPT released Q2 FY20 outcomes, wherein a rapid growth across all its performance indicators had been witnessed. Some highlights include:
Merchant Sales Volume (MSV) grew rapidly to US$65.4 million, up 260% on Q2 FY19
Gross Revenue (Non-GAAP) rose to US$2.4 million, up 460% on Q2 FY19
SPT's 2 largest markets continued their upward trajectory, with North America up 261% and Europe up 240%
Total merchants rose by 104% to 1000 while total unique shoppers increased by 85% to 309,000 on Q2FY19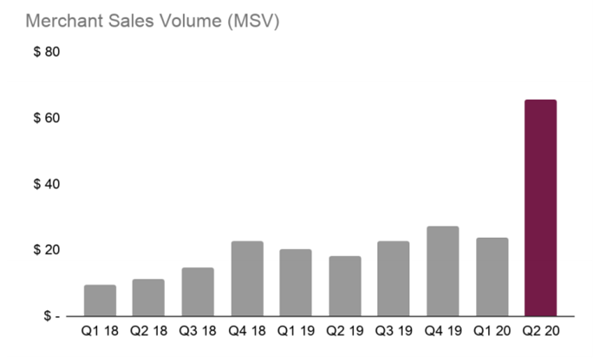 Source: ASX
The firm has also completed integration with Stripe Connect with beta testing of new merchant onboarding. The Group also struck new partnerships with Mastercard, Finance for Group and Blue Snap.
Afterpay Limited (ASX:APT)
Afterpay shares have surged by 725%, from a low point of A$8.9 on 23 March to A$73.5 on 9 July. On 10 July APT was at A$72.31 by the end of trading session, declining by 1.619% from its last close.
As per an update on 7 July, the firm delivered highest quarterly underlying sales of A$3.8 billion in Q4FY20 period closed 30 June, up by 127% on Q4FY19, showing a shift towards e-commerce expenditure amid COVID-19.
While active customers rose by 116% for the firm and stood at 9.9 million for FY20, active merchants reached 55.4k (up 72%). Afterpay with operations in the US, the UK, Australia, and NZ has also planned to expand in Canada and rollout in-store in the US during Q1FY21.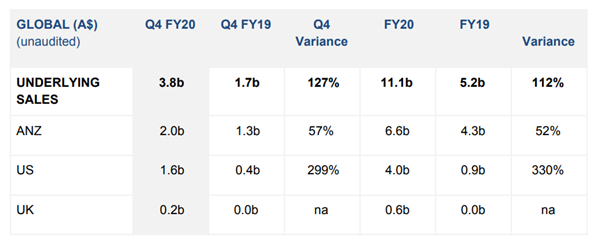 Source: ASX
The firm has also undertaken a fully underwritten institutional placement to raise A$650 million priced at A$66 per share followed by a SPP (share purchase plan) to raise nearly A$150 million for accelerating investment in sales growth and global expansion. FY21 is anticipated to be a year of increased investment for APT as it holds the solid momentum in the business and benefits from the opportunity to scale internationally.
Further, APT co-founders, Anthony Eisen and Nicholas Molnar have each agreed to sell 2.05 million shares, demonstrating 10% of their respective holdings in Afterpay.
The PPP program require companies to retain or rehire employees to the same level as before coronavirus to qualify for forgiveness of loans. Further, it requires 60% of the funds to be used towards payroll and rest towards mortgage interest payments, rent, etc with the condition that the money must be spent within 25 weeks of obtaining it.
Benefits of PPP can help the workers to retain their jobs, keeping their spending power alive to an extent. Furthermore, BNPL companies can sought to protect jobs and get fiscal relief through these loans enabling them to run their US operations more smoothly.