Highlights

ECS Botanics has obtained the distribution of its Hemp Seed Oil products into the nationwide stores of Coles Group.
Incannex has submitted an HREC proposal for Psi-GAD psilocybin therapy for the treatment of Generalised Anxiety Disorder (GAD).
Little Green Pharma reported a transformational June quarter, positioning it as a prominent pure-play medicinal cannabis producer worldwide.
AusCann Group is well funded with net cash of approximately AU$13.7 million at the end of the June 2021 quarter.
Bod Australia has onboarded Mr Adrian Sturrock as the Company's CFO.
Cannabis stocks, also known as marijuana stocks or pot stocks, have become a hot commodity to invest in. Australia is perfectly positioned to take advantage of the sector growth as the country has the ideal climate for cannabis production with several Australian players already investing heavily in the sector.
In a positive sign that Australia's cannabis industry is progressing in the right direction, the Therapeutic Goods Administration (TGA) approved the over-the-counter (OTC) sale of low-dose cannabidiol (CBD) in February 2021. Amid the recent development in the burgeoning cannabis industry, this has become one such area for which investors are keeping an eye.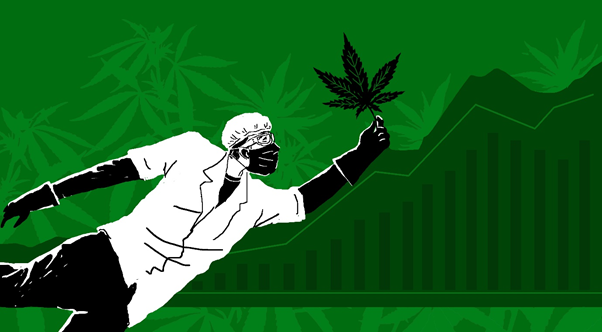 Copyright © 2021 Kalkine Media
Australian cannabis shares are also grabbing attention on the back of the developments, decent returns, as well as record sales of their cannabis products.
RELATED READ: All you need to know about Australia's burgeoning medicinal cannabis industry
With this backdrop, we would focus on five ASX-listed cannabis shares-
ECS Botanics Holdings Ltd (ASX:ECS)
ECS Botanics Holdings has obtained the distribution of its ECS Botanics Hemp Seed Oil product (250ml Extra Virgin Tasmanian) into the countrywide stores of Coles Group Limited (ASX:COL).
The Company's products would be stocked in several stores and are anticipated to be on shelves by October 2021. ECS stated that its Hemp Seed Oil will be placed in the cooking oil division of stores.
Alex Keach, Managing Director of ECS Botanics, commented-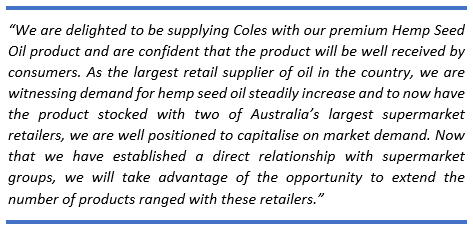 Incannex Healthcare Limited (ASX:IHL)
On 10 August 2021, Incannex Healthcare completed a Human Research Ethics Committee (HREC) submission in partnership with Monash University, for its Phase 2a Psi-GAD trial. The trial combines psilocybin administration with specialised therapy for patients suffering from GAD (Generalised Anxiety Disorder).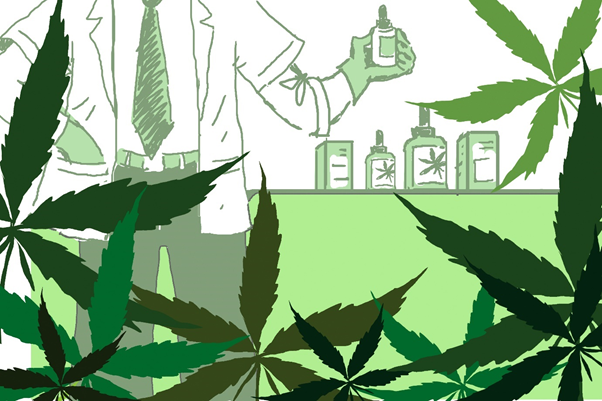 Copyright © 2021 Kalkine Media
Moreover, the Company has also submitted a Pre-Investigational New Drug (Pre-IND) application meeting request to the US Food and Drug Administration (FDA) for guidance on a Phase 2b pivotal trial. The Company disclosed that the Phase 2a and Phase 2b trials are scheduled to start in 2021 and 2022, respectively.
RELATED ARTICLE: 10 ASX-listed cannabis stocks for August 2021
Little Green Pharma Ltd (ASX:LGP)
Little Green Pharma recorded a transformational June 2021 quarter which positioned the Company as a prominent pure-play medicinal cannabis producer across the globe.
Exciting ASX Shares: ECS Botanics, Incannex Healthcare, AusCann Group & BOD Australia
On 28 July 2021, the Company announced its quarterly update, highlighting record growth in underlying patient demand across Australia with a 37% increase in new patients to 3,300 as well as a 25% rise in products dispensed to 11,200 units.
Copyright © 2021 Kalkine Media
The Company also acquired a world-class GACP/GMP medicinal cannabis facility in Denmark (EU). Moreover, Little Green Pharma ended the June quarter with a strong balance sheet with cash worth AU$40.2 million.
AusCann Group Holdings (ASX:AC8)
On 30 July 2021, AusCann Group disclosed its progress in the June 2021 quarter. The Company remains well funded with net cash of AU$13.7 million as of 30 June 2021. The key highlights from the quarter are-
AusCann reported positive findings for the Phase 2A clinical trial for CPAT-01, an FDA veterinary drug candidate.
The Company submitted pre-application assistance (PAA) request with the Australian Pesticides and Veterinary Medicines Authority (APVMA) for DermaCann®.
The Company entered into a deal to supply its proprietary Neuvis® THC/CBD 1:1 oral capsule to the Tasmanian Department of Health.
AusCann onboarded a global marketing manager to oversee the initial efforts for DermaCann® commercialisation in Australia, New Zealand, and South Africa.
BOD Australia Limited (ASX:BDA)
Cannabis centric healthcare company Bod Australia announced that the Company onboarded Mr Adrian Sturrock as CFO, effective 2 August 2021.
Mr Sturrock is a highly skilled finance executive and has extensive experience in healthcare products, having worked in various senior finance positions at Blackmores Limited (ASX:BKL) from 2009 to 2021.
On the appointment of new CFO, Jo Patterson, CEO of BOD, commented-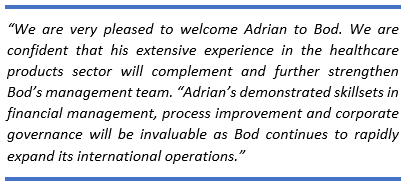 Copyright © 2021 Kalkine Media
Furthermore, in June 2021 quarter the Company witnessed strong quarterly growth with a ~212% increase in medicinal cannabis product sales during FY2021. In a significant achievement, BDA held a 46% share of the total Australian market for complete plant high CBD products in FY2021.