Summary

Zenith Minerals' JV partner announced encouraging results from the remaining drill holes from the Chinook prospect on 2 June.
The results validating the Earaheedy zinc discovery in Western Australia returned significant intercepts.
A 30,000m multi-rig diamond and reverse circulation follow-up drill campaign is currently progressing on the site.
Zenith Minerals Limited (ASX:ZNC) recently welcomed an upbeat update from its joint venture (JV) partner Rumble Resources Limited (ASX:RTR) regarding the Earaheedy zinc project. The current reverse circulation (RC) program has yet again delivered exciting drill results.
The Earaheedy zinc project is a joint venture between ZNC and RTR. The project manager, RTR owns a 75% interest in the project, while ZNC has a 25% interest, which is free carried to the completion of a Bankable Feasibility Study.
Extensive positive results for Earaheedy zinc discovery
Encouraging assay results from the remaining 24 drill holes from the Chinook prospect confirm the Earaheedy zinc discovery in Western Australia. The results highlight extensive zinc and lead mineralisation and are an outstanding success for the joint-venture partners.
INTERESTING READ: A Sneak Peek at Zenith Minerals' (ASX: ZNC) New Gold Project in NSW
The results covering a surface area of 2kmx1.2km include the following: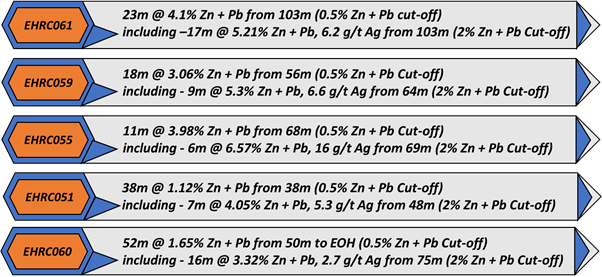 Data Source: ZNC Announcement 02/06/2021
PREVIOUS UPDATE: Zenith Minerals Updates on Major Drilling Campaign at Earaheedy Zinc-Lead JV Project
Additionally, seven vertical RC holes were drilled at the Magazine prospect. Significant results include:
EHRC072 returning 20m @ 1.58% Zn + Pb from 140m to end of hole (EOH) including 10m @ 2.52% Zn + Pb, 2.5 g/t Ag from 143m
EHRC043 returning 18m @ 1.24% Zn + Pb from 84m to EOH (0.5% Zn + Pb Cut Off) – sulphide including 4m @ 2.93% Zn + Pb, 4.1 g/t Ag from 86m
Large-scale Zn-Pb-Ag 'Tier 1' SEDEX style deposit potential
The latest results are expected to support the RTR team to develop a preliminary interpretation of a new sedimentary exhalative (SEDEX) variant geological model for the project.
Initial interpretation suggests the potential style is a mixed clastic/carbonate sediment hosted Zn-Pb deposit type with mineralisation characteristic of SEDEX (variant) deposits.
These SEDEX deposits are host to some of the biggest zinc accumulations globally, and the revised model will significantly help in the exploration and deposit delineation process in the future.
Major follow-up drill campaign underway
The Chinook prospect is believed to hold the potential to be at the upper end of RTR's first-stage exploration target. Moreover, the latest geological info at the prospect has highlighted the potential for oxide and sulphide large-scale open-cut mining scenarios and high-grade underground operations, proximal to the extension faults.
A substantial 30,000m multi-rig diamond drill (DD) and reverse circulation (RC) follow-up drill campaign is ramping up on the site. The program is aimed at twinning the substantial mineralisation in EHRC044 and EHRC050 to assist RC assay reconciliation and initial metallurgical testwork.
Scoping on 500m line spacings over 12km of a strike is also aimed through the program in order to further extend and make discoveries between the Chinook and Magazine prospects. The campaign will also test the potential higher-grade Zn-Pb corridors related to inferred extension faults.
Source: ZNC Announcement 02/06/2021
VIDEO INTERVIEW: Expert Talks With Kalkine || Mr Peter Bird, Executive Chairman of Zenith Minerals
Overall, the strong project portfolio of ZNC in the precious and base metals space continues to deliver positive results. Activity levels are expected to remain very high across the Company's wholly owned as well as key partner projects. At the same time, the Company remains focused on value generation by adding to its present metal inventory.
ALSO READ:
Zenith Minerals (ASX:ZNC) Uncovers Another High-Grade Gold Results at Red Mountain
Zenith Minerals Hits Massive Copper-Zinc, Iron Sulphides at Develin Creek As Drilling Begins
Zenith Minerals initiates aircore drilling program at Split Rocks Gold Project
ZNC stock was trading at AUD0.230 on 09 June 2021 (AEST 03:01 PM).