Highlights

Gold prices seem to have been caught between long-term support and resistance.
Those who do not want to hold physical gold could invest in ETFs or in the shares of gold players in the equity market for gaining exposure to the gold market.
Alchemy Resources holds a diversified asset portfolio of gold and base metals in Australia.
The Company has a dominant position in WA gold belts.
Investment in gold is widely considered as a way to hedge against inflation. The yellow metal acts as a 'safe haven' for one's hard-earned money when the equity and derivative markets become highly volatile or unpredictable.
The last two years have seen a spurt in gold prices amid the COVID-19 pandemic, which pushed many investors towards the safe-haven asset as they recalibrated their outlook and switched to risk-off mode.
Now, as we have stepped into 2022, gold prices are again expected to firm up, owing to various factors like interest rate hike, dollar gaining strength, and Omicron worries.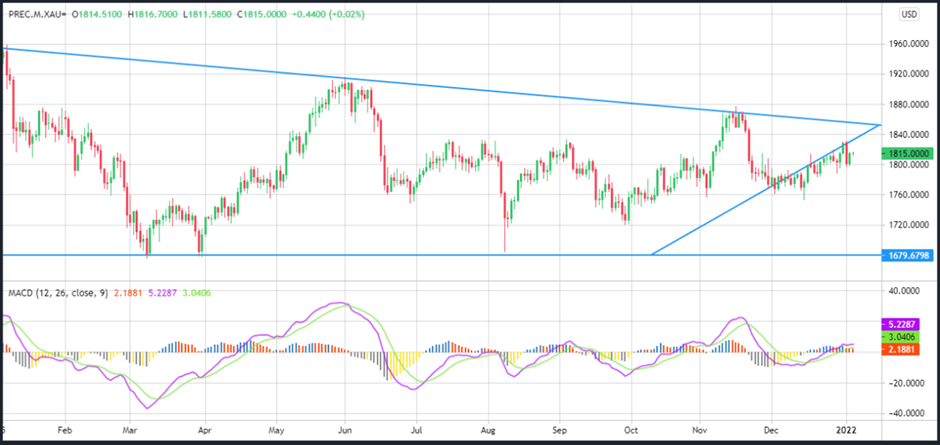 Image source: Refinitiv; Analysis: Kalkine Media
In the chart above, it could be observed that gold is trading in the range of US$1,760-1,800/oz. It seems that the market is trapped between lower bond yields and a stronger dollar. Investors are keenly waiting to see the signs of how soon the US Federal Reserve will unwind economic support measures in response to the pandemic.
In the near term, gold prices are expected to be firm with a near-term support at around US$1,760/oz. The current price range is lower than that of the second half of 2020 and the first half of 2021; however, it is still higher than the years prior to 2020. After all, 2020 was an exceptional year for the entire commodity sector, with gold hitting its all-time high of US$2,060/oz.
Gold – A solid inflation hedge
Gold has been in circulation for ages and has been used as currency. The yellow metal is assumed to be a strong hedge against inflation.
The amount of gold that US$1 could buy today will be higher than what US$1 could buy after 10 years, as proven historically. Hence, many asset allocators suggest parking a portion of one's fund in assets such as gold.
Alchemy Resources' strong asset portfolio in tier 1 mining jurisdictions
Australia has been a prolific and proven producer of gold. Last year, Australia was also crowned as the largest gold producer in the world, overtaking China for the first time. Undoubtedly, Australia has consistently stayed ahead of the curve when it comes to the production of the precious yellow metal.
In the current buoyant setting, Australian explorer Alchemy Resources (ASX:ALY) is making giant strides in gold exploration, on the back of its solid gold project portfolio.
Alchemy Projects (Image source: Company update, 18 November 2021)
Detailed Discussion at: Alchemy Resources making rapid strides at high-grade WA and NSW projects
Alchemy operates two gold projects with 100% interest in the WA region, namely Karonie and Lake Rebecca. The Company has a strategic 1,800km2 package of prospective gold and base metals tenements in one of Australia's most well-endowed gold belts.
Moreover, the Company holds a 20% interest in the Bryah Basin Project, a joint venture with Superior Gold Inc. and Sandfire Resources NL in the Gascoyne region of Western Australia.
Its NSW asset portfolio includes an 80% interest in each of the Overflow and Yellow Mountain gold projects. While its West Lynn Project in the NSW region is essentially prolific for high purity alumina (HPA), Ni and Co.
The Company has a firm financial footing, backed by a recently completed capital raising program of AU$3.08 million. The funds raised are planned to be channelised towards fast-tracking the exploration and development activities across the Company's gold and base metal projects.
2022 – An important year for Alchemy
In the year 2022, Alchemy is expected to see major developments with drilling campaigns planned across the Karonie and Lake Rebecca gold projects in WA and at the Overflow and Yellow Mountain projects in NSW.
Indicative exploration timeline (Image source: Company update, 18 November 2021)
Related Read: Alchemy Resources (ASX:ALY) on a roll at Karonie with drilling planned in early 2022
ALY share performance
ALY shares were trading at AU$0.013 in the early hours of 6 January 2022, up more than 8% from its last close. In the last one-month period, the stock has appreciated 30%. The Company has a market capitalisation of AU$11.42 million.