Summary

Natural skin care company Skin Elements is awaiting TGA registration of its hospital-grade Invisi Shield.
The Company anticipates launching a fully responsive Invisi Shield website this month.
Following TGA approval, Prudential Consultants will market and sell Skin Elements' hospital-grade sanitiser to the health care industry.
Perth-based natural skin care company Skin Elements Limited (ASX:SKN) focusses on advancing natural skin care products worldwide. The Company uses the healthiest natural ingredients to develop its products. SKN markets and sells its organic and chemical-free products all over the world.
Skin Elements to launch world's first All-Natural Hospital grade disinfectant
Skin Elements is all set to launch a game-changing hospital-grade sanitiser. SKN disclosed that the TGA registration of Invisi Shield is in progress, which could be transformational for the award-winning natural skin care company.
The TGA application represents a significant milestone in Invisi Shield's development process.
TGA Approval on the way
On 11 November 2020, Skin Elements announced that it had submitted a TGA registration application for Invisi Shield® Organics as a Hospital-Grade Disinfectant.
Moreover, the Company is confident that the TGA registration will result in significant commercial-scale sales as well as distribution opportunities for Invisi Shield®.
The registration will also allow Skin Elements to develop specific products as well as label claims regarding Invisi Shield®. Further, a successful TGA listing would also pave the way for SKN to seize new commercialisation opportunities with potential sales partners who insist on TGA registration.
To Know More, Do Read: Skin Elements hits a Major Milestone, Submits TGA Registration for Invisi Shield®
Skin Elements stated that the TGA application for registration of Invisi Shield® represents a significant positive development for the product and will reinforce SKN's plans to seek new sales and distribution contracts.
Invisi Shield® Distribution Agreement already in place
On 7 August 2020, Skin Elements had signed an agreement (binding distribution) with Prudential Consultants for Invisi Shield® distribution. Further, the Company notified that Prudential Consultants had agreed to a minimum total sales commitment of almost A$2.4 million for three years.
Prudential Consultants is offering Invisi Shield® Organics to: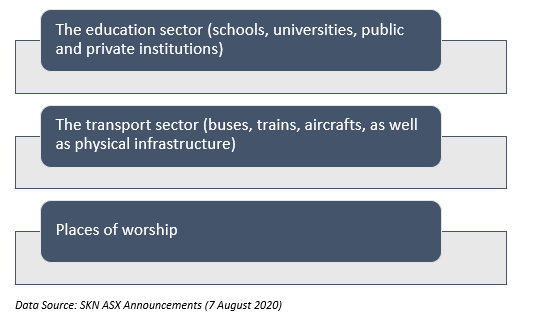 Moreover, in case the TGA approval is received for hospital-grade Invisi Shield, Prudential Consultants will also provide the sanitiser to the healthcare industry, including hospitals, aged-care centres, and other healthcare centres.
The key highlights from the agreement are:
All the IP (Intellectual Property) rights for Invisi Shield® Organics will remain SKN's property.
As the distributor, Prudential Consultants will pay 50% of the product price for an order upon placing the order.
The remaining 50% of the payment will be done before the date of order shipment or delivery.
The agreement can be extended to a further five years on the expiry of the initial term, subject to both companies' decision.
Besides, it is noteworthy to mention that Prudential Consultants is a preferred supplier of hand sanitiser to the New South Wales government. It is also a registered supplier to the Tasmanian Department of Education.
ALSO READ: Skin Elements (ASX:SKN) inks new deal to widen its reach in Australasia
Invisi Shield website to be rolled out soon
The Company revealed that it's new dedicated, fully responsive Invisi Shield website is ready for launch by the end of the month. The website comprises all the details of Invisi Shield formula, including how it works and its standards. With Invisi Shield's website launch, people can easily purchase the sanitisers from this website.
Image Source: SKN Investor's Presentation (4 December 2020)
With the distribution networks in place and a new dedicated Invisi Shield website ready for rollout, Skin Elements is all set to market and sell Invisi Shield hospital-grade disinfectant after a successful TGA registration.
On 22 January 2021, SKN shares were trading at A$0.105 (at AEDT 12:02 PM). The market capitalisation of the Company stood at A$37.92 million.
Interesting Read: A Glimpse of Skin Elements' (ASX:SKN) Offerings and Strategies