Highlights


Raiden Resources completed the maiden drilling campaign over the Vuzel Gold Project.
The Company has drilled 11 holes for a total depth of 1594.8m on its Bulgarian asset.
RDN drill tested all the planned targets in the maiden program and expects assay results in the next 2-3 weeks.
ASX-listed mineral explorer Raiden Resources Limited (ASX:RDN|DAX:YM4) announced the successful completion of the maiden diamond drilling program on its Vuzel Gold Project. The project lies in the highly prospective Tethyan metallogenic belt running through Bulgaria.
The drilling program commenced on 31 March 2022 to drill test the core of the target area, which is characterised by broad gold mineralisation. The target area extends over several kilometres and includes high-grade sections defined through historical channel/rock chip sampling.
Preparation of the drilling program at the Vuzel Project (Image source: RDN update, 31 March 2022)
Related read: Raiden Resources (ASX:RDN) is 8% up today on commencement of its maiden drilling campaign on the Vuzel Gold Project
RDN's initial plan was to drill around 1,500m of diamond holes to unlock the gold potential of the project. The Company ended up drilling 11 holes with a total depth of 1594.8m.
The drilling program targeted outcropping and broad zones of mineralisation, which were delineated from historical workings in the tenement area. The previous explorers did not carry out any drilling campaigns over the central segment of the target area. This was the first time a drilling operation was carried out with permit access, as per the Company, in the most prospective zones of the project.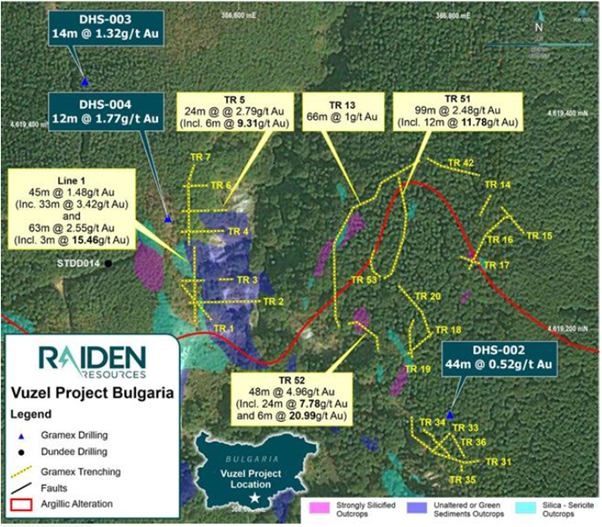 Key target areas and historical results on Vuzel Project (Image source: RDN update, 31 March 2022)
All the cores from the drilling program have been cut and sent to the laboratory for further analysis. RDN has logged core samples for the geology, structure and analysis of alterations. The final interpretation will be carried out once the full report is received from the lab.
Related read: Raiden Resources' (ASX:RDN) March quarter marked by major advances on Pilbara/Balkans projects
Exploration activities in full swing on Pilbara assets
Raiden also provided a slew of updates on its Australian operations. The Company is advancing its preparation for upcoming drilling campaigns over the Mt Sholl Ni-Cu-Co-PGE Project in the Pilbara region.
At the Arrow Gold Project, the Company is planning a follow-up exploration program. At Arrow, RDN is targeting Hemi-style intrusion hosted mineralisation along the strike.
Data source: RDN update, 7 June 2022
A detailed update regarding the exploration activities in the Pilbara region will be provided by the Company in the near future. Also, RDN is planning to go into a strategic partnership or a sale agreement for its non-core projects. For this, the Company is engaging with multiple potential strategic investors.
Related read: Raiden Resources (ASX:RDN) sitting on goldmine of opportunities in Pilbara region