Summary

QEM's Julia Creek project holds a JORC-compliant mineral resource of 2,760 million tonnes with an average V2O5 content of 0.3%, and a 3C contingent oil resource of over 783 million barrels.
Optimisation test work in progress for efficient recovery of both vanadium and oil.
Next steps to include economic assessment programs and engineering studies, anticipated to commence after the completion of the optimisation program.
Vanadium and oil shale explorer, QEM Limited (ASX:QEM), continues to push forward at the dual commodity Julia Creek Vanadium and the Oil Shale project in Northern Queensland. In fact, QEM is the only company globally, in a position to develop a vanadium and oil combination project.
Important Read: Outstanding test results from QEM Limited's dual commodity opportunity reinforces significant value potential
The premium minerals project targets dual commodities with the objective to offer environment-friendly energy solutions. The Vanadium pentoxide from the project is targeted to cater to the nascent energy storage sector. The Company seeks to assist the current fuel security issue, which Australia faces by producing liquid fuels for the domestic market.
Read Here: QEM Limited (ASX:QEM) Targeting Burgeoning Energy Storage Sector with Julia Creek Project
Julia Creek is a premium dual commodity project of national and regional importance, located in North Queensland. The near surface oil bearing shale is also mineralised with vanadium, creating a substantial opportunity with dual revenue contribution, thus enhancing the project's economics.
COVID-19 Exposes Supply Chain Risks
Australia is heavily dependent on imported fuel and holds low volumes of stockpile. Recent Australian Petroleum Statistics indicate that only around 30 days of petroleum is available to Australian motorists, 20 days of diesel and 20 days of aviation fuel, leaving the country vulnerable to supply shock.
Australia faces a critical exposure to supply disruptions of transport fuels. Australian dependency on imports for crude oil and fuel has increased from around 60% in 2000 to over 93% today. COVID-19 has further exposed Australia's lack of resilience in this area. QEM considers this an opportunity.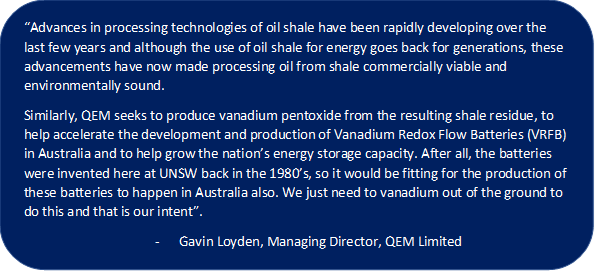 Also Read: QEM Limited (ASX:QEM) Outlines Growth Strategy to Capitalise on Looming Domestic Supply Shortfalls
In 2020, QEM successfully conducted oil extraction tests, using a hydrogen donor solvent to extract the kerogen from the Julia Creek oil shale.
Oil yields up to 181 kilo grams per tonne, almost 218% of those reported under Modified Fischer Assay (MFA).
Stable oil yields were reported, which averaged over 175% higher than the MFA yield for varying test conditions.
In late 2020, the Vanadium extraction results were also released, which recorded an initial yield of 90% through acid extraction.
As for now, QEM is progressing with optimisation test work for vanadium extraction, to determine an optimum balance to recover both vanadium and oil efficiently, with a strong focus on environmental outcomes. The economic assessment programs and the engineering studies are planned to commence after the completion of the optimisation program.
Must Read: QEM reports Vanadium extraction efficiencies up to 92%, Optimisation studies to follow
QEM closed at $0.090 a share on 14 January 2021 with a market capitalisation of $9.0 million.
All financial information pertains to Australian Dollars unless stated otherwise.