Source: Roman Bodnarchuk, Shutterstock
Summary

Ora Banda Mining Limited has turned the corner around a challenging period to evolve into a gold developer.

OBM has been continuing operations at the Riverina deposit and has received strong results that reinforce the deposit's potential.

The Company has also inked a deal with CBA for hedging and working capital purposes.
Ora Banda Mining Limited (ASX:OBM) is the Company that transformed from being a developer to a producer with its consistent efforts and initial gold pour in early February 2021. This marks a significant milestone for OBM as the Company has navigated through uniquely challenging circumstances of the past as well as the current year.
OBM has had an eventful 2021 with overall progress, including the first gold pour in February, additional robust infill drilling results from Riverina South, securing hedging and working capital facilities from Commonwealth Bank Of Australia (ASX:CBA) and appointment of CEO.
INTERESTING READ: Ora Banda Mining (ASX:OBM) emerges as the latest Australian gold producer
First gold pour at Davyhurst processing plant
OBM has come a long way in a considerable period, and its transition from a gold explorer and developer to a gold producer is enough evidence.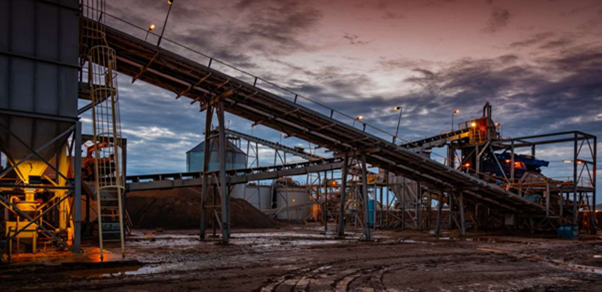 Process Plant In Operation (Source: OBM Announcement 17/03/2021)
OBM successfully recommissioned its Davyhurst 1.2Mtpa gold processing plant collectively with its related site infrastructure. The Company ventured through various key milestones to deliver its first gold pour from the plant, including the following:
Completion of Definitive Feasibility Study (DFS) in June 2020
AUD 5 million project equity raise in July 2020
Commencement of process plant site works in August 2020
Beginning of open-pit mining in October 2020
Commencement of underground mining and completion of process plant site works in January 2021
INTERESTING READ: Ora Banda (ASX:OBM) Uniquely Positioned To Reap Benefits After Busy Half-Year
Strong results from infill drilling at Riverina south
OBM received strong results from infill drilling at the Riverina South in two consecutive months, namely February 2021 and March 2021. This drilling recommenced in mid-January 2021 after the Christmas break, and the Company remains optimistic about the project's potential to deliver mine extensions with continuing deeper drilling.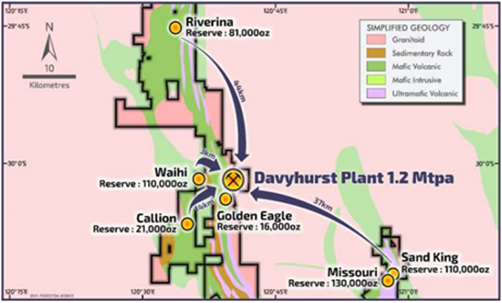 Key Deposits Underpin Mine Production (Source: OBM Announcement 17/03/2021)
This resource infill drilling program was intended to reduce the present drill spacing to a 20m x 25m pattern from a 40m x 25m pattern, which would further allow upgrading the mineral resource from "inferred" to "indicated".
The Company looks forward to its continuing exploration operations and testing the several highly prospective areas at Riverina that are yet to be tested.
INTERESTING READ: Ora Banda's (ASX:OBM) Continuing Streak For Impressive Mining Results
Appointment of CEO and Hedging and Working Capital Facilities with CBA
In mid-February 2021, OBM appointed Peter Nicholson as its Chief Executive Officer, effective from 2 April 2021 and looks forward to benefitting from his diverse suite of skills. Moreover, Mr Nicholson has a strong blend of technical, commercial as well as operational experience that shall contribute significantly to the continuing success and development of OBM.
In another key development, OBM had inked a credit approved offer of AUD15 million with CBA to meet the hedging and working capital requirements, and the facilities shall assist the Company in prudent risk and capital management during the ramp-up phase.
DID YOU READ: Ora Banda (ASX:OBM) Enhances Positioning Through Key Developments
The facility comprises AUD 5 million for buying put options and AUD 10 million for expenditure related to the development and working capital needs.
The OBM stock traded at around AUD0.250 with a market capitalisation of AUD 214.76 million on 16 April 2021.