Highlights

Lithium Australia's fully owned subsidiary Envirostream has received the first rebate from the B-cycle Scheme.
Under the scheme, Envirostream is engaged in the collection, sorted and recycling of end-of-life batteries.
LIT's subsidiary is growing its national network of accredited drop-off sites to get its hands on the maximum volume of spent batteries for recycling.
Shares of LIT soared nearly 10% on ASX today on the back of exciting news.
In an exciting development, Envirostream, a 100%-owned subsidiary of Lithium Australia Limited (ASX:LIT), has secured the first cash rebate from B Cycle Scheme for end-of-life (EOL) batteries.
Buoyed by the latest update from the Company, shares of LIT surged 10% and traded at AU$0.056 on 1 July 2022. The shares were trading at AU$0.058 in the early hours on 4 July 2022.
Lithium Australia is committed to developing circular battery economy, through its subsidiary Envirostream, which is at the forefront of Australia's battery recycling industry.
What is B-cycle Scheme?
B-Cycle is an Australian Government-accredited organisation working for Australia's official product stewardship scheme for end-of-life (EOL) batteries. The Scheme came into existence on 4 January 2022 and provides rebates for the collection, sorting, and recycling of eligible batteries in the country.
Envirostream's receipt of its first cash rebate comes as a big validation of the company's effort. B-Cycle has accredited Envirostream to run the recycling operations of EOL batteries and work closely with it to implement the necessary requirements for the Scheme.
The batteries thrown away in landfills carry the risk of releasing toxic chemicals into the environment. Envirostream and B-cycle are together working towards the cause and creating an environment for the responsible recycling process of batteries.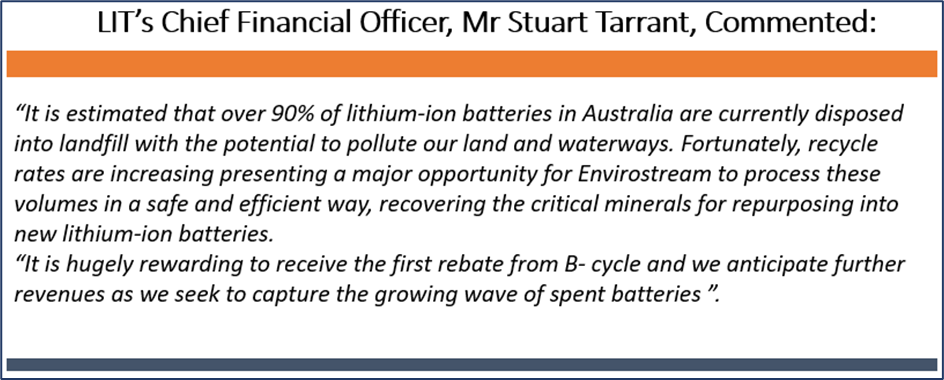 Data source: Company update, 1 July 2022
Envirostream is growing its national collection network
Envirostream has partnered with several reputed companies in Australia to grow its collection network. The Company has 700 plus collection facilities with B-cycle accreditation in Australia. The aim is to boost the battery volume for recycling.
Envirostream has grown its extensive EOL battery drop of locations within no time. It also provides services to other collectors for sorting and recycling batteries, working under the B-cycle Scheme. The Company continues to grow its network continuously through partner channels.
Building relationships with EV players
Envirostream is working together with electric vehicles manufacturers in Australia to recycle their cells. The electric vehicle space is expected to drive the battery volume for recycling over the balance of the decade.
Envirostream has started its work to ensure that batteries for electric vehicle can be dismantled and recycled in an efficient way. The Company has been conducting tests for several EV manufacturers to recycle their cells since the beginning of this year. The knowledge gained so far is crucial for ensuring the preparation for the anticipated rise in future EV volumes.