Summary

Lithium has been categorised as a critical raw material in the wake of escalating demand amid low supply.
LKE's Kachi Project indicates a significant upside as 99.97% purity lithium carbonate has been produced from Kachi brines in October 2020.
LKE looks forward to upgrading present inferred resources to the M&I category while project funding possibilities are advancing.
The discussions surrounding the demand and supply of lithium have been heating up recently. Due to its usability in powering electric transportation as well as the latest gadgets, lithium has gained more and more attention from investors.
Current scenario of lithium price, demand & supply
With the world now committed to green transition more than ever, the electric vehicle market is gaining steam and, in turn, stoking the demand for lithium. As lithium producers are estimating a limited supply for the high-quality product, demand for high-quality lithium product is likely to exceed the supply for the same.
Moreover, this shortage in lithium supply has resulted in a significant uptick in lithium prices as lithium carbonate prices grew by 114% in the first quarter of 2021.
DID YOU READ: How Lake Resources (ASX:LKE) Is Cementing Its Position As A High-purity Lithium Producer
In order to meet the soaring demand for lithium, it is estimated that 8 to 18 times more lithium production is required by 2030.
Notably, lithium has made its way into the list of critical raw materials in 2020, and lithium-ion batteries indicate one of the biggest growth areas of the 21st century.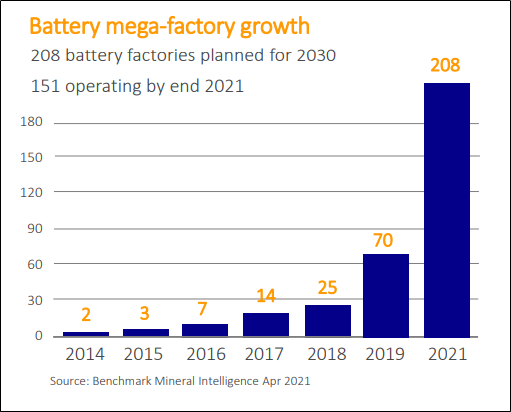 Image Source: LKE Presentation 01/06/2021
GOOD READ: How Lake Resources plans to cash in on strong lithium demand amid EV boom
LKE's positioning and growth potential
Given this backdrop, clean lithium developer Lake Resources N.L. (ASX:LKE) seems to be in a promising position as its high-purity lithium is exactly what an electric world demands.
In the lithium space, higher purity lithium means higher battery performance, and LKE's 99.97% product is way purer as compared to 99.5% battery-grade lithium carbonate.
The Company's flagship Kachi Lithium Project indicates a substantial opportunity as LKE has produced 99.97% purity lithium carbonate from its flagship Kachi Lithium Project brines in October 2020.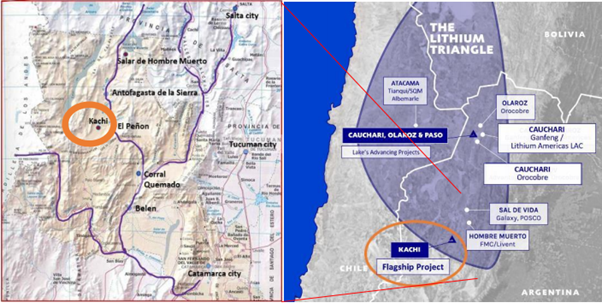 Location of Lake's Kachi Project (Source: LKE Announcement 19/05/2021)
INTERESTING READ: Is Lake Resources (ASX:LKE) holding all the aces with advanced debt funding alternatives?
LKE has been advancing on various fronts, including ground exploration activities, procuring finance etc., for accelerating exploration across the project portfolio. Moreover, the Company has a high-quality, battery-grade product, which was confirmed through various tests conducted by its partners.
In the latest development, LKE has advanced debt funding options for its Kachi project with initial interest from over half a dozen significant global banks.
Besides this, LKE is also expanding drilling and testing, exceeding the requirement for the Definitive Feasibility Study (DFS) at its Kachi Project. Through this, LKE intends to expedite the transition of Inferred Resources to Measured and Indicated (M&I) Resources while allowing for an expansion further than the 25,500tpa lithium carbonate proposed in the DFS.
PROJECT UPDATE: Lake Resources (ASX:LKE) Getting Boots on the Ground Across Project Portfolio
Overall, LKE is believed to be suitably poised for achieving sustainable development goals as the focus remains on the sustainable and direct extraction of lithium. LKE aims to become a significant producer worldwide with appropriate scale and high-quality products, at a time when the EV and battery storage market is showing a promising future.
The LKE stock was trading at AU$0.270 at 2:10 PM AEST on 11 June 2021.