Summary

VRX Silica Limited (ASX:VRX) appears well placed for growth in the coming years.
The Company has inched closer to selecting its first offtake partner to underpin the development of its silica sand projects.
The construction for Arrowsmith North and Muchea projects is expected to begin this year.
VRX Silica Limited (ASX:VRX) is going from strength to strength in the silica sand space via the development of its high-value projects in WA. VRX Silica owns a 100 per cent stake in three high-grade silica sand projects - Muchea, Arrowsmith North and Arrowsmith Central – that are infrastructure ready and located within close proximity to Perth.
The Company has been able to bring its Muchea and Arrowsmith projects close to the production phase in a very short time period since the commencement of drill programs in March 2019. The potential of the Company's projects was also recognised by a leading Australian broker in December last year, who placed it on the list of Best Undeveloped Projects (BUPs) for 2020.
Interestingly, there are good reasons to believe that VRX Silica is well-positioned for growth in the coming years.
1. Lucrative Market Opportunity
The burgeoning demand for high-grade silica sand in the Asian region for glass manufacturing and as a component in foundry casting is unfurling a lucrative opportunity for VRX Silica. The global supply constraints of high-value silica sand are further presenting a promising outlook for the Company.
While silica sand has various applications, the Company is targeting the glassmaking and foundry industry for its silica sand products. As per VRX Silica, foundry and glass growth is set to drive the demand for silica sand in the APAC Region.
The developing countries in the APAC region are expected to experience significant infrastructural spending, driving glass demand. Besides, the substantial surge in demand for casting products for automobiles, auto components and construction equipment is likely to stimulate silica sand demand.
2. Favourable Price and Demand Dynamics
The price of silica sand is anticipated to rise across Asia-Pacific countries in accordance with growing demand and supply constraints. Also, the current demand is not met by existing production, raising the need for an additional source of supply. As per the Company, the major countries in the Asia Pacific region have unmet demand from the local production only.
As demonstrated in the above graphs, silica sand consumption is likely to increase in the Asia Pacific region over the coming years. In tandem with rising demand, the price of silica sand is anticipated to increase progressively.
3. Significant Comparative Advantage
It is important to note that VRX Silica's projects have considerably lower operating costs than domestic and international peers due to competitive logistics solutions. Simple "off the shelf" processing plants and convenient access to current underutilised rail to port transport infrastructure support high-capacity logistics of the Company's projects.
4. Exceptional Project Economics
Bankable feasibility studies conducted for VRX Silica projects in 2020 have validated exceptional economics over 25 years, with combined post-tax NPV10 of $728 million, capex of just $87 million, annual EBIT of $137 million and IRR of 83 per cent.
The post-tax NPV10 of $728 million is stimulated by long-life, high-margin, low-cost operations. Additionally, the LOM operating margin of $20/t further underpins strong project economics.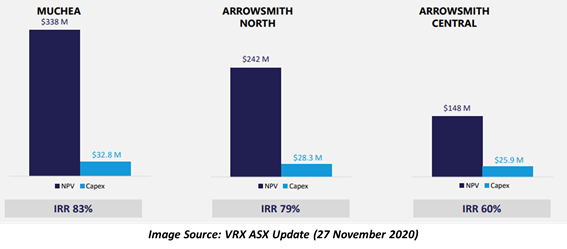 5. Well-Advanced Projects
VRX Silica is actively progressing with the development of its silica sand projects, with Mining Leases & miscellaneous licences granted for each of the Company's projects. Also, the environmental permitting processes are well-advanced, with the Company expecting no material issues.
With environmental permitting on the brink of finalisation, the Company observes robust interest from its prospective customers based in South East Asia, including South Korea, Japan, Malaysia, Philippines and Thailand.
Related Read: VRX Silica (ASX:VRX) Shares Shine on First Trading Day of 2021
Lately, VRX Silica informed that it has inched closer to selecting its first offtake partner to underpin the development of its silica sand projects. The Company is also progressing positive engagement with the potential debt financiers for its Arrowsmith and Muchea projects.
The Company expects construction for the Arrowsmith North project to start in early-mid 2021 once offtake, permitting and financing are secured. Moreover, the construction for the Muchea project is likely to begin in mid-late 2021.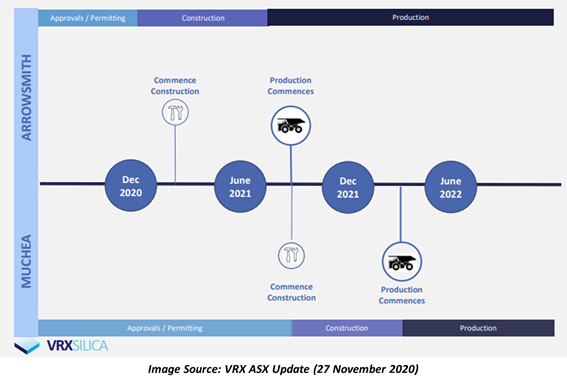 VRX Silica shares traded at $0.340 on 22 February 2021.